Insurance for Long-Term Care at Home
In the wake of COVID-wracked nursing homes, increasingly more people are looking at options to age in place with long-term care insurance.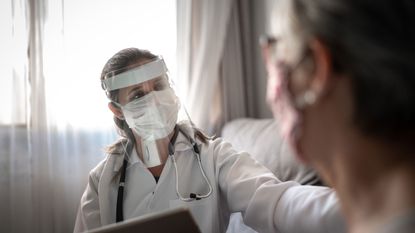 (Image credit: Getty Images )
Scenes of anxious adult children peering through windows and holding up signs declaring "I love you" to their parents confined in nursing homes and assisted living facilities during the coronavirus pandemic reinforced a trend that has already been growing in the United States: the desire to remain at home for as long as possible in old age.
"We're getting more calls," says Jesse Slome, executive director of the American Association for Long-Term Care Insurance, a trade group. "The initial reports in all of the news on COVID-19 focused on nursing homes and the number of people infected and dying in those homes."
That made people realize they wanted better options, like aging in place, he says. While there are no guarantees that anyone can live their last days in their own home, there are some ways to make it more likely from a financial standpoint.
Subscribe to Kiplinger's Personal Finance
Be a smarter, better informed investor.
Save up to 74%
Sign up for Kiplinger's Free E-Newsletters
Profit and prosper with the best of expert advice on investing, taxes, retirement, personal finance and more - straight to your e-mail.
Profit and prosper with the best of expert advice - straight to your e-mail.
Historically, when long-term care insurance first became widely available in the late 1970s, it was primarily used to help pay the costs of nursing homes. That has changed, and almost all such policies cover home care today. Of all claims that began in 2018, 51% were for home care, with the rest divided about equally between assisted care facilities and nursing homes, according to statistics from the American Association of Long-Term Care Insurance.
Perhaps even more interesting, according to the association, is that home care continued to account for the largest share—43%—of all long-term care claims that ended in 2018, with most (72%) terminating due to death, 13% because the customer exhausted all benefits and 14% due to recovery.
Unlike the past, almost any policy sold now will have a pool of benefits that help pay, as needed, for home care, a nursing home, assisted care, a memory unit or something similar, says Barbara Franklin, a long-term care specialist and founder of Franklin & Associates, long-term care insurance brokers.
You can typically collect long-term care insurance—and stop paying your premiums—once you have a recognized cognitive impairment or can't do two of six "activities of daily living," such as bathing or dressing. The nature of your benefits will depend on your contract, but here are a few provisions to look for in a long-term care policy with an eye toward aging at home.
Does your long-term care policy pay for informal caregiving? Many policies won't pay for caregivers unless they come through licensed agencies, which often require you to pay for a minimum of three to four hours of care a day, Franklin says.
But some policies cover nonlicensed caregivers, such as family and friends, and in some cases nurses who offer in-home caregiving, says Vince Bodnar, a partner and long-term care practice leader at Oliver Wyman, a management consulting firm.
This is more true of a relatively new type of long-term care insurance, called a hybrid policy (or sometimes a linked or combination policy), which is connected to life insurance. These hybrid insurance models are typically two to three times more expensive than traditional long-term care insurance because of the death benefits. The policies, which can be purchased with a large lump sum upfront or with premiums, also offer more flexibility when they pay out, Bodnar says.
Unlike those for traditional standalone long-term care insurance, premiums for hybrid policies rarely increase, and if the long-term care benefits are never or only partially used, the policyholder's beneficiaries will receive money back. But the policies, when they do start paying out, draw first on the life insurance and then on the additional long-term care insurance.
A third way to pay for long-term care (and often informal caregivers, too) is to buy a life insurance policy that allows you to use the money while you are still alive. This option is known as accelerated death benefits. Some companies offer this feature at no cost while others charge more for it. Keep in mind, though, that accelerated death benefits might only be triggered by a chronic or critical illness, not an inability to perform some activities of daily living, Franklin says.
This is a complicated area of coverage, so be sure to consult an insurance agent who represents a number of different companies and can present a variety of options for you to compare.
Is there an alternative cash benefit? This provision, which can exist in traditional and hybrid policies, allows the customer to take some or all of a typical monthly benefit in cash. The money can be spent however the policyholder chooses, with the pandemic providing some recent examples of how it might be used for caregiving, Franklin says. For instance, with many young adults returning to live with their parents, the older generation could hire a child or grandchild to help out with caregiving.
"Companies are getting wise to the fact that the services of a home health agency may be more than you need," she says. "They're giving a little flexibility."
The hybrid policies more typically have these provisions because you're drawing down on your own life insurance, something people only do if they really need to, Bodnar says Mutual of Omaha is one of several carriers offering an alternative cash benefit in its traditional long-term care policy. You can choose to take 25% of a monthly benefit—say, $1,000 of a $4,000 monthly payment—in cash, says Mary Swanson, a vice president and actuary at Mutual of Omaha.
You don't lose the other $3,000, she says; rather, it just stays in the pool of funds until you need it and has the added advantage of prolonging your benefits.
"As the care landscape changes, who knows how care is going to be provided in 10 years or 20 years," Bodnar says. "I'm a big fan of looking for cash."
Does the policy include care coordination or care management? Organizing care at home involves many moving parts, so a care coordinator who helps you find and manage that care can be helpful.
"They're designed to help you navigate a home health care system, which is very complicated and confusing right now," Bodnar says. Some type of care coordination has been part of policies for a while, "but it has become much more robust in a much more defined way in the last couple of years."
Adds Franklin: "Companies don't mind paying that because they realize the benefits are going to be used more efficiently than someone who is flailing around on their own."
What is the elimination period? This is insurance jargon for how long you must wait until your policy starts paying out. Elimination periods typically range from 30 to 90 days, but you can pay more to reduce that wait time. Some policies have different elimination periods for medical facilities versus home care, and be sure to check if the elimination days are calendar or service days, Franklin says.
"Nobody ever looks at that, and it's coming to bite people in the rear end," she says.
The number of Americans who have long-term care insurance is still small; only 10 million Americans have purchased such policies, according to the American Association for Long-Term Care Insurance. The pandemic, though, is prompting people to consider how and where they will age.
"At the moment, it looks like more people will be receiving care at home in the future," Bodnar says, noting that increasingly sophisticated home technology can help enable that.
"On the other side," he says. "you have really interesting concepts arising in facility care, such as aging communities. They may also take shape as people realize that may be the most economical way of receiving care—in a setting—not just home care and not just facility care, but something in the middle."
At a certain point, the number of people needing care will far outstrip the number available to offer it. Human resources firm Mercer estimates the U.S. will face a critical shortage of home health aides by 2025. The only way to solve that problem is to find more efficient ways to deliver long-term care, Bodnar says.
"Ingenuity and innovation will drive that, and our insurance policies should be flexible enough to recognize that that's going to happen."
Contributing Writer, Kiplinger's Personal Finance
Alina Tugend is a long-time journalist who has worked in Southern California, Rhode Island, Washington, D.C., London and New York. From 2005 to 2015, she wrote the biweekly Shortcuts column for The New York Times business section, which received the Best in Business Award for personal finance by the Society of American Business Editors and Writers. Her work has appeared in numerous publications, including The Times, The Atlantic, O, the Oprah Magazine, Family Circle and Inc. magazine. In 2011, Riverhead published Tugend's first book, Better by Mistake: The Unexpected Benefits of Being Wrong.