Government Shutdown Averted at the 11th Hour
Congress avoided a government shutdown on Saturday with a temporary measure that provides more time to hash out a new federal spending plan.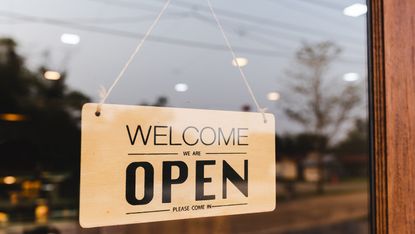 (Image credit: Twenty47studio, Getty Images)
President Joe Biden signed a last-minute temporary spending bill on Saturday, September 30, with just minutes to go before many government operations would have closed and with them many public services and programs.
The bill, a stopgap measure known as a continuing resolution (CR), gives the House of Representatives and Senate 45 days to hash out funding legislation for fiscal year 2024. Earlier in the day in a surprise move, House Speaker Kevin McCarthy (R-CA) did an about-face by rejecting demands from his hard-right House Republicans and putting forth a new spending bill that passed the House with a bipartisan 335-91 vote. The Senate quickly approved the House bill and sent it to the president.
"Tonight, bipartisan majorities in the House and Senate voted to keep the government open, preventing an unnecessary crisis that would have inflicted needless pain on millions of hardworking Americans," Biden said in a statement. "This bill ensures that active-duty troops will continue to get paid, travelers will be spared airport delays, millions of women and children will continue to have access to vital nutrition assistance, and so much more. This is good news for the American people."
Subscribe to Kiplinger's Personal Finance
Be a smarter, better informed investor.
Save up to 74%
Sign up for Kiplinger's Free E-Newsletters
Profit and prosper with the best of expert advice on investing, taxes, retirement, personal finance and more - straight to your e-mail.
Profit and prosper with the best of expert advice - straight to your e-mail.
While a government shutdown has been averted for now, lawmakers still must come to an agreement over federal spending by mid-November when the CR runs out to avoid the possibility, once again, of a shutdown.
Until this point, however, the House has been at an impasse over passage of 12 spending bills to fund key government operations. Hard-right GOP House members did not support the CR and, so far, have given no indication that they would be willing to forgo their demands for major spending cuts.
At stake should Congress fail to pass those bills, is the complete or partial closure of many government agencies, with repercussions felt across the economy as tens of thousands of "non-essential" federal employees are furloughed and millions more are required to work without pay until the government reopens.
Even for the agencies and programs that would remain relatively unaffected by the funding lapse — which would depend on how long a shutdown would last — delays would be expected, as the government's workforce would be drastically reduced. This means fewer people would be available to, for example, answer phones and process information.
In a shutdown, many programs would be at stake
While you would continue to be able to use Medicare and receive your Social Security checks in the event of a shutdown, some services including Social Security and Medicare benefit verification and card issuance would pause, as would the National Institutes of Health's intake of new patients and processing of grant applications.
There would also be possible problems for travel. Biden said in a Sept. 20 statement that a shutdown could result in significant delays for travelers, as air traffic controllers and Transportation Security Administration (TSA) agents are part of the federal workforce that would be required to work without pay, "potentially leading to significant delays and longer wait times for travelers at airports across the country like there were during previous shutdowns."
At a September 22 press conference, Veterans Affairs Department (VA) Secretary Denis McDonough said that a shutdown would have no impact on veterans' healthcare but that the VA was closely monitoring the situation in Washington.
"Burials would continue at VA national cemeteries. VA would continue to process and deliver benefits to veterans, including compensation, pension, education and housing benefits, and the board would continue to process appeals," McDonough said. However, he added, outreach services to veterans would be stopped, public-facing regional offices would be closed, and many regular operations, such as career counseling, transition assistance and cemetery grounds maintenance, would not be available.
In a Sept. 28 statement, the White House said that a shutdown would underfund the Federal Emergency Management Agency's (FEMA) Disaster Relief Fund, resulting in delays of nearly 2,000 long-term disaster recovery projects. It would also undermine community preparedness by preventing fire departments from getting funding to retain firefighters and buy equipment, halting first responder training and jeopardizing access to grants for disaster and terrorism preparedness.
The Department of Education's contingency plan in case of a shutdown, which was last updated in 2021, states that basic operations, including the servicing and disbursement of federal student loans and Pell Grants, could continue for a very limited time during a shutdown, but that these operations could also experience some level of disruption.
As lawmakers continue debate until mid-November over passage of the 12 appropriations bills, Kiplinger will keep an eye out for the latest developments, so stay tuned.
RELATED CONTENT
Esther D'Amico is Kiplinger's senior news editor. A long-time regulatory journalist, Esther has covered a range of industries including antitrust and congressional affairs, infrastructure, transportation, climate change and the industrial chemicals sector. She holds a bachelor's degree in journalism and in English.