Government Shutdown Averted For Now As Biden Signs Temporary Funding Bill
Another government shutdown has been avoided for now as Biden signs a bill that buys lawmakers more time to reconcile differences over the federal budget.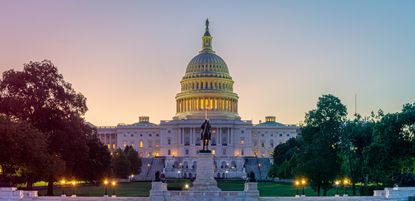 (Image credit: Getty)
President Joe Biden signed a temporary government funding bill into law on Thursday, a move that keeps key agencies from closing this year and pushes lawmakers to try to reconcile differences over the federal budget by early next year.
In the case of a government shutdown, many federal departments and agencies would close and with them many public services and programs.
The bill passed both the Senate and House of Representatives earlier this week, just days before the November 17 deadline for the shutdown. The legislation buys time for lawmakers to further debate and ideally pass 12 appropriations bills that would provide funding for key government agencies next year, action that they have been unable to reach agreement on for months.
Subscribe to Kiplinger's Personal Finance
Be a smarter, better informed investor.
Save up to 74%
Sign up for Kiplinger's Free E-Newsletters
Profit and prosper with the best of expert advice on investing, taxes, retirement, personal finance and more - straight to your e-mail.
Profit and prosper with the best of expert advice - straight to your e-mail.
Newly elected House Speaker Mike Johnson (R-LA) proposed the legislation, which creates a two-step process that delays a vote on passing four of the appropriations bills until January 19, with a separate vote on the rest on February 2.
Johnson needed to rely on Democrats to reach the necessary two-thirds supermajority for the bill to pass in the House. He now faces opposition from some hard-right Republicans who wanted it to include deep spending cuts. Some of these same Republicans helped to oust his predecessor Kevin McCarthy (R-CA) last month after he also was forced to rely on Democrats to temporarily avert a shutdown.
The Senate voted 87 to 11 on November 15 to pass the bill, which was cleared in the House on November 14 with bipartisan support in a 336 to 95 vote.
Here's what to know about the agencies and services that are at stake in a shutdown:
At a recent press conference, Johnson expressed the need for getting the bill passed. According to a Reuters November 14 report, Johnson told reporters that moving beyond a shutdown "and making sure that government stays in operation is a matter of conscience for all of us."
RELATED CONTENT
Esther D'Amico is Kiplinger's senior news editor. A long-time regulatory journalist, Esther has covered a range of industries including antitrust and congressional affairs, infrastructure, transportation, climate change and the industrial chemicals sector. She holds a bachelor's degree in journalism and in English.