Pick the Best Broker for You
Co-hosts Ryan Ermey and Sandra Block discuss Kiplinger's annual ranking of online brokerages and take you through the ins and outs of buying a new car over Labor Day weekend.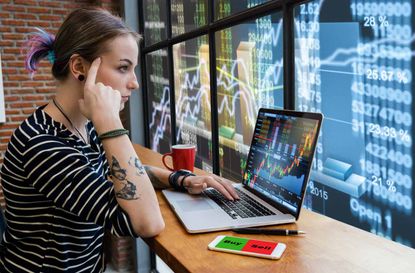 (Image credit: THANANIT (THANANIT (Photographer) - [None])
Ryan Ermey: I spent weeks crunching numbers to rank online brokerages and in the end fractions of a point separated our winner from the second and third place finishers. The truth is every brokerage has something to offer, depending on what kind of investor you are.
Ryan Ermey: Sandy and I break things down in our main segment. On today's show we talk shopping for a new car over Labor Day weekend and reexamine and update some of our previous advice. That's all ahead on this episode of Your Money's Worth. Stick around.
Ryan Ermey: Welcome to Your Money's Worth. I'm Kiplinger's Associate Editor, Ryan Ermey, joined as always by Senior Editor Sandy Block. Sandy, how are you feeling today? Hopefully better than I am.
Subscribe to Kiplinger's Personal Finance
Be a smarter, better informed investor.
Save up to 74%
Sign up for Kiplinger's Free E-Newsletters
Profit and prosper with the best of Kiplinger's expert advice on investing, taxes, retirement, personal finance and more - straight to your e-mail.
Profit and prosper with the best of Kiplinger's expert advice - straight to your e-mail.
Sandy Block: I know I'm feeling better than you are Ryan.
Ryan Ermey: Yeah, a little under the weather here. I have caught a cold that, you know, has been going around our office, going around my roommate's office or my dad's office and just seemingly everywhere. I'm sounding like my... I'm reminding myself I sound like my mother, who... My mother has never actually caught a cold, you know. In my mom's world someone always gives you-
Ryan Ermey: It was somebody else's fault.
Ryan Ermey: ... gives you a cold. She's like the Columbo of germs. It's like where were you 48 hours before the symptoms broke out? Who is responsible?
Ryan Ermey: So the thing that we want to talk about in the opening segment here, Labor Day is coming up and you've likely seen or heard ads for Labor Day car sales, and the reason is consumers can find discounts on 2019 models on the holiday because it's the... Labor Day is traditionally the end of the model year.
Sandy Block: Right. Right.
Ryan Ermey: So a quick caveat from our friends at Consumer Reports (opens in new tab), that buying a 2019 car now means that it will have accelerated depreciation.
Sandy Block: Right, because cars start losing value the minute you drive them off the lot. That's the case always with those kind of things.
Ryan Ermey: Right. But if you plan on buying it and owning it for a while you can find good discounts on Labor Day. Among Consumer Reports' list of favorite car discounts, they range from about $2,900 to about $6,000 off of the MSRP.
Sandy Block: That's pretty good.
Ryan Ermey: Now the sort of drawback to buying a new car, because we've discussed buying like Christmas gift cards on the show.
Sandy Block: That's right. The big bow.
Ryan Ermey: Right, and probably why you shouldn't do it. The drawback to buying a new car in general is that you can't use the newfangled online only model that you can use for used cars.
Sandy Block: Uh-huh (affirmative). You actually have to go down and talk to somebody.
Ryan Ermey: Eventually.
Sandy Block: Yeah.
Ryan Ermey: Eventually. In theory... So like for used cars there's Carmax (opens in new tab), there's Vroom (opens in new tab), there's Carvana (opens in new tab). You can basically pick a car online, line up the financing, have it delivered to your doorstep. In theory you can do that with a new car, buy a new car online, but you have to have actual signatures on paper. Even if you use some of the services, you're still going to have to go down there and talk to somebody.
Sandy Block: Who really wants to sell you a car today.
Ryan Ermey: Who's a more sophisticated negotiator than you probably are, or certainly than I am, which is why we've traditionally recommended using a car buying service.
Sandy Block: Right. The big player in the car buying service is TrueCar (opens in new tab). If you use a car buying service from Consumer Reports (opens in new tab), AAA (opens in new tab), GEICO (opens in new tab) or Sam's Club (opens in new tab), that's what you're using. You're using TrueCar.
Ryan Ermey: Right.
Sandy Block: You pick out the car, put in your information, and you get prices on dozens of models near you, so this certainly saves you from driving all around your metro area and encountering many sales people who want to sell you a car today.
Ryan Ermey: But as our colleague, David Muhlbaum, notes you're still going to get calls and emails from reps for dealers in the area. Another sort of longtime car buying service that we've recommended at Kiplinger's for a long time is CarBargains (opens in new tab), which claims to save you hundreds over TrueCar's prices. You pay $250 upfront, they promise you at least five bids from dealers near you.
Ryan Ermey: It's run by Consumers Checkbook (opens in new tab), which is a non-profit organization. It pits dealers against one another to drive the price down. The problem is it is going to be a little bit wonky. You're going to get a big PDF file and worksheets, and you're supposed to print them and mark them... I mean do you even have a printer? I don't have a printer in my house.
Sandy Block: It doesn't ever work. Yeah.
Ryan Ermey: And you're still going to have to then take a pencil and worksheet into the dealer to get your bid. So new or used, the real struggle to land a good deal on a vehicle is often in the quote-unquote F&I office, the finance and insurance office.
Sandy Block: Right.
Ryan Ermey: Our fearless leader, Mark Solheim, who's a bit of a car guy himself, mentioned in a piece that he wrote recently that the dealership makes much more margin on this part of the business than it does actually selling the cars.
Sandy Block: Uh-huh (affirmative). Yeah. Exactly.
Ryan Ermey: So in other words, if you're going to use the buyer service you're still going to have to go in to the F&I office prepared to say no thank you a bunch when you offer you all the extras.
Sandy Block: Right. Right. Exactly. And you don't even have to finance it through them, even though they will, you know, strongly encourage you to do so. Oftentimes you can get a better deal on a car loan from your credit union or your bank, and right now interest rates are low and going lower, so I would definitely think it's a good idea to shop around. I don't know that the car dealer is going to offer you the best deal.
Ryan Ermey: And even if you do take the deal at the dealership in terms of financing, one extremely important thing to negotiate when you're in that F&I room is to be able to prepay your loan without penalty.
Sandy Block: Right. And one other thing I want to add, particularly with respect to buying a new car, and I think we've written about this before, is that sometimes the dealer will try and make the deal look more affordable by extending the length of the loan, say five years or more.
Sandy Block: You could end up being upside down on your car. Say you get a five year loan and then you drive the car off the lot, and remember it starts depreciating... The minute you put your foot on the metal the car starts to lose value.
Ryan Ermey: That's right.
Sandy Block: You wreck that car early on in your ownership, you could end up owing more on the car than it's worth, so be really careful about these longterm loans, because they can turn bad on you.
Sandy Block: That's right. If you're going to be buying a new car on Labor Day, using a car buying service can take a lot of the stress and headache out of the experience, but still be ready to go into the dealership firm and ready to negotiate and see what financing options are available to you.
Ryan Ermey: Coming up, find out which brokerage tops our annual ranking and which one might be best for you.
Ryan Ermey: We are back and in lieu of a special guest today Sandy is going to be asking me about something that I've been working on for really I mean the better part of two months of spreadsheet madness.
Sandy Block: Two months you're never getting back.
Ryan Ermey: Yeah. Well, you know, two months that are going to hopefully benefit our readers and listeners immeasurably. So I undertook this project, it's in the October issue of Kiplinger's. It also is going live... Will have gone live online on Aug. 22. So go check it out. It's the online brokerage rankings, and, Sandy, what do you want to know?
Sandy Block: Well, I know how hard you worked on this Ryan. I had a front row seat to that. So I guess my first question is one thing that we've written about a lot in Kiplinger's is how much the cost of investing has dropped. I think you said the cost of trading stocks or ETFs is less than the cost of a side salad?
Ryan Ermey: That's right.
Sandy Block: So given that everything is cheap, what are the online brokerage doing to stand out?
Ryan Ermey: So yeah, the cost of a side salad. The most expensive brokerage on our list charges a commission of less than $7 for a trade. You think back in the day, people were paying double digits per trade, and they've been going down steadily over the last several years.
Ryan Ermey: But ultimately you can't beat free, which is what Firstrade (opens in new tab) is offering. They charge no commission to trade stock, ETFs, mutual funds or options. But a couple other brokerages offer good deals. It should be said that Merrill Edge (opens in new tab) will give you, depending on how much money you have combined in assets in a Merrill Edge account and in a linked bank account... You have to sign up for their Preferred Awards Program, you can get from 10 to 100 free trades per month. They just recently lowered the asset threshold for that, so something like 80% of trades on their platform are now made commission free.
Ryan Ermey: A couple of new entrants into the broker survey this year, TradeStation (opens in new tab) and Interactive Brokers (opens in new tab), those are both geared toward active traders specifically. So if you are an extremely high volume trader, someone who's constantly or perhaps automatically trading using an algorithm, they can charge as little as fractions of a cent per share.
Sandy Block: Okay. Great. So it doesn't cost very much, but that doesn't matter if they don't have anything that you want to buy.
Ryan Ermey: Yes.
Sandy Block: What about investment choices? How important is that in choosing an online broker and what should you look for?
Ryan Ermey: There are certain fundamental things that our readers are looking for, that investors want, and one of these things is no transaction fee mutual funds, which are mutual funds that can be purchased without paying a sales charge or a transaction fee, and they want commission free ETFs.
Ryan Ermey: know, all of their ETFs are commission free. In terms of NTF mutual funds, no transaction fee mutual funds, Schwab (opens in new tab), E*Trade (opens in new tab), Fidelity, Interactive Brokers (opens in new tab), TD Ameritrade (opens in new tab), they're all in about that 4,000 range in terms of mutual funds that are offered this way on their platforms.
Ryan Ermey: The couple things that stand out there, E*Trade has the highest percentage of no transaction fee funds that have three star ratings or better from Morningstar.
Sandy Block: That's good. Okay.
Ryan Ermey: Which means that they just have the... You know, of the funds that they offer on their NTF roster, they just have the highest quality.
Sandy Block: Not a bunch of junk. Yeah, that's good.
Ryan Ermey: And Fidelity also stands out here, because they offer four funds that have zero percent expense ratios and no minimums to go along with... You know, they have 27 funds in total, including those four, that don't have an investing minimum, which is really important for cost conscious investors.
Sandy Block: That's right. You gave more weight this year to the firms' mobile apps. Why did you do that, and what did you look at when you were evaluating the apps?
Ryan Ermey: So we talked to representatives from all of the brokers in our survey. They come and they give presentations. We talk to them over the phone. We do webinars, whatever, to try to get a sense of what is important to their clients and how they're responding to it, and nearly all of them indicate that their clients are demanding to do more and more of their business on the go, so mobile investing, mobile brokerage capabilities, have become more important than ever.
Ryan Ermey: The way that we measure our scoring for the mobile category, which is one of seven categories that we include in our rankings, which takes up 25% of the total ranking, is based... It's not like a beauty contest. It's based on the number of functionalities actually offered on the mobile platforms, including being able to pay bills from a brokerage account, being able to deposit checks into your brokerage account by taking a picture using the app, and of course stock, bonds, mutual funds and ETF trading.
Ryan Ermey: A lot of the brokerages came pretty close in this category. Fidelity, E*Trade, a lot of them, did well, but Interactive Brokers really came the closest to checking all of the boxes, and they're the only ones that offer stock, bond, mutual fund and ETF trading on the mobile app.
Sandy Block: Okay. So that's the one you want if you want to do your business on your phone. I know that online brokerages are for the do-it-yourself crowd.
Ryan Ermey: Yeah.
Sandy Block: But maybe you want a little more handholding or advice. What should you look for and what firms stand out in that category?
Ryan Ermey: We definitely still gear our advisory rankings toward the DIY investor. We want there to be a low cost and a low barrier to entry to have portfolios created for you and for your financial plan that go along with your tolerance for risk and your sort of overall investing picture.
Ryan Ermey: So we favored firms that have really good, low cost robos which use an algorithm to create a portfolio for you that matches your goals. Schwab is the number one scorer in the category. They have a $5,000 minimum to open their basic robo account, but after that it gets really cheap.
Ryan Ermey: So investors don't have to pay a management fee to be in one of Schwab's 36 different portfolios, and expense ratios on those portfolios range as low as 0.08%. Fidelity scores highly on this category as well because of the low barrier to entry. You only need $10 to open a Fidelity Go (opens in new tab) account. That's the name of their robo advisory, and they have a .35% management fee that includes expense ratios on the underlying funds.
Sandy Block: So, Ryan, it was close, but your overall winner was E*Trade. What gave it the edge?
Ryan Ermey: You know it was really an all around performance from E*Trade. Of the seven categories, six different brokerages took first place, and E*Trade didn't take first place in any of them, but it scores highly across the board, is what this ranking is ultimately about. There's all kinds of different investors with all sorts of different needs. Ranking brokers like this is a way to try to home in on the ones that offer the most things to the most kind of investors.
Ryan Ermey: So in E*Trade's case, they scored really highly for user experience. Me and the other investing writers all test drove the websites and the apps. We thought that E*Trade's platform was simple and intuitive and powerful. They have a robust list of high quality, low cost investment options, and their robo advisory... As well as their quote-unquote hybrid robo advisory, which involves an algorithm driven investment plan that is then overseen by a real life advisor who you can interact with, it's a really good option at E*Trade as well.
Ryan Ermey: And all of those things are affordable there, so they really just submitted a consistent performance and that's why they came out on top.
Sandy Block: So, Ryan, my last question, one thing that really strikes me about your findings is that unlike not all that long ago it's really possible for somebody with not a lot of money to open one of these accounts, they're so low and the costs are low. So if you wanted to just dip your toe in the water and learn about investing there are... You know, this is a great guide on how to do it. So let's say you are a beginner. What is your best option for a beginning investor?
Ryan Ermey: There are a lot of brokerages that offer a lot of good investor education. TD Ameritrade comes in highly on that one, but my favorite one for beginners is Merrill Edge, because they really... So first of all they are a top user experience brokerage. Everything about their platform is really easy to use, because in talking to them they really wanted to gear their platform to educating all different kinds of investors and really holding their hands and walking them down the path.
Ryan Ermey: This is really plain when you look at their various... They call them story modes. So like if you're researching a stock on one of Merrill Edge's platforms, you can enter the stock story mode and it will ask you all of these very sort of basic questions rhetorically about a stock. What kind of business is this? What do analysts think of it? And in each case... And this is true of finding investments, but also there's a portfolio story, so they'll analyze your portfolio and ask, you know, what sort of questions should you be asking yourself about your own investing picture.
Ryan Ermey: And in each case they give plain language, actionable advice that you can enact directly on the platform. So I recommend Merrill Edge for anyone who wants to learn more about investing in a very user friend, intuitive way.
Sandy Block: That's great Ryan. So anyone who wants... Whether you're a beginner or an experienced investor you should check out our website, Kiplinger.com, for our online broker rankings starting Aug. 22, and it will also be in our October issue on newsstands near you.
Ryan Ermey: Stay tuned after the break for an update on the Equifax settlement and the Earnin app.
Ryan Ermey: We're back, and before we go a sort of new flavor of segment here. We haven't come up with a special name for it yet, but one in which that we both want to revisit something that we've talked about in the third segment here in the past, possibly because some new information has emerged.
Sandy Block: Right. What I'd like to revisit is the Equifax settlement which we talked about a couple of weeks ago with our colleague, Lisa Gerstner. You may recall that Equifax offered a $700 million settlement to people who were affected by the massive data breach a couple of years ago. We did the math on this in our October issue. You may have read that Equifax offered $125 to people who set up credit monitoring.
Ryan Ermey: Yes.
Sandy Block: We suspect that money is already pretty much gone. Equifax only set aside $31 million for the payment pool, and if you want to do the math on that it works out to 248,000 people if the class action members receive the full $125. That's less than one-fifth of 1% of the 147 million people swept up in the Equifax breach.
Ryan Ermey: Geez.
Sandy Block: To put that even more in context, in the first week that the settlement was announced more than 4.5 million people visited the official settlement website, so you're probably not going to get $125 or even $25 out of this. You may be eligible, and we explained this in our October story, for some reimbursement if you were affected, if you spent money protecting yourself, and we lay that out.
Sandy Block: The other thing I wanted to update listeners on is to be very wary of scams. When you get a settlement of this size people come out of the woodwork, and the FTC has warned people about lookalike websites that say that they will give you the $125. Things to watch out for is you should never have to pay to file a claim. I guess some of these people are telling people if you give me some money, we'll give you the $125.
Ryan Ermey: Yeah, that's what I was-
Sandy Block: And just in general, anyone who calls or reaches out to you and says they'll help you get your money is a scammer, because Equifax isn't doing that, I mean to the extent that you'll get any money at all, you have to go get it (opens in new tab).
Sandy Block: So the final thing I'll say is just to be extra safe. If you want to learn more about the breach and what's available go to ftc.gov/equifax (opens in new tab) and enter it through there. That's the safe way. That way you won't get caught up in some website where they maybe transpose two letters to get you in or something like that. So, Ryan, what do you have to update us on?
Ryan Ermey: Something that we talked about in the early days of the podcast I think... I didn't go back and check the date, but I was curious about a commercial I had been... Several commercials I had been seeing for an app called Earnin. You'll recall that the commercials are like a guy behind the camera going like, "Hey, man, how are you paying for gas if your payday isn't till Friday?"
Ryan Ermey: So what the app does it gives you loans against your paycheck, and they claim that it's all based on tips, so you don't pay interest. You have an optional tip that you can give... You know, it pays forward to other people-
Sandy Block: Right. Their argument was that they are not a payday lender. They are better than that, right?
Ryan Ermey: And now they're being investigated for possibly being a payday lender. At the time I called it a deal with a lot of caveats, and now I tend to think that the caveats outweigh the potential deal.
Ryan Ermey: So what's happening? The New York Department of Financial Services is leading a probe, along with 10 other 10 state banking regulators and Puerto Rico, which includes a number of these online lenders, Earnin included. The deal is that there's a suggested tip, right?
Ryan Ermey: And the suggested tip... At least what the New York Post reported (opens in new tab), that the app suggested a tip of $9 for a $100 one-week loan, a one-week advance, which works out to some 469% APR.
Sandy Block: Payday lenders are loving it.
Ryan Ermey: Right. Then they say well, it's optional. You don't have to do it, but if you don't do it then they introduce caps on how much you can withdraw per pay period, so it's in this sort of murky area.
Ryan Ermey: The other thing that started coming up was that the app was occasionally glitching, which is a big problem for people who are using these advances to make sure they don't overdraft their accounts, which can come with humongous fees. So it's a big deal if you're supposed to get your money immediately and instead it takes like two weeks.
Sandy Block: Right.
Ryan Ermey: You might as well be waiting for your paycheck at that point. So it's just something that is really worth watching out for. I wouldn't use it until the investigation is over.
Sandy Block: I think the larger issue is if you're like this guy in the commercial and you don't have money for gas and you're not getting paid for a week, you have larger issues than this will solve and you have to really start looking at your cash flow, your living expenses.
Sandy Block: The problem with payday loans is the same thing that will happen if anybody becomes reliant on Earnin, is that you never have enough. You're always having to borrow more because you are living beyond your means.
Ryan Ermey: Right. Borrowing from Peter to pay Paul.
Sandy Block: Right. Right. Exactly. So you've got a larger issue than this product even if it didn't have all these problems to solve.
Ryan Ermey: Yeah. The advice here is... When we talked to our friend Pam Capalad at Brunch & Budget (opens in new tab), budgeting is something that we cover all the time, but... In the magazine anyway, and we've done a little bit on the podcast, but it's about creating a budget that you can stick to, building an emergency fund in case you come up against it, and not putting yourself in a position where you need an advance on your paycheck, whether Earnin is on the up-and-up or not.
Ryan Ermey: That's it for this episode of Your Money's Worth. For show notes and more great Kiplinger content on the topics we discussed on today's show visit kiplinger.com/links/podcasts. You can stay connected with us on Twitter (opens in new tab) at Kiplinger, on Facebook (opens in new tab) at facebook.com/kiplingerpersonalfinance, or by emailing us at podcast@kiplinger.com (opens in new tab).
Ryan Ermey: And if you like the show, please remember to rate, review and subscribe to Your Money's Worth wherever you get your podcasts. Thanks for listening.
Links and resources mentioned in this episode
Associate Editor, Kiplinger's Personal Finance
Ryan joined Kiplinger in the fall of 2013. He writes and fact-checks stories that appear in Kiplinger's Personal Finance magazine and on Kiplinger.com. He previously interned for the CBS Evening News investigative team and worked as a copy editor and features columnist at the GW Hatchet. He holds a BA in English and creative writing from George Washington University.