What to Expect if You're Flying in 2021
Policies enacted by the airlines in 2020 may change air travel for the long haul.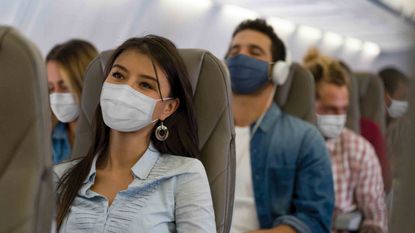 (Image credit: iStockphoto.com)
At a time when everything travel-related seems to be up in the air except for airplanes, at least fliers have the ability to stay flexible. The major airlines have permanently waived change fees for all but the cheapest flights within the U.S. and to Mexico and the Caribbean. And although the waived-fee policies aren't set in stone for basic-economy or international bookings, for now some airlines are extending the policy to those tickets, too.
For example, Delta Airlines has promised "Peace-of-Mind Booking" through early spring, waiving change fees on all flights, including international flights, booked before March 31. United is waiving change fees for international travel originating in the U.S., but the airline has stopped waiving change fees for basic-economy flights. Similarly, American Airlines is waiving all change fees for first-class, business-class, premium-economy and main-cabin fares for all domestic flights, as well as flights to Canada, Mexico and the Caribbean, as long as the ticket was issued on or after August 31, 2020. American is also extending its no-change-fee policy to basic-economy fares purchased on or before January 31.
Because the pandemic isn't going away tomorrow, it makes sense to preserve your options for changing your plans fee-free. For example, Southwest will let you rebook a flight fee-free for up to 12 months after your original purchase. Or if you forgo basic economy, you won't have to worry about confusing change-fee policies if you alter your plans—regardless of when you buy your ticket.
Subscribe to Kiplinger's Personal Finance
Be a smarter, better informed investor.
Save up to 74%
Sign up for Kiplinger's Free E-Newsletters
Profit and prosper with the best of expert advice on investing, taxes, retirement, personal finance and more - straight to your e-mail.
Profit and prosper with the best of expert advice - straight to your e-mail.
Using flight credits. If you cancel or change your flight, you'll typically receive a credit for future travel with the airline. How the airlines apply a credit varies. If you rebook a cheaper flight, some airlines will refund the difference, while others will apply the rest of the credit to another flight in the future. A few airlines, including United, have limits on how many times you may rebook and whether or not you may change your destination. United has two types of credits: travel credits and flight credits. A travel credit may be used for multiple trips until you use up the full value. A flight credit, however, allows you to rebook only a single flight. If the flight you book is more expensive, you'll pay the difference, but if it's cheaper, the airline pockets the difference.
Be sure to look at your credit and read the fine print, as the actual expiration date (typically a year) may vary—not only for when you can travel but also when you can book that travel. If you're unable or unwilling to travel within that time frame, try an appeal to the airline. "Even if the travel credit expires before you want to travel, it's worth calling the airline to ask if you can extend it," says Scott Keyes, founder of ScottsCheapFlights.com (opens in new tab). Do it politely and many airlines will oblige, he says.
Although it's possible that fliers may lose some flexibility with air travel in 2021, you can count on the continuation of COVID-19 safety protocols, says Melanie Lieberman, senior travel editor for The Points Guy. Travel experts are betting that the Biden administration will issue a federal mask mandate for air travel.
In fact, strong COVID-19 safety protocols proved more important to travelers than the cost of a ticket, according to a recent survey from The Points Guy. All U.S.-bound international passengers will have to supply proof of a negative COVID test. And as vaccinations become more widely available, proof of vaccination may ease travel across certain borders. Apps designed to prove vaccination status or verify a recent negative test result may also become commonplace, says Keyes.
Staff Writer, Kiplinger's Personal Finance
Emma Patch joined Kiplinger in 2020. She previously interned for Kiplinger's Retirement Report and before that, for a boutique investment firm in New York City. She served as editor-at-large and features editor for Middlebury College's student newspaper, The Campus. She specializes in travel, student debt and a number of other personal finance topics. Born in London, Emma grew up in Connecticut and now lives in Washington, D.C.