Peering Past the Pandemic
I'm looking forward to a time when lunches with the girls (or guys), volunteering and travel will resume.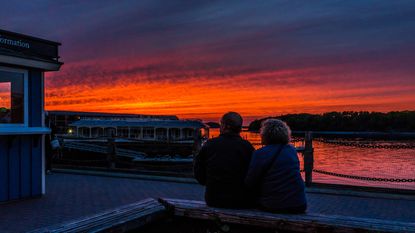 (Image credit: Getty Images )
My column on the joys of being retired (Rethinking Retirement (opens in new tab), "The Joys of Being Retired") drew a slew of responses—a couple of which were pretty grumpy. "Your column came from the la-la land of before the pandemic," writes Scott Bigelow. "Lunches with the girls, volunteering, travel, sometimes even grandchildren are things that went away." And from Kevin Swan: "This article is out of touch with what is happening in the world today. All the businesses you talk about that people who are retired have more time to enjoy—theaters, gyms, restaurants, to name a few—have been forced to close."
But most of the responses were more upbeat. "I was happy to read about the numerous joys of other retired readers and chuckled at some of the comments," says Louis Pinneri. "Our retirement activities may be temporarily restricted, but I very much look forward to the resumption of freely doing what we enjoy."
I'm with you, Mr. Pinneri. That was my intention in writing the column. Yes, this year has been an annus horribilis as far as the pandemic is concerned, but I wanted to look beyond COVID-19 to the time (soon, we hope) when lunches with the girls (or guys), volunteering and travel will resume. Many restaurants, gyms and other businesses have reopened, treatments have improved, and vaccines are on track.
Subscribe to Kiplinger's Personal Finance
Be a smarter, better informed investor.
Save up to 74%
Sign up for Kiplinger's Free E-Newsletters
Profit and prosper with the best of Kiplinger's expert advice on investing, taxes, retirement, personal finance and more - straight to your e-mail.
Profit and prosper with the best of Kiplinger's expert advice - straight to your e-mail.
My husband and I declared an end to our personal lockdown over the summer. Yes, we continued to follow all the rules (masks, distancing, avoiding large gatherings). But within those constraints, we were able to buy a new car and hit the road to visit scattered family members and grandchildren—including a brand new grandson—enjoy our annual family trip to the beach, dine al fresco, and return to outdoor exercise at our local YMCA. Finally, in September, we made the trip to Acadia National Park that we had been forced to postpone in May. And it all felt so refreshingly normal.
Other readers must also have appreciated a break, because despite the current circumstances, they continued to share their retirement joys. "I especially loved the last quote in your story from the man who likes to listen to morning traffic reports on rainy and snowy days," writes Arthur Buonopane. "Even better is listening to traffic reports on my way to the golf course."
Disappointments. There was one sober note, but it had nothing to do with the pandemic. "I enjoyed reading your readers' glowing praise for the simple pleasures of retirement," writes Tim Binzer, who is looking forward to retiring early. "Now that you have highlighted the pleasures, I hope you devote a future column to the disappointments. I want to make sure I'm not looking into the future with rose-tinted glasses."
Mr. Binzer, one complaint I sometimes hear is expressed perfectly by Barry Solof, a semiretired physician. "When I fully retired several years ago, I was bored to death," says Solof. "So I wound up going back to work in the mornings four days a week. Please let your readers know that retirement is not bliss for everyone and that some retirees require more structure."
Often couples who are accustomed to being apart seem to struggle with so much together time. "Sometimes you and your partner have totally different expectations," writes Bharat Desai. "You end up getting involved in painful tasks to keep your partner happy!" Kathy Maynard says she keeps "scaring" her husband. "He sees me in one place in the house and the next minute I'm right behind him—as if his mind thinks I would stay in one place all day. But in my mind, there's laundry to get started and more."
And Michael Brietich writes that after two years of an enjoyable retirement, "I find myself still searching for my sense of purpose now that I'm no longer working. I want to look back and know that we lived our best lives."
Mr. Brietich, I'll be happy to address that in a future column. And as usual, I'd love to hear how readers tackled that challenge.
Editor-at-Large, Kiplinger's Personal Finance
Janet Bodnar is editor-at-large of Kiplinger's Personal Finance, a position she assumed after retiring as editor of the magazine after eight years at the helm. While editor, Bodnar was honored by Folio as one of its Top Women in Media. She is a nationally recognized expert on the subjects of women and money, children's and family finances, and financial literacy. She is the author of two books, Money Smart Women and Raising Money Smart Kids. As editor-at-large, she writes two popular columns for Kiplinger, "Money Smart Women" and "Living in Retirement." Bodnar is a graduate of St. Bonaventure University and is a member of its Board of Trustees. She received her master's degree from Columbia University, where she was also a Knight-Bagehot Fellow in Business and Economics Journalism.