Getting a Used Car Deal in a Tight Market
Cars are scarce and prices have gone up. Use these strategies to find the best values.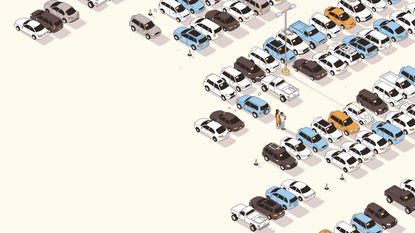 (Image credit: Illustration by Adam Allsuch Boardman)
Car shopping has always seemed a bit like gambling in Vegas: At the end of the day, the dealer comes out ahead. Over the past decade, the internet has helped change the rules to give consumers a bit more of an edge, adding transparency and the ability to comparison shop among thousands of vehicles—across the entire U.S., if you wish. But until recently, unless you were buying from a private party, you'd eventually find yourself in the dealer's showroom—and the financing and insurance office—when it was time to pull the trigger.
That's changing. Now it's possible to buy a vehicle entirely online, and the pandemic has accelerated the digital car-buying trend. If you're shopping for a car or truck, it's easier to find a dealer or service that will let you complete your trade-in, financing and paperwork online and top it off by delivering your new ride to your driveway. The person who delivers your vehicle may even drive away your old one. All-digital used-car sites, such as Carvana (opens in new tab), Shift (opens in new tab) and Vroom (opens in new tab), tout their vehicle inspections (they go over up to 150 separate items) and a seven-day return period—and claim to offer lower prices because they don't have dealer showrooms.
The buy-from-home experience is still a small segment of the market, especially for used vehicles. Most buyers are more comfortable test-driving a vehicle and giving it a thorough inspection (or having a mechanic inspect it). But even if you ultimately end up at the dealer, you have the opportunity to do research, comparison shop and get prequalified for financing online, all of which gives you the information to strengthen your negoti­ating position with the dealer.
Subscribe to Kiplinger's Personal Finance
Be a smarter, better informed investor.
Save up to 74%
Sign up for Kiplinger's Free E-Newsletters
Profit and prosper with the best of expert advice on investing, taxes, retirement, personal finance and more - straight to your e-mail.
Profit and prosper with the best of expert advice - straight to your e-mail.
We'll run down five pop­ular sites for used-car shoppers and what to expect. But wherever you shop, use these strategies to get the best deal.
Find the sweet spots
When manufacturing plants shut down in March 2020, the supply of new cars decreased and prices increased. But demand stayed strong, despite the sharp economic downturn. City dwellers who had relied on ride-hailing apps and public transit wanted their own wheels, and private cars became the transportation of choice. Plus, many households had more money to spend: Stimulus checks provided cash, while lower expenditures on travel and restaurants helped boost savings to record highs.
With fewer new cars, there were fewer new-car buyers and fewer trade-ins, and some would-be new-car buyers turned to the used market. As of March 2021, with added stress from supply-chain disruptions, new-vehicle inventory at dealerships nationwide was down by more than one-third, reports Edmunds, an automotive website. That's pushing up prices even more for both new and used vehicles. The average transaction price of a new vehicle recently topped $40,000; the average used-vehicle asking price, based on listings on TrueCar.com (opens in new tab), rose from a pre-pandemic $22,100 in March 2020 to about $25,670 in April 2021—about a 16% pop. Pickup truck and SUV prices are particularly high. According to Edmunds, the average transaction price for used full-size trucks is expected to climb to $34,445 this year, compared with $28,156 a year ago, and the average transaction price for used large SUVs is expected to climb to $35,035, compared with $31,232 a year ago. Prices are likely to rise even more as buyers flush with tax refunds and American Rescue Plan checks go shopping.
You can find better deals on smaller cars, which typically have higher fuel economy—good city vehicles that are easy to park. Nick Woolard, an analyst with TrueCar, also suggests used electric vehicles, such as the Chev­rolet Bolt and Volt and Nissan Leaf (see Save Money With an Electric Car (opens in new tab)). Matt DeLorenzo, senior managing editor of automotive website Kelley Blue Book (KBB.com (opens in new tab)), adds sedans that carmakers are discontinuing—such as the Ford Fusion and Chevrolet Impala—to the list of potential bargains.
If you're not in a hurry to buy a used car, consider waiting until late summer or fall. As new-car inventory ramps up—and especially as the 2022 models hit dealer lots—the number of used vehicles will also increase, and prices are projected to fall. Plus, more vehicles come off lease later in the year, increasing the inventory of certified preowned (CPO) vehicles.
Comparison shop
The pandemic accelerated another shift in the auto industry, says De­Lorenzo: As carmakers were forced to cut the supply of vehicles for sale last year, they discovered they could clear a fair profit by focusing on margins instead of volume. That means, at least for the near term, lower production is here to stay. "On average, cars will cost more, and it will be more difficult for buyers to find what they want," says DeLorenzo. "You will have to cast a wider net."
A million or more used vehicles are listed at sites such as KBB (opens in new tab) and Autotrader (opens in new tab) (both owned by Cox Automotive), Cars.com (opens in new tab), CarGurus.com (opens in new tab), and TrueCar (opens in new tab). Dealers provide most listings, with some private-party offerings mixed in (except at TrueCar). Start your research at one of these large marketplaces, but also check out the other venues listed on the next page.
Most sites allow you to see listings nationwide. If you find a vehicle that's hundreds or thousands of miles away that will save you more than the cost of a plane ticket to go pick it up or the cost of shipping, go for it. Cross-country transport runs $1,000 or more.
To round out your shopping, consider rental car fleets. Rent2Buy (opens in new tab) at Hertz (opens in new tab) and the Ultimate Test Drive at Avis (opens in new tab) let you browse the fleet online, pick the model that you want, and take it for an extended test-drive (up to three days) from many of their rental locations. Enterprise Car Sales does not offer a several-day test-drive, but it will buy the car back within seven days if you don't like it. However, the rental fleets have reduced their in­ventory during the pandemic and are running their cars longer. That means you'll likely find less selection, and the vehicles may have more mileage and greater wear and tear.
Get peace of mind
As you decide on which vehicles to shop, check their reliability and repair records at Consumer Reports (opens in new tab) and Nadaguides.com (opens in new tab). KBB and Autotrader have top-10 lists of used cars and SUVs, updated monthly.
Focusing on a CPO vehicle is one way to get peace of mind. You'll pay a premium—typically $1,500 to $2,500—for the CPO assurance, but only late-model vehicles (usually less than five years old) with low mileage (less than 60,000 miles) qualify for CPO programs. They're put through rigorous inspections and come with an extension of the vehicle's new-car warranty. You may also get perks such as low financing rates and roadside assistance. Carmakers often tap off-lease vehicles for their CPO fleets. Because new-car sales (including leases) were strong two, three and four years ago, the selection of CPO vehicles is still fairly good.
If you're not buying a CPO vehicle, dig a little deeper in your research. As you identify vehicles you may want to buy, check the vehicle's CarFax (opens in new tab) or AutoCheck (opens in new tab) report; some dealers offer one or the other free, and TrueCar summarizes the crucial points of the AutoCheck report for each listing. You can get a free vehicle report at National Insurance Crime Bureau (NICB.org (opens in new tab)), VehicleHistory.com (opens in new tab) or iSeeCars.com (opens in new tab). Ideally, the vehicle will have relatively low mileage, one owner, no accidents and a history of regular maintenance. But as you stray from those guardrails, the price will usually decrease.
Negotiate a fair price
Figuring out a fair price for a used car is even harder than with a new car, because no two cars have identical histories, and mileage and condition will vary. A variety of websites offer used-car prices and break them down by transaction type—dealer, private party, CPO and trade-in. For any car you're interested in buying, look up pricing at Edmunds.com (opens in new tab), KBB.com and NadaGuides.com and come up with an average as your target. CarGurus.com rates each vehicle it lists from "Great Deal" to "Overpriced." TrueCar also labels prices from "Great Price" to "High Price" based on its own algorithm.
You may prefer the no-haggle route—from, say, CarMax (opens in new tab) or Carvana (opens in new tab). Without negotiating, you may end up paying a slightly higher price. But remember, it's not all about the price you pay on the vehicle. For most buyers, the entire transaction consists of a trade-in as well as the cost of financing. You'll probably come out ahead if you negotiate the price of the new vehicle and the trade-in separately.
Get top dollar for your trade-in
The flip side of higher used car prices is that it's a good time to trade in your vehicle. The sites we list below let you sell your used vehicle. Go through the motions and get a formal offer to see what you can fetch for your trade-in. "It sets the floor for the minimum you'll accept from the dealer," says DeLorenzo. Note, however, that it may be worthwhile to forgo a separate sale and make the trade-in part of the car-buying transaction. Most states charge sales tax only on the difference between the price of your trade-in and the vehicle you're buying, not the full price of the next car.
Get the best rate on your loan
The sellers below let you estimate your monthly car payment so you can shop for vehicles with a bottom-line price in mind. Some sites work with partners who set terms that dealers will honor. Others, such as CarMax and Carvana, have their own financing arms.
Going through the prequalification process is a good way to get a general idea of rates available. If you end up at the dealer, ask if you can get a better deal on financing. Also, check bank and credit union rates. Recently, 60-month used-car loans averaged about 4.2%, according to Bankrate.com (opens in new tab).
Five ways to buy
AUTOTRADER.COM (opens in new tab)/KBB.COM (opens in new tab)
Autotrader and Kelley Blue Book are both part of Cox Automotive, and there's little distinction between the websites. With well over a million listings from dealers and private parties, either site is a good place to start your research.
Used-vehicle listings: 1.4 million
Buy from home/delivery: With participating dealers.
Test-drive: Most listings are posted by dealers that require you to visit them; some will come to you, if you are within a certain distance.
Financing: You can get prequalified through Capital One, and participating dealers will honor the terms (for 30 days) and extend the loan.
Sell/trade-in: Negotiate with the dealer as part of the purchase trans­action. Another option is the Kelley Blue Book Instant Cash Offer: Dealers make an offer, good for seven days, to buy your vehicle or for credit toward a trade-in. You choose a participating dealer and drive there.
Returns/warranty: Depends on dealer and state.
TRUECAR.COM (opens in new tab)
TrueCar's claim to fame is its Price Reports—a guaranteed price with a breakdown of charges from its network of 16,500 dealers. When it comes to used cars, there's no TrueCar guaranteed price. But prices are labeled "excellent," "good" and so on. The site has a pleasing, clean interface (with no ads), but research information and tools are less robust than at KBB or Autotrader.
Used-vehicle listings: 790,000
Buy from home/delivery: With partici­pating dealers.
Test-drive: Most listings are posted by dealers that require you to visit them; some will come to you, if you are within a certain distance.
Financing: Through the dealer.
Sell/trade-in: Negotiate with the dealer, or tap the True Cash Offer: Dealers make an offer, good for three days, to buy or for credit toward a trade-in. You choose a participating dealer and drive there.
Returns/warranty: Depends on dealer and state.
CARMAX (opens in new tab)
CarMax is the largest U.S. used-car retailer (224 locations) and has offered its no-haggle, low-pressure used-car buying experience since its 1993 debut. Customer satisfaction is generally high, and the company has landed on best-places-to-work lists for years. The cars it sells must pass a 125-plus point inspection and undergo a detailed reconditioning. Prices are Kelley Blue Book suggested retail, which tend to be higher than competitors' prices.
Used-vehicle listings: 50,000
Buy from home/delivery: Within 60 miles of some stores. Choose a car online and request delivery. A CarMax team member will call to walk you through the steps for buying online and help you complete the documentation.
Test-drive: At CarMax locations, or take the car home for 24 hours (subject to a 150-mile limit).
Financing: Get preapproved online.
Sell/trade-in: Some locations feature an online offer to buy your vehicle, but you may have to go to a CarMax store to get an appraisal.
Returns/warranty: Returns up to 30 days (and 1,500 miles). Warranty is 90 days or 4,000 miles for "major" systems.
CARGURUS.COM (opens in new tab)
CarGurus has listings from about 40,000 dealers. Search is powered by algorithms that analyze data on millions of car listings, accounting for factors including price, mileage, trim and options, accident history, location and dealer reputation. CarGurus gives each car an overall deal rating, from "great" to "overpriced." Dealers can't pay for their cars to get a higher position in search results. Each listing has a dealer star rating, estimated monthly payment, how long the vehicle has been on the lot and price history of the vehicle. Bonus: You can filter vehicles by NHTSA safety rating.
Used-vehicle listings: Not available
Buy from home/delivery: Depends on dealer; typically within 25-mile radius.
Test-drive: Some dealers, typically within 25-mile radius, will bring vehicle to you.
Financing: Get prequalified with one of three lenders, with terms honored for 30 days. When you visit a participating dealer, you fill out a credit application for a loan from the dealer.
Sell/trade-in: At dealers. Or, with CarGurus Pay ($4.95), vetted buyers can find you and set up a test-drive. The tool walks you through the transaction, and funds are direct-deposited into your account.
Returns/warranty: Depends on dealer and state.
CARVANA.COM (opens in new tab)
Carvana offers no-haggle prices that the company claims are lower because it cuts out the middleman (the dealers) and the costs of a physical location. Vehicles pass a 150-point inspection and have no reported accidents. Vehicles marked "great deal" are priced $1,500 or more below the Kelley Blue Book suggested retail value. All transactions happen online, with delivery to your home. Or you can pick up your car at one of its 24 massive vending machines located mainly in the Midwest and the Southeast.
Used-vehicle listings: 20,000-plus
Buy from home: You buy, they deliver. Or select the pickup option and identify the vehicle vending machine closest to you.
Test-drive: Nope.
Financing: Through Carvana Financing. Get prequalified on the website; terms are honored for 45 days.
Sell/trade-in: Carvana buys late-model vehicles with low mileage. It will send someone to your home to inspect your car and, if it passes, cut a check on the spot.
Returns/warranty: Returns up to seven days (refunds exclude any shipping/delivery charge). Limited warranty covering basic and powertrain components for 100 days or 4,189 miles.
Editor, Kiplinger's Personal Finance
Mark became editor of Kiplinger's Personal Finance magazine in July 2017. Prior to becoming editor, he was the Money and Living sections editor and, before that, the automotive writer. He has also been editor of Kiplinger.com as well as the magazine's managing editor, assistant managing editor and chief copy editor. Mark has also served as president of the Washington Automotive Press Association. In 1990 he was nominated for a National Magazine Award. Mark earned a B.A. from University of Virginia and an M.A. in Writing from Johns Hopkins University. Mark lives in Washington, D.C., with his wife, and they spend as much time as possible in their Glen Arbor, Mich., vacation home.