Kiplinger Readers' Choice Awards: Wealth Managers
The Kiplinger Readers' Choice Awards celebrate the best products and services in personal finance.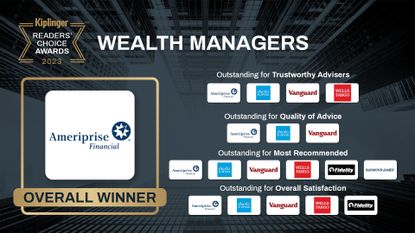 (Image credit: Future)
About the Kiplinger Readers' Choice Awards
The Kiplinger Readers' Choice Awards aim to recognize and celebrate the best products and services in the personal finance arena. We asked you, our Kiplinger community, to help us name the products and services you think have delivered excellent value in the past year.
Our Awards recognize excellence in everything from credit cards, banks and brokers to insurers, tax software and financial apps. More than 2,600 readers responded to our survey, and we're sharing the results here. For each category, we've listed an overall winner that earned the highest score. We've also highlighted other products and services that earned above-average scores for various criteria we asked readers to assess.
By voting, our community has helped us form our guide to the very best financial products. These are the products and companies that you think stand out from the crowd.
Kiplinger Readers' Choice Awards: Wealth Managers
We asked readers to judge major firms that provide financial planning and wealth management services — primarily through dedicated wealth managers who tailor their advice to each client. These companies offer comprehensive guidance that goes beyond investment management, from retirement planning to tax strategies to guidance on charitable giving. Survey respondents rated these firms on the trustworthiness of the advisers, the quality of financial advice provided, how likely they would be to recommend the firm to others and overall satisfaction with the wealth manager.
OVERALL WINNER: Ameriprise Financial
Outstanding for:
Trustworthy advisers
Quality of advice
Most recommended
Overall satisfaction
Readers who use Ameriprise Financial bestowed it with exceptional scores for each aspect we asked them to rate. The firm employs about 10,000 financial advisers, who provide one-on-one guidance to clients. Its "Confident Retirement" approach to retirement planning walks clients through steps such as ensuring that they enjoy the lifestyle they desire in retirement and leaving a legacy to the people and causes they care about. And the firm offers the full spectrum of other planning services, too, from tax strategies to investment management to insurance and annuities.
Schwab Wealth Advisory
Outstanding for:
Trustworthy advisers
Quality of advice
Most recommended
Overall satisfaction
Charles Schwab rates well on all counts among our readers — not only for its brokerage services but also for its wealth and financial management offerings. One survey respondent says, "Our financial adviser at Charles Schwab saved us thousands of dollars in taxes with suggestions for restructuring our charitable giving out of our IRA required minimum distributions, thereby reducing our income and putting us in a lower tax bracket."
Schwab Wealth Advisory, which requires a $1 million investment minimum, provides assistance from a dedicated adviser, backed by a team of specialists with varying areas of expertise, such as charitable giving or business succession.
Vanguard Personal Advisor Services
Outstanding for:
Trustworthy advisers
Quality of advice
Most recommended
Overall satisfaction
Along with brokerage accounts, Vanguard provides advice and wealth management through its Personal Advisor services. "Recently, I retired and decided to enroll with Vanguard's advisory services," says one survey respondent. "I had apprehension about managing my funds independently in retirement—financial mistakes at this point could severely impact my retirement years. My Vanguard adviser has been just what I was looking for, professional, responsive and knowledgeable."
Vanguard offers varying levels of financial planning services with an adviser, from a basic one that requires a $50,000 asset minimum to a wealth management option for those with $5 million or more. Along with the personal financial guidance provided at other levels, wealth management includes personal trust services, estate planning and charitable giving strategies.
Wells Fargo Wealth Management Services
Outstanding for:
Trustworthy advisers
Most recommended
Overall satisfaction
Wells Fargo extends its wealth management services through a couple of divisions. Wells Fargo Advisors provides customers with investment management and strategies, and clients can meet with advisers face-to-face, over the phone or online. Wells Fargo Private Bank ($10 million asset minimum) offers guidance for high-net-worth clients who have complex planning needs. Private Bank customers also get special benefits with Wells Fargo's banking division, including relationship interest rates on savings accounts and waivers of several standard account fees.
Fidelity Wealth Management
Outstanding for:
Most recommended
Overall satisfaction
A few readers complimented Fidelity's wealth advisers in our survey's comment section. "I have been with Fidelity Investments since 1997, referred by my father," says one loyal customer. "I have had three managers, and each of them has been knowledgeable and personable." Another client says, "Our adviser has worked with us to tailor a plan perfect for our needs. He provides assurance when we need it and answers all our questions."
Fidelity's wealth management services require a $250,000 asset minimum, and customers are assigned a dedicated financial adviser for planning services. If you have at least $2 million managed through Fidelity's wealth services and $10 million or more in total investable assets, you get more-comprehensive services and access to a team of dedicated wealth managers. Or, with a lower asset minimum of $50,000, you can get phone access to a team of investment advisers.
Raymond James
Outstanding for:
Trustworthy advisers
Most recommended
The broad-ranging wealth management services from Raymond James include insurance solutions, banking and lending through Raymond James Bank, assistance with estate, charitable giving and trust services, retirement planning and investment recommendations and management. The firm's private wealth services provide in-depth strategies and guidance for families with significant assets.
Kiplinger Readers' Choice Awards Categories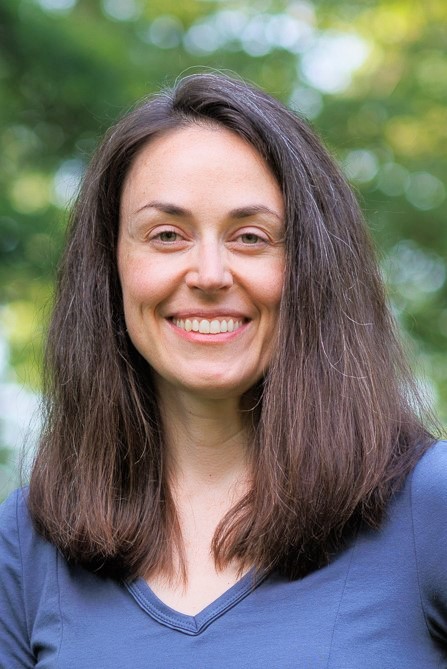 Editor, Kiplinger Personal Finance magazine
Lisa has been the editor of Kiplinger Personal Finance since June 2023. Previously, she spent more than a decade reporting and writing for the magazine on a variety of topics, including credit, banking and retirement. She has shared her expertise as a guest on the Today Show, CNN, Fox, NPR, Cheddar and many other media outlets around the nation. Lisa graduated from Ball State University and received the school's "Graduate of the Last Decade" award in 2014. A military spouse, she has moved around the U.S. and currently lives in the Philadelphia area with her husband and two sons.