Kiplinger Readers' Choice Awards: Full-Service Brokers
The Kiplinger Readers' Choice Awards celebrate the best products and services in personal finance.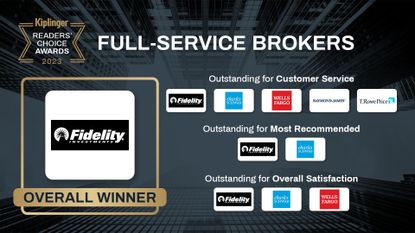 (Image credit: Future)
About the Kiplinger Readers' Choice Awards
The Kiplinger Readers' Choice Awards aim to recognize and celebrate the best products and services in the personal finance arena. We asked you, our Kiplinger community, to help us name the products and services you think have delivered excellent value in the past year.
Our Awards recognize excellence in everything from credit cards, banks and brokers to insurers, tax software and financial apps. More than 2,600 readers responded to our survey, and we're sharing the results here. For each category, we've listed an overall winner that earned the highest score. We've also highlighted other products and services that earned above-average scores for various criteria we asked readers to assess.
By voting, our community has helped us form our guide to the very best financial products. These are the products and companies that you think stand out from the crowd.
Kiplinger Readers' Choice Awards: Full-Service Brokers
The brokerage firms listed here offer a breadth of services. Some have a robust set of online tools along with the option to enlist help from brokers or advisers at branches, on the phone or online. Others put an emphasis on in-person assistance. Readers evaluated brokers on the strength of customer service, how likely they would be to recommend the firm to others and how satisfied they are overall with the broker.
OVERALL WINNER: Fidelity Investments
Outstanding for:
Customer service
Most recommended
Overall satisfaction
Fidelity Investments takes the crown for the overall winner among brokerage firms, with high scores on all three criteria we asked readers to rate.
Several survey respondents commented on the strength of the firm's customer service. "Fidelity's customer service is exceptional," says one reader. "Anytime I call with a question or issue, whoever answers the phone always takes ownership of my question until answered. They really are the best at customer service of any company I've ever dealt with."
Respondents also mentioned a broad range of investment products, plentiful resources for investment research, a solid website and mobile app, and low fees as reasons they rated Fidelity highly.
As one of the largest brokers in the U.S., Fidelity provides robust tools, accounts and services for customers. Investors can manage their investments on their own online with a basic brokerage account, use the Fidelity Go robo adviser to get automated assistance with portfolio management or enlist the help of human advisers to get personalized assistance (for more, see the awards for wealth managers). Fidelity has more than 200 investor centers around the U.S., where clients can schedule appointments to work in person with the firm's advisers.
Charles Schwab
Outstanding for:
Customer service
Most recommended
Overall satisfaction
Charles Schwab has above-average scores for every aspect we surveyed, but it has especially strong results for its customer service. And Schwab seems to have its share of loyal clients, with a few longtime customers chiming in to share their experiences. "I've done business with Charles Schwab since the 1980s," says one respondent. "They have always provided great customer service." Says another reader, "My wife and I have been with Schwab for over 20 years and feel that they have certainly helped us get to where we are financially. We would highly recommend them."
A couple of other respondents highlighted a user-friendly website and mobile app. "I love the ease of working with Schwab," says one client. "It's simple to move from computer to phone to tablet, and the website is easy to navigate, thorough and informative."
Like other major brokers, Schwab's offerings run the gamut from self-directed brokerage accounts to full-fledged investment and wealth management services. Its robo adviser, Schwab Intelligent Portfolios, tailors and manages portfolios automatically for clients who use the service. Schwab has hundreds of branches where clients can meet with its financial consultants.
Wells Fargo Advisors/WellsTrade
Outstanding for:
Customer service
Overall satisfaction
Wells Fargo is well known for its banking services, but it offers a brokerage and advisory arm, too. Do-it-yourself investors can manage their accounts online through Wells Fargo's WellsTrade. Wells Fargo also offers a robo adviser through its Intuitive Investor service, and those who want more guidance can get help through Wells Fargo Advisors, which offers a roster of more than 12,000 financial advisers.
Raymond James
Outstanding for:
Raymond James offers both broker-dealer and investment advisory services, with an emphasis on in-person consultations — it has about 8,700 financial advisers in the U.S., Canada and overseas. "At Raymond James, it's all about people — our clients, our colleagues, our communities," the company writes on its website. That may have something to do with its impressive rating for customer service in our survey. For more on Raymond James, see the section on wealth managers.
T. Rowe Price
Outstanding for:
T. Rowe Price customers can trade securities on their own with an online brokerage account or get assistance from a representative. The company offers advisory services including retirement planning for those with at least $250,000 in investable assets and private asset management for those with $5 million or more.
Kiplinger Readers' Choice Awards Categories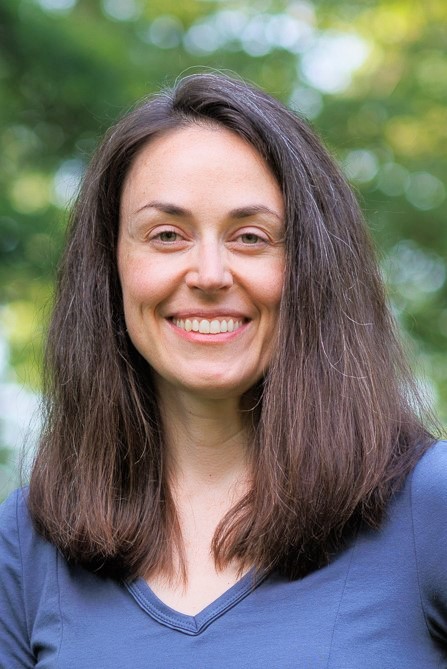 Editor, Kiplinger Personal Finance magazine
Lisa has been the editor of Kiplinger Personal Finance since June 2023. Previously, she spent more than a decade reporting and writing for the magazine on a variety of topics, including credit, banking and retirement. She has shared her expertise as a guest on the Today Show, CNN, Fox, NPR, Cheddar and many other media outlets around the nation. Lisa graduated from Ball State University and received the school's "Graduate of the Last Decade" award in 2014. A military spouse, she has moved around the U.S. and currently lives in the Philadelphia area with her husband and two sons.