9 Ways Retirees Can Whittle Down Their Car Insurance Costs
As more Americans hit the road again, car insurance rates have unfortunately rebounded. Thankfully, there are steps you can take to trim your premiums.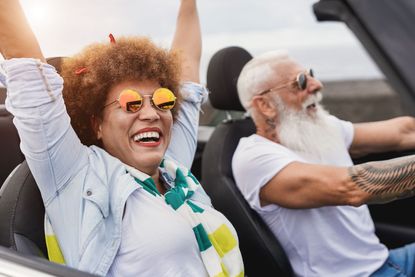 (Image credit: Getty Images)
Remember those partial refunds auto insurers issued policyholders during the pandemic because fewer people were driving? It's payback time. Now, car insurance rates are soaring, up 11.3% this past June, compared to the same month in 2020, according to the Consumer Price Index.
With more Americans on the roads, insurance rates have rebounded to where they were before the pandemic struck. Rising inflation will only pressure insurers to raise rates even more. Overall, consumer prices are up 5.4% compared to a year earlier, the largest 12-month increase in more than 13 years, driven by an economy in full throttle.
Like most Americans, you may be eager to spend after a year of lockdown-induced depravation, but splurging on car insurance wasn't exactly what you had in mind. Fortunately, there are plenty of ways to cut your car insurance premium, including these nine tried-and-true methods.
1/9
Get a Mileage-Based Reduction
If you used to drive some distance to the office and now work from home or have since retired, you may be eligible for a lowmileage discount. Most auto insurers offer one when your annual mileage drops below 7,000 or 7,500, which is significantly less than the typical 12,000 miles most Americans drive a year, according to Michael Barry, chief communications officer for the Insurance Information Institute.
2/9
Increase Your Deductible
It's not right for everyone, but paying a higher deductible could save you big bucks on premiums. For example, raising your deductible from $200 to $500 could reduce the cost of your collision and comprehensive coverage by 15% to 30%, according to III. "Going to a $1,000 deductible can save you 40% or more," the institute says. Just be sure to keep a cushion in your savings account so you can pay that higher deductible should the need arise.
3/9
Drop Unnecessary Coverage
Although most people tend to be underinsured, it's possible your policy includes coverage you don't need, says Chaya Milchtein, automotive educator and founder of Mechanic Shop Femme in Milwaukee, Wis. For instance, if you already own multiple vehicles, coverage that pays for a rental car when yours is in the repair shop is probably superfluous, and collision coverage may be unnecessary if your vehicle is so old that even a minor accident would likely result in the need for a replacement.
But don't be too quick to drop coverage for collision, comprehensive or both. Comprehensive coverage protects you in the event of theft, vandalism or damage from a storm or hitting a deer, for example. Most leasing companies require both collision and comprehensive, as do lenders for financed vehicles. States also have minimum requirements. Four out of five U.S. drivers purchase these optional coverages, according to a 2018 report from the National Association of Insurance Commissioners. "Comprehensive coverage is significantly less expensive than collision and should only be dropped with great reluctance," says Barry.
4/9
Bundle Policies
If your auto policy is issued by a different company from the one insuring your life or home, call all three insurers and ask if bundling the policies would be cheaper. "Customers could save up to 17% if they have homeowners, renters, condo or life insurance with State Farm, in addition to vehicle insurance," says State Farm spokesman Jordi Ortega. When you ask for quotes, make sure you are comparing similar levels of protection.
5/9
Drive More Safely
Insurers love careful drivers and are willing to reward them for their behavior. You may be able to lower your premium 10% to 15% if you improve your driving record, take a defensive driving course or install telematics equipment that alerts your insurance company about unsafe driving, such as braking sharply, cornering, cellphone use and speeding.
Ortega notes that installing telematics equipment is valuable for more than just discounts. "By checking the feedback about their driving provided by the app, customers can potentially learn about dangerous driving [or] bad habits that they may have," he says.
The same strategy can be used to help reduce premiums for young, new drivers in your household. "We received a discount when my 16-year-old daughter submitted her transcript, submitted proof of taking a driving class, and used an insurance company app on her phone for five hours to measure her driving performance," says Sunit Bhalla, a certified financial planner in Fort Collins, Colo.
Seniors may be eligible for extra discounts, Milchtein says. "There are insurance companies that offer discounts to people over the age of 50 or 55, if those people take a defensive driving course."
Your driving history influences your premium regardless of the company that insures you. A Bankrate report found that the average car insurance premium is $1,674 across the U.S. On average, the premium rises $355 if you get a speeding ticket, $731 for a car accident, $187 for a lapse in coverage, $1,662 if you're convicted of driving under the influence and $1,883 to insure a teen driver. "Being a good driver is the No. 1 way to get great insurance rates. The extra 10 miles per hour you're driving down the road is not going to get you there faster," Milchtein says.
Safety and anti-theft features on a newer car can also lower your rate. Geico, for example, offers up to a 25% discount off the comprehensive portion of premiums to customers who install anti-theft alarm systems.
6/9
Improve Your Credit
You may be able to lower your car insurance premium by paying your bills on time and reducing the amount of debt you carry. "Credit has a big impact on car insurance," Milchtein says.
Like lenders, insurers look at how their customers manage credit to get an idea of risk and to price policies. Better rates are given to those with good credit scores, typically 700 or above. To lower your premium, pay attention to the criteria that goes into your credit score, including the length of that credit history, as well as any late payments and applications for credit.
7/9
Leverage Your Memberships
Organizations that you belong to can be your ticket to a lower insurance premium. Insurers offer discounts through educational, professional, employer and military organizations, not just AARP. For example, Geico gives 12% to 15% discounts to members of many alumni, educational and professional organizations as well as military personnel and federal employees.
8/9
Consider Your Car Model
If you're shopping for a new vehicle, call for an insurance quote before you decide what to buy. "Some vehicles are safer and cost less to repair than others," Ortega says. "Insurance companies collect data about each make and model and use it to determine how much to charge customers." For example, a Honda Odyssey has an average annual premium of $1,454 compared with $2,225 for a BMW 330i or $1,740 for a Toyota Prius, according to Bankrate.
Counterintuitively, newer cars with better safety features can be more expensive to cover because they rely on complex electronics embedded throughout the car. Often, the sensors for some of those electronics are found behind the windshield, which must be specially made to both protect and work with the sensors. Don't drop glass coverage for a car made in the last three to five years because windshields have gotten ridiculously expensive, Milchtein says, adding, "Subaru windshields can cost $1,500. Anything that has advanced driver safety systems, replacing or repairing your glass is going to cost more than you expect."
9/9
Comparison Shop
You won't know if your current premium is competitive unless you periodically check to see what other insurers charge. "Comparison shop for car insurance at least every few years. You can save hundreds or even thousands of dollars," says online shopping expert Michelle Madhok. Online brokers like Gabi and Jerry can make the process easier by managing the paperwork, Madhok says.
In addition to the policy's cost, check ratings agencies, such as A.M. Best or Moody's, to assess the insurer's financial health. Consider the company's track record for how easily claims are processed and paid by searching reviews and customer satisfaction surveys like those by J.D. Power. "Everybody says, 'I'm going to look for the cheapest insurance coverage,'" says Zaneilia Harris, a certified financial planner in Upper Marlboro, Md., and author of Finance 'n Stilettos (Dog Ear Publishing, $18). But "cheap isn't always better."
Katherine Reynolds Lewis is an award-winning journalist, speaker and author of The Good News About Bad Behavior: Why Kids Are Less Disciplined Than Ever – And What to Do About It. Her work has appeared in The Atlantic, Fortune, Medium, Mother Jones, The New York Times, Parents, Slate, USA Today, The Washington Post and Working Mother, among others. She's been an EWA Education Reporting Fellow, Fund for Investigative Journalism fellow and Logan Nonfiction Fellow at the Carey Institute for Global Good. Residencies include the Virginia Center for the Creative Arts and Ragdale. A Harvard physics graduate, Katherine previously worked as a national correspondent for Newhouse and Bloomberg News, covering everything from financial and media policy to the White House.