7 Ways to Save Money When Shopping Online
Shopping online has long been a popular option. In these times, it's increasingly a must. Here's how to save money when filling your cart with the click of a mouse.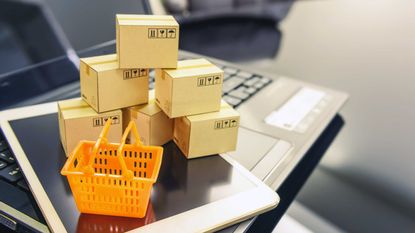 (Image credit: Getty Images)
More consumers have turned to online shopping than ever before due to the COVID-19 health pandemic. From appliances to laptops to groceries, products and goods that many shoppers would have gone to a store to purchase are now in high demand on the web.
But this rapid acceleration of the online-shopping trend brings some challenges as well. For one thing, the loss of a face-to-face encounter with a sales representative makes haggling much harder.
For budget-conscious shoppers who may be novices when it comes to getting the most bang for your buck online, don't fret. We asked several smart shopping experts to share some of their top strategies for saving big when shopping online. Here are their tips and tricks to help ensure your money is well spent.
1/7
Plan Ahead with Ways to Limit Your Purchase
When shopping online, the possibilities are endless compared to a brick-and-mortar retailer. Going on a virtual shopping spree can put a dent in your wallet faster than if you had to hustle from store to store.
That's why it's imperative online shoppers plan ahead, says Sara Skirboll, a shopping and trends expert for RetailMeNot.com. Before logging on to make a purchase, jot down a list of desired items, she advises. That way you know exactly what you're planning to buy, and less likely to be distracted by a promotion.
Once you've figured out how much you plan to spend, consider buying a gift card for that exact amount rather than just putting your purchase on a credit card, Skirboll adds. This eliminates the urge to overspend — you have a fixed amount to work with. You can buy a store-specific gift card or one from a credit card provider such as Visa or American Express that can be used at multiple retailers.
2/7
Shop With Discounted Gift Cards
A money-smart way to make your own savings when shopping online is to buy a discounted gift card and use it to make your purchases, recommends Trae Bodge, a smart shopping expert at TrueTrae.com. As we mentioned earlier, using a gift card instead of a credit card helps keep your spending under control and on budget. Once you've spent all of the funds on the card, you can't use it to make any more purchases.
So, the discount: You can buy a gift card for less than its face value from a gift card marketplace such as GiftCardGranny.com or Raise.com. A $100 DSW gift card sells for $96.50 on GiftGardGranny.com. That's nearly a 4% savings. On Raise.com, a $200 Macy's e-gift card is available for $192.88 — about 3.5% off compared to buying it directly from the department store.
3/7
Comparison Shop
If you're looking to save big, do a quick Google search before buying a desired item online, advises TrueTrae.com's Bodge. It could be the difference in paying full price at one of your go-to retailers versus scoring 20% off somewhere new to you.
This is especially the case for consumers who default to shopping on Amazon (especially Prime members), Bodge says. Despite the convenience and fast shipping options it offers, the e-commerce giant doesn't always offer the lowest prices. For example, we spotted the Cuisinart Power Advantage 5-Speed Hand Mixer (in white) priced at $49.95 on Amazon. You'll pay $10 less on Williams-Sonoma.com where the same hand mixer costs $39.95.
4/7
Follow Your Favorite Retailers on Social Media
Many retailers use their social media channels as a marketing tool to promote new product launches and upcoming sales. If you aren't following your favorites on Twitter, Instagram or Facebook, you could be missing out on huge savings, says Kyle James, founder of Rather-Be-Shopping.com. That's where stores will frequently offer promo codes or early access on sales to their followers — discounts that don't get widely publicized on their e-commerce sites or in print circulars.
5/7
Take Advantage of Deals Offered by Your Credit Card Provider
The next time your credit card provider e-mails you a batch of shopping deals offered by merchants they've partnered with, don't delete it, TrueTrae.com's Bodge says. You might be able to score extra savings on desired items when you use that credit card to purchase them.
For example, Bodge points out that when you register for a Spotify Premium account using your Chase Visa card, you'll get the first six months free and will pay $9.99 per month after the promotional period ends. You'll also be eligible for a 5% statement credit during that same period. When Mastercard World Elite card holders use their cards to purchase $25 or more worth of food using delivery service Postmates, they'll get $5 off their purchase.
6/7
Use a Store Credit Card to Earn Rewards and Discounts
Maximize your spending dollars when shopping online by using any store credit cards you have in your stash to make purchases. Depending on how much you spend, you may qualify to earn rewards and other perks on your purchases including cashback, store credit and expedited shipping options.
At Macy's, their Star Rewards platinum card members who spend at least $1,200 annually qualify for free shipping with no minimum purchase, as well as personalized discount offers based on their shopping history. If you have Target's Red Card, you'll automatically get 5% off on online purchases, free shipping and an extra 30 days on top of the big box retailer's standard 90-day return policy to make product returns or exchanges (that's 120 days total for Red Card holders). At Costco, warehouse club members who have the retailer's Citi Anywhere Visa Card can earn 2% cashback on eligible online purchases.
There's risk here, of course. Late fees and interest charges will wipe out these savings in a jiffy, so be sure to spend responsibly if you decide to use a store credit card. If you can't afford to pay off the balance in a single billing cycle, consider paring down your shopping list. Overspending might also negatively impact your credit score.
7/7
Be Ready to Walk Away from Your Shopping Cart
It's all too easy to fill up your virtual shopping cart much quicker than you would in-store. If, when you go to check out, the order total is slightly more than what you intended to spend, there's a shopping hack that can help you lower the price (depending on the retailer.)
Complete the checkout process up to the point where you're asked to enter your e-mail address in the contact information section. Once you've entered it, leave your items in the cart, but close out of the browser you were viewing the site in. This is referred to as "abandoning your cart," says Rather-Be-Shopping.com's James.
E-commerce sites that use cookies (which are like digital breadcrumbs) to track users will know that you've left items in your cart. Some will send an email shortly after you've left their site to remind you about the items left in your cart. They might even include a limited-time discount promo code to try to entice you to complete the transaction. James notes that several big-box retailers use this tactic, including Best Buy, Bed Bath & Beyond and Dick's Sporting Goods. Keep this in mind the next time you need to purchase a pricier product such as a HDTV, sporting equipment, a laptop or major appliance, he adds.
If one of the things you miss about face-to-face shopping is haggling, well, this is a potential substitute.

Browne Taylor joined Kiplinger in 2011 and was a channel editor for Kiplinger.com covering living and family finance topics. She previously worked at the Washington Post as a Web producer in the Style section and prior to that covered the Jobs, Cars and Real Estate sections. She earned a BA in journalism from Howard University in Washington, D.C. She is Director of Member Services, at the National Association of Home Builders.