Free COVID-19 Tests Are Ending Soon: How to Get Yours
Rules on insurance coverage for COVID-19 tests change on May 11. Find out how to get free tests before and after the deadline.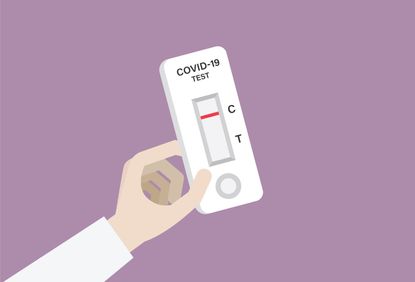 (Image credit: Getty)
Rules change and free COVID-19 tests may not be available from your healthcare insurer from May 11, 2023, when the public health emergency for COVID-19 officially ends in the US.
In January 2022, the federal government required private health insurers to give members up to eight at-home COVID-19 test kits free of charge each month. Medicare began offering the same benefit later that year.
This free cover will disappear from May 11. While the U.S. Department of Health and Human Services (HHS) is encouraging insurers to keep offering free COVID-19 tests, they will no longer be required to do so.
Subscribe to Kiplinger's Personal Finance
Be a smarter, better informed investor.
Save up to 74%
Sign up for Kiplinger's Free E-Newsletters
Profit and prosper with the best of expert advice on investing, taxes, retirement, personal finance and more - straight to your e-mail.
Profit and prosper with the best of expert advice - straight to your e-mail.
These health insurers will not be extending free COVID-19 test coverage, according to their official statements:
Local health insurers scattered around 34 states under Blue Cross Blue Shield (BCBS) are likely to stop giving free home test kits after May 11, too. A spokesperson told Money this decision would be on a case-by-case basis, but gave no examples of BCBS insurers that would be extending their cover.
Where can you access free COVID-19 tests?
Through May 11, you can still get up to eight free at-home COVID-19 tests through your health insurance from pharmacies and retailers that partner with your insurer, but you'll need to act fast.
If your closest shop or pharmacy doesn't partner with your insurer, you can still go in and buy a test kit, and have up to $12 reimbursed per test.
After May 11, you'll still be able to get free COVID-19 tests in the following ways:
Medicaid members are still eligible for free at-home COVID-19 tests until September 2024. Currently, around 86 million Americans are members of the government program designed for low-income households to access health coverage.
Through the mail using the government website, COVID.gov. You can use this site whether you have health insurance or not (it is available to all Americans). But, it does depend on how many tests you have already ordered through the site. Each household is eligible for four rounds of free tests and the final round has been available to order since December 2022. If you haven't claimed yours, there's still time to do it online.
Check out your local community health centers, libraries and pharmacies as they may be giving out free at-home kits that will have come from the government's national stockpile, according to HHS. This is until supplies last.
California legislators have extended the eight free kits per month for another six months (until November 2023). This is applicable to California's state-run plans and employer-sponsored private health plans.
It is likely that doctor-ordered COVID-19 tests will need to be paid for even if you have private health insurance. If you're on Medicare Part B, though, you will still get the cost of testing kits covered if you order them through your doctor.
Vaishali graduated in journalism from Leeds University, UK. She has worked for her local news outlet, the Leicester Mercury as well as writing personal finance stories for digital publications, The Money Edit, MoneyWeek and GoodToKnow. When she is not writing about money-saving, deals, finance hacks and other personal finance topics, Vaishali likes to travel and she's a foodie.