Will Private Student Loans Be Forgiven?
The Biden Administration is still tinkering with its student loan forgiveness program. Will it include private student loans?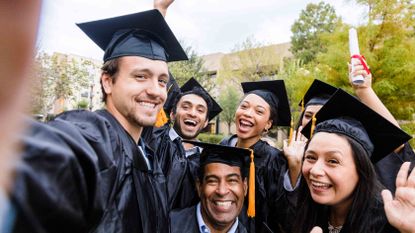 (Image credit: Getty Images)
The short answer: No.
Currently the administration is only considering canceling federal student loans. And at last report, its forgiveness plan will include a $10,000 cap for federal student loan borrowers, with income limits for single tax filers who make $150,000 or less or $300,000 jointly. Federal borrowers are still waiting for official plans to be announced. And the moratorium that paused federal student loan payments is set to end August 31, 2022.
What Happens to Private Student Loans?
Private student loans are issued by financial institutions such as banks, credit unions and credit card issuers like Discover. These loans are not eligible for forgiveness because they are not distributed by the Education Department. And borrowers with these loans were not exempt from paying during the federal student loan payment pause.
Subscribe to Kiplinger's Personal Finance
Be a smarter, better informed investor.
Save up to 74%
Sign up for Kiplinger's Free E-Newsletters
Profit and prosper with the best of expert advice on investing, taxes, retirement, personal finance and more - straight to your e-mail.
Profit and prosper with the best of expert advice - straight to your e-mail.
Also, unlike federal student loans, interest rates on private student loans are variable. This means that as the Federal Reserve raises its benchmark interest rate—the government's primary tool to fight inflation—rates on these loans also go up. In contrast, federal student loan rates are set by the government and fixed over the life of the loan.
For example, federal undergraduate student loans taken out between July 1, 2022 to June 30, 2023 have a fixed interest rate of 4.99%. Rates reset every July. For private student loans, the interest rate can range anywhere between 1% to 13%.
Why Are Rates So Different?
Interest rates on private student loans are based on a borrower's creditworthiness. To get the best rate, you would need to have good to excellent credit score. (For FICO that range is 670 to 800.) Or you would have to have a co-signer on the loan to lower your rate.
If you currently have a private student loan, there are ways to lower your interest rate. Talk to your lender and ask if they would be willing to lower your interest rate. Or you can ask that the monthly payment be lowered—especially if your income has recently decreased.
Should You Refinance?
Another solution to lowering your current payments is to refinance your loan to one with a lower rate. If possible, try to lock in a lower rate as soon, as rates are rising more broadly.
However, don't rush blindly into a new loan for a lower rate alone, especially if you currently hold a federally issued loan. Refinancing into a loan not issued by the federal government also means you'll also have to opt out of some of your current protections, including the ongoing suspension of interest charges. It may make more sense to wait to refinance until repayment moratoriums end, even if you'll pay a higher overall interest rate for the time being.
Ex-staff writer, Kiplinger's Personal Finance
Rivan joined Kiplinger on Leap Day 2016 as a reporter for Kiplinger's Personal Finance magazine. A Michigan native, she graduated from the University of Michigan in 2014 and from there freelanced as a local copy editor and proofreader, and served as a research assistant to a local Detroit journalist. Her work has been featured in the Ann Arbor Observer and Sage Business Researcher. She is currently assistant editor, personal finance at The Washington Post.