What to Do When You Can't Pay Holiday Debt
More Americans borrowed money to pay for holiday purchases and now the bill is due. Balance transfer cards offer a reprieve.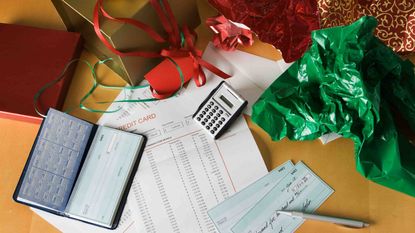 (Image credit: Getty Images)
The holidays are behind us; it's time to take down the tree and stash the decorations, if you haven't already. One unwelcome leftover that's harder to put away can be holiday debt. Say you were feeling generous and bought too much; now the debt threatens to consume you. What are your options?
As you work at paying down holiday debt, make sure the interest on your credit cards doesn't slow your progress. You might be tempted to accept a tantalizing offer from a credit card company for zero interest for a transferred balance. Is this balance transfer card a good idea? It could be, as long as you use it wisely.
More Americans Borrowed This Season
According to a survey by Lending Tree, 36% of Americans took on debt at an average of $1,249 this past holiday season. Although more people borrowed money, compared to 2020, the average amount of spending was 10% lower. Also, this was the first time the amount borrowed fell since the survey began in 2015.
Subscribe to Kiplinger's Personal Finance
Be a smarter, better informed investor.
Save up to 74%
Sign up for Kiplinger's Free E-Newsletters
Profit and prosper with the best of expert advice on investing, taxes, retirement, personal finance and more - straight to your e-mail.
Profit and prosper with the best of expert advice - straight to your e-mail.
Still, the vast majority — 82% — of people with holiday debt say they won't get it paid within a month.
Those most likely to take on holiday debt — not surprisingly — were parents with children younger than 18 (Santa obligations??). About 54% of those parents, as well as 50% of millennials took on debt over the holiday season. Each group averaged $1,462 in debt.
Buy now, pay later financing was a popular option this year, with 40% of Americans using it, compared to 37% in 2020. Again, parents with younger children were the top users of this option at 64%, followed by people who earn six figures at 61%, and millennials at 60%.
Of course, 62% of people with holiday debt used credit cards. Another 23% used personal loans.
Balance Transfer Cards Should be Used Sparingly
With more than a third of borrowers paying higher than average credit card interest rates, many are considering balance transfer cards. These are credit cards that entice new customers by offering zero interest on balance transfers for varying periods of time.
This can be an option for people with good credit who are attractive customers for credit card companies.
Christopher J. Marquette, a business professor at Millikin University, said the cards are issued by credit companies looking to expand their customer base. The offer is usually for zero interest on transferred balances for between six and 18 months, he said. Typically, there's a balance transfer fee up front, which can be 3 to 5 percent or a minimum dollar amount for a smaller balance transfer.
Marquette said these cards can be a good option, as long as they're used sparingly. The main danger, he said, is relying on them too much, continuing to take out new cards to roll balances over in an attempt to create a continuous zero-interest loan.
"Every time you open a credit account, it dings your credit score," Marquette said. If you do it frequently enough, it can hurt your credit to the point where you will be paying higher interest rates overall and won't get zero-interest offers at all.
Taking the bait once or twice won't hurt, Marquette said, but beyond that, people should tread carefully. Consider a zero-interest transfer a bit of breathing room, get a handle on your budget, and work to pay off your entire balance before the interest kicks in.
Balance Transfer Card Offers
Examples of cards with 0% balance transfer offers include:
Senior Retirement Editor, Kiplinger.com
Elaine Silvestrini has had an extensive career as a newspaper and online journalist, primarily covering legal issues at the Tampa Tribune and the Asbury Park Press in New Jersey. In more recent years, she's written for several marketing, legal and financial websites, including Annuity.org and LegalExaminer.com, and the newsletters Auto Insurance Report and Property Insurance Report.