Credit Card Balances Hover Near Record Highs
And a warning message about the timing.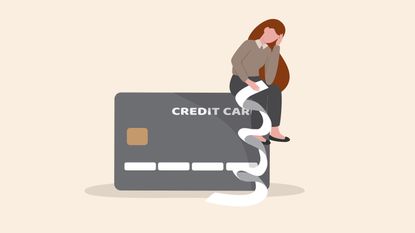 (Image credit: Getty Images)
The use of loans and plastic to manage household budgets is at or near record highs.
Account balances on credit cards and personal loans are ballooning as consumers navigate the financial squeeze caused by inflation and higher interest rates, according to TransUnion's latest quarterly credit report.
Credit card balances hover near record highs
The average credit card balance totaled $5,733 in the first three months of the year, a 14.4% increase from the first quarter of 2022 -- and just shy of the record $5,805 balance at the end of 2022, according to TransUnion's Q1 2023 Quarterly Credit Industry Insights Report.
Subscribe to Kiplinger's Personal Finance
Be a smarter, better informed investor.
Save up to 74%
Sign up for Kiplinger's Free E-Newsletters
Profit and prosper with the best of expert advice on investing, taxes, retirement, personal finance and more - straight to your e-mail.
Profit and prosper with the best of expert advice - straight to your e-mail.
Total credit card balances were $917 billion at the end of March, up 19.2% from the same period a year ago.
The growing use of credit suggests Americans are experiencing a cash crunch as the cost of living rises.
"As inflation rose to near 40-year highs, many consumers have used credit to help manage their budgets," said Michele Raneri, vice president of U.S. research and consulting at TransUnion, one of three major U.S. credit bureaus.
The bad news? Swelling credit card balances coincide with the highest average credit card APR (annual percentage rate) on record. The average rate on cards rose to 20.63% in the week ending May 3, according to CreditCards.com.
The bottom line: now is not the time to be racking up debt on credit cards.
Let's say you're carrying the average credit card debt of $5,733 and you plan to pay it off in monthly payments of $500. It would take you 13 months to get your balance to zero. But it would cost you $707 in interest, according to payoff calculator at Bankrate.com.
The numbers look worse if you can only afford to pay $250 per month. It would take you 30 months to pay it off and cost $1,619 in interest.
So, if you can't pay your balance off in full each month, get your spending under control to avoid going deeper into debt.
Personal loan balances hit record high
The average unsecured personal loan balance per consumer hit $11,281 at the end of March, the highest level on record since TransUnion began tracking that statistic in 2005. Overall, the total balances on personal loans also hit a record $225 billion, up 26.3% from a year ago.
What's worrisome is more borrowers are falling behind on their payments. The percent of personal loan borrowers who are now more than 60 days past due on their loan payments hit 3.91% at the end of the first quarter, up nearly 21% from a year ago.
Monthly auto payments keep accelerating
In a sign of how higher interest rates are eating into consumers' wallets, the average monthly payment for a new car loan has risen more than 12% in the past year to $736. The current payment for a new car is $161, or 28%, higher than the $575 per month cost back in the first quarter of 2020, when the pandemic upended auto supply chains and pushed car prices higher.
The monthly payment for used cars increased 3% to $523 per month in this year's first quarter.
"Affordability remains a central issue for consumers," said Satyan Merchant, senior vice president and automotive business leader at TransUnion.
Related Content