I Changed Careers, and So Can You
Making the leap from psychologist to financial planner was challenging but worth it. If you want to make a jump yourself, learn from my experience with these practical career-changing tips.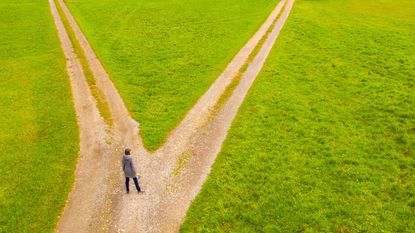 (Image credit: Getty Images)
About half of America is unhappy in their jobs. A raise or talking with your boss can improve things — but, for many, the only answer is a new career. Changing careers is stressful, time-consuming, and expensive. My own career change — from psychologist to financial planner — took three years between full-time jobs.
Below are some lessons I learned, including how I set myself up financially to make the move.
Networking
You know the cliché: It's not what you know, it's who you know. If you're having trouble meeting folks, here are some tips on how to network effectively (I had great success using LinkedIn). Here, I'll focus on networking specifically for career changers.
Subscribe to Kiplinger's Personal Finance
Be a smarter, better informed investor.
Save up to 74%
Sign up for Kiplinger's Free E-Newsletters
Profit and prosper with the best of expert advice on investing, taxes, retirement, personal finance and more - straight to your e-mail.
Profit and prosper with the best of expert advice - straight to your e-mail.
If you just decided to make the switch, you may have analysis paralysis – I can't do that until I do this, but I can't do this until I do this other thing, and no one will let me do that unless … Stop. Focus on the life you want after this transition.
What career and life do you want in, say, five years? Find people who are already there. What was their journey? What were they doing a year ago? Five years ago? How did they get started? Their journey can be your journey – look to these experienced people and consider a similar path. This is especially helpful if they are also career changers out of your current career!
Also ask, who else should I talk to? The people they know are people you should know. Some are gatekeepers — people who might hire you, let you into a degree program or otherwise control your ability to advance your career. At the networking stage, you're not yet asking for a job; you're asking what they are looking for in a candidate. And, what to do to improve your chances of being hired.
Getting Your Foot in the Door
Eventually, you'll shift from gathering information to making your move.
As a career changer, it's important not to discount the skills and education you already have. You will have a mixed skill set that blends your old and new careers. This isn't a liability; it's a strength. Yes, it's likely you will need to obtain some new skills and education. What is the minimum you need to get a job in your new field? Get that minimum and then start looking for opportunities that match your unique, blended skill set. If those jobs don't exist, use your network to create them.
I spoke about my own blended skillset and path on a recent episode of the New Planner Podcast. I started with a background in psychology and teaching. During my career change, I focused on technical financial planning skills. My job now uses a mix of these backgrounds: for example, when I teach about how psychology affects how people manage money.
Don't assume you need to start from scratch or work your way up from the bottom. Yes, your income and job prestige will probably take a hit — temporarily. Meet those minimum job requirements, then leverage your network and unique skillset to rapidly climb in your new career.
Preparing Your Financial Life
Personal finances may be one of your biggest barriers. Developing new skills is expensive, and your income may suffer if you quit your current job. These costs and the associated stress can derail even the most motivated change.
A key factor is whether you are moving into a higher-paying or lower-paying field. If you expect to make more, you can be a little more risk tolerant. You can spend more on education, go longer between jobs, and so on. On the other hand, if you will make less in your new career, save more, cut your expenses and be ready to work side hustles.
Before making the jump, try to:
Build a large emergency fund, perhaps 12 months of living expenses.
Separately save for career change expenses. Your emergency fund is for living expenses. A new degree or designation can cost thousands more. All this extra cash will help you avoid taking on expensive debts or pulling money from qualified retirement accounts.
Continue at your current job. Your job provides you income, employee benefits, résumé fodder, and a safe harbor in case you decide not to change careers. Can you work part time? Can you develop your new career at night or during weekends?
Find part-time work in your new career. Increasingly look for paid opportunities. Contract work, internships, and consulting gigs provide income and develop your résumé. Ask your network what's available in your new field.
Changing my career was one of the best decisions I ever made. That's easy to say in retrospect. At first, it felt like packing a parachute after jumping out of an airplane. If making the leap for yourself is too terrifying, take just a small step and reach out to folks who can help. Start networking and talking with the people you already know and get introductions. If you need help from a professional, consider hiring a career change coach. You may have a long road ahead of you — there's no need to go it alone!
This article was written by and presents the views of our contributing adviser, not the Kiplinger editorial staff. You can check adviser records with the SEC or with FINRA.
Assistant Professor of Financial Planning, The American College of Financial Services
Matt J. Goren is an Assistant Professor of Financial Planning at The American College of Financial Services who focuses on the interplay of personal finance and psychology. In addition to teaching and developing content, he provides strategic consulting on financial literacy initiatives and hosts a personal finance radio show, Nothing Funny About Money, which was named 2018's most outstanding consumer financial information resource by the AFCPE.