New Platforms for a Comedy Couple
COVID forced them to expand their stand-up repertoire to YouTube and podcasts.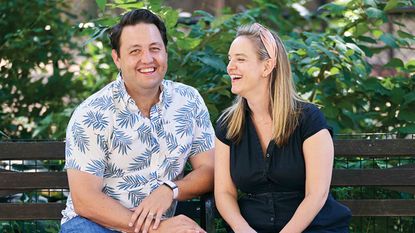 (Image credit: Photograph by Shravya Kag)
Who: Noah Savage, 35, and Alyssa Wolff, 35
What: Comedians
Where: New York City
Subscribe to Kiplinger's Personal Finance
Be a smarter, better informed investor.
Save up to 74%
Sign up for Kiplinger's Free E-Newsletters
Profit and prosper with the best of expert advice on investing, taxes, retirement, personal finance and more - straight to your e-mail.
Profit and prosper with the best of expert advice - straight to your e-mail.
How did you become comedians?
Alyssa: I was working at a job that was kind of going nowhere, and I decided that I needed to do something else to explore my creative side. I signed up for a class and then I really lucked out and started doing shows and festivals.
Noah: I walked down to the New York Comedy Club in sweatpants in 2009 and asked, "How do I get on stage?" Pretty quickly I got into doing "bringer" shows, where I had to bring a certain number of audience members every Wednesday.
How has the pandemic impacted comedy?
Alyssa: All of the industry was shut down—every single bar and venue. And stand-up comedy is really only good if you're in-person. Even when you watch a special on Comedy Central or Netflix or wherever, they have an audience there; you're watching people react in real time to the comedy. It has been a truly challenging year for the entire industry. People who were more successful comedians than me or Noah before the pandemic basically lost their entire livelihood last year.
Noah: I have two friends who had just made the leap into full-time comedy, and they were opening for some pretty big names. Then all of their shows got canceled. For me, as a college basketball announcer as well, I did 40 games the year before, and then last year I did six. Zoom comedy shows and shows in the park weren't for me. I chose instead to make a web series on YouTube called Breaking 90 (opens in new tab) about golf. And I just spent my time pouring myself into that and into our podcast, The World According to Noah Savage (opens in new tab) (with Alyssa Wolff now as well).
Do you have a plan to do comedy full-time?
Alyssa: I have done stand-up full-time, and it's basically being a full-time freelancer. The only time you're making real money is when you are touring and doing a ton of shows and bringing a crowd. You have to be a well-known name in order to make that work. The financial side of it is extremely challenging. You think of New York City as a huge comedy town, but if you do three club spots in one night, you're probably only making maybe $100.
What advice would you give to wannabe comedians?
Noah: I think this pandemic has just revealed what a lot of comics already knew about gatekeepers and people telling them no or that they need an agent: You actually just need to go make what you think is funny. And then if people like it, people like it.
Alyssa: If you're getting into stand-up comedy to make money, you're in the wrong game. But if you are doing it because it's something you love, then it's like a part of who you are. There's still not a guarantee that you're going to make money from it, but there is more of a chance that you're going to figure out a way to build a career. Comedy is "competitive," some say, but there is actually room for everyone, especially now that the internet exists; you can carve out your own path that's not going to look anything like the next five comics in line.
What is everyday life like with two comedians?
Noah: I hope every couple laughs a lot and that we're not unique that way. But I actually don't know if other couples do all the things that we do.
Alyssa: I think that if there was another person here all the time, they would find us to be extremely annoying. If one of us does the smallest, stupidest thing it's like, cancel our plans for the day, because we're just going to make fun of the other person for that for the next 24 hours.
Staff Writer, Kiplinger's Personal Finance
Emma Patch joined Kiplinger in 2020. She previously interned for Kiplinger's Retirement Report and before that, for a boutique investment firm in New York City. She served as editor-at-large and features editor for Middlebury College's student newspaper, The Campus. She specializes in travel, student debt and a number of other personal finance topics. Born in London, Emma grew up in Connecticut and now lives in Washington, D.C.