Sharing His Path to Success
This Native American studied tech in the Air Force and landed his dream job. Now he's giving back.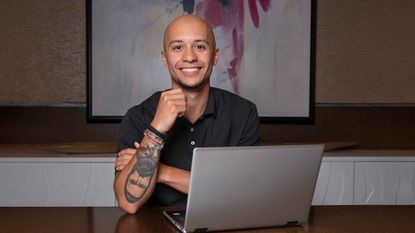 (Image credit: Photo by Thomas A. Morris)
Who: Zach Oxendine, age 26
What: Service Engineer and Tribal Camp Director
Where: Reston, Va.
Subscribe to Kiplinger's Personal Finance
Be a smarter, better informed investor.
Save up to 74%
Sign up for Kiplinger's Free E-Newsletters
Profit and prosper with the best of expert advice on investing, taxes, retirement, personal finance and more - straight to your e-mail.
Profit and prosper with the best of expert advice - straight to your e-mail.
You had what could be called an unconventional childhood. Both of my parents are deaf, and so I grew up in a deaf household and deaf culture as well as Native American culture. I'm from the Lumbee tribe, and I grew up on land my grandfather purchased in Rock Hill, S.C., about a five-minute drive from the reservation. When you're in a deaf household with seven brothers and sisters, there's not a lot of time spent on school; there's more time spent helping your parents and your little sisters. I was one of those kids who were in honors classes, did great on the standardized testing but probably didn't turn in most of their homework. But I think the kinds of skills I learned growing up in a household like mine actually helped me handle more organizational, more corporate, more military-style tasks.
How did you chart a path forward? I struggled with my GPA, and any college I would have gotten into would have cost an arm and a leg. So I joined the Air Force right out of high school, graduated from Tech School in the spring and went to my first base the same year as a cyber-systems operator, which translates into cybersecurity server administration and network administration.
How did you land your job at Microsoft? Really by persistence. While I was in the Air Force, we worked alongside many defense contractors and companies such as Cisco and Microsoft. I went to a cookout, and I met a gentleman playing cornhole who was a boss at Microsoft. He said I'd be a great fit and made me believe that maybe this is a place I could work one day. So I transitioned out of active duty, studied a semester at the University of South Carolina, and applied for a couple of Microsoft jobs that I didn't get. Six, seven, eight months go by, and then I saw a Microsoft position posted on LinkedIn for a service engineer in Reston, Va, I landed that job and quickly discovered that Microsoft has a thriving community of Native American employees and Native American allies—and not only that, it has a lot of people interested in giving back.
You're a camp director, too? I was able to put together a STEM camp for indigenous kids that includes high school and college students from the Lumbee and a few other tribes, as well as government representatives from the Lumbee and the Catawba tribes. We have sponsors and hosts in the Washington, D.C., region representing the tech industry and academia. We are being hosted at the Department of State by the first ever Native American woman to be its director of diversity and inclusion. So these kids are going to hear from many different Native American employees and other allies as well from these companies, learn about their jobs, and learn about their stories. If we can have more and more people find their way into better economic standing in our communities, we can find our place in this country where we can be self-sustainable.
Are you working with the deaf community? Yes. There's an organization based in the D.C. area called Deaf in Government run by deaf people that helps them get jobs and opportunities in America. I'm connected with my friends there, helping them out in any way I can. Growing up in a deaf household has its challenges—but it also has benefits, because you have a great sense of humor. Deaf people are great storytellers. They're very light. They take life as it comes.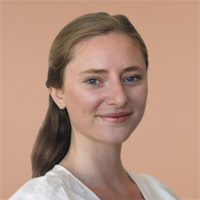 Staff Writer, Kiplinger's Personal Finance
Emma Patch joined Kiplinger in 2020. She previously interned for Kiplinger's Retirement Report and before that, for a boutique investment firm in New York City. She served as editor-at-large and features editor for Middlebury College's student newspaper, The Campus. She specializes in travel, student debt and a number of other personal finance topics. Born in London, Emma grew up in Connecticut and now lives in Washington, D.C.