Considering Retiring? Try a Sabbatical Instead
With more businesses offering this perk, sabbaticals aren't just for professors. If you can take a sabbatical, that time off can be a way to test what life in retirement would be like.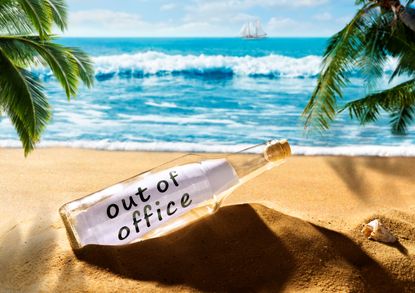 (Image credit: Getty Images)
When Amanda Schmutzler was director of patient services at Genentech, she went on a six-week, fully paid sabbatical that all full-time employees can take after six years of service. She and her husband, also a Genentech employee, moved from their San Francisco home to Martha's Vineyard, which was close to both of their large extended families. "We parked ourselves in a big beach house and let everyone come to us, as we had an infant and a toddler at the time," Schmutzler recalls. "It was really an opportunity to decompress and reconnect with family and friends." That was in 2008.
Eight years later, they both became eligible for another sabbatical, so they took the whole family up and down the East Coast, visiting relatives. Their sabbatical culminated in a two-week trip to Portugal, while their children stayed with grandparents. At Genentech, no one really begrudges you the sabbatical because everyone has one coming, says Schmutzler, who has since left the company. "People really celebrate other people's sabbaticals. It was among the things that made me grateful to be employed there."
Traditionally a perk of universities for professors to work on scholarly projects, sabbaticals are used by the private sector to improve recruitment, retention and productivity while supporting work-life balance. Though still rare, the benefit is catching on.
Subscribe to Kiplinger's Personal Finance
Be a smarter, better informed investor.
Save up to 74%
Sign up for Kiplinger's Free E-Newsletters
Profit and prosper with the best of expert advice on investing, taxes, retirement, personal finance and more - straight to your e-mail.
Profit and prosper with the best of expert advice - straight to your e-mail.
"Sabbaticals offer an opportunity for employees to recharge, pursue a travel dream, learn a new skill, or give back through volunteerism in ways that would not be possible by taking the usual vacation time," says Amanda Fallon, senior director of corporate relations for Genentech. One Genentech employee moved to Spain to learn flamenco. Another went on safari in Africa. Some, like Schmutzler, use the time to care for babies or aging relatives.
For older workers, the extended break can give them a much-needed breather from a demanding career without having to retire.
Sabbaticals Can Leave You Feeling Refreshed
Typically, a sabbatical is offered to employees after four to six years on the job, with additional sabbaticals possible every four to six years after that. Citigroup Inc. launched its sabbatical program in January for full-time employees with at least five years of tenure, and already more than 100 employees have applied to take one, according to Diane Arber, head of human resources for Citigroup's Institutional Clients Group, based in New York.
After more than a year of juggling work and family responsibilities during COVID-19 lockdowns at home, many employees are feeling burned out. Although vacations can provide some respite, they're generally not long enough. Compared with most European countries, where employees get four or more weeks of vacation a year, U.S. workers get an average of two weeks of annual leave, according to the Center for Economic and Policy Research.
Even then, Americans don't fully disconnect from their jobs. A 2017 U.S. survey from Internova Travel Group found that more than 62% of respondents checked emails and voicemail messages while on vacation. "We recognize how hard it is to unplug, especially when our workforce continues to navigate remote working while balancing personal and professional lives," says Suzanne Ledesma, director of global benefits and wellness at PayPal, which has been offering sabbaticals as an employee perk since 2005, when its parent company was eBay.
It's no coincidence that Citigroup's program is called R3, for refresh, recharge and reenergize. "The pandemic taught us that well-being needs to be prioritized. Employee expectations are changing," Arber says. At software company Autodesk, where employees are eligible for a six-week sabbatical after every four years, the program was designed so that employees "return to work not only refreshed but also excited about new ideas and ready to tackle new challenges," says Stacy Doyle, the company's director of brand communications.
The Rules For a Sabbatical Can Vary
Most companies don't mandate how employaees spend their time on sabbatical, which can range from four weeks at PayPal to a more substantial absence, like three months, at Citigroup. But health care company OneMedical imposes a requirement: Employees must give a presentation to colleagues and managers about what they did and learned after taking OneMedical's four-week sabbatical, a benefit extended to those with at least five years of tenure. "Our hope is that they apply their new learnings and skills to their growth and development," says Dr. Natasha Bhuyan, One Medical's West Coast regional medical director.
Other terms, including whether the sabbatical is paid and how much other employee benefits are covered, will vary. Only 5% of companies offer paid sabbaticals while 11% make it an unpaid employee benefit, according to a survey of more than 2,700 companies by the Society for Human Resource Management. PayPal and Genentech, which launched its program when the company was formed three decades ago, pays employees on sabbatical a full salary with no change in benefits. Even annual leave often continues to accrue. At Citibank, which at 12 weeks had the longest sabbatical of the companies we spoke with, employees on sabbatical earn 25% of base pay. All health care, retirement and other benefits continue while the person is on leave, with those that are tied to salary -- such as 401(k) contributions -- based on the temporary lower earnings.
Sabbaticals may be offered in addition to other extended leave. Citibank, for instance, also lets full-time employees with five years' experience take two to four weeks of fully paid time off to volunteer for a nonprofit on a pro bono basis. And those who only need a short amount of time may purchase up to five vacation days for life events or needs that are not covered by vacation or sick leave. Additional leave can sometimes be tacked on to lengthen a sabbatical. OneMedical, for example, allows its employees to extend a sabbatical by adding up to two weeks of annual leave.
Some companies offer longer sabbaticals each time an employee becomes eligible for one. At Adobe, fulltime workers can avail themselves of a four-week paid sabbatical with all benefits covered in full after five years of employment. Every five years after that, they can take another sabbatical with the time off lengthened to five weeks after 10 years of employment and six weeks after 15 years.
Even part-time employees may be eligible for the benefit. Autodesk, PayPal and OneMedical all extend the opportunity to part-time employees who work a certain number of hours each week. At Autodesk, employees who work at least 30 hours a week can take the company's six-week sabbatical after four years of service. Part-timers at OneMedical who work more than 24 hours a week are also eligible.
Ensure You Have Structure During a Sabbatical
How do you know if a sabbatical is right for you? Rachael O'Meara, San Francisco-based author of Pause: Harnessing the Life-Changing Power of Giving Yourself a Break, says to watch for these signs: if you used to love your job and now loathe it; a health or family challenge demands your attention and time; an opportunity comes knocking; you feel tethered to your email and technology; or your boss signals that things aren't working.
To make the most of your sabbatical, you should plan how you intend to spend the time. "Give yourself permission to be open and curious. It's not necessarily what you know so far. That's where the magic is," O'Meara says.
Structure is also important to use the time effectively, but resist continuing your normal schedule and habits. You should still create rules and boundaries, however, such as getting out of bed by 10 a.m., restricting email to a few instances a week and setting goals. Those goals should reflect what you want to get out of the sabbatical, such as reading one book a week, taking a cooking class or exercising regularly.
For people considering whether they're ready to retire, a sabbatical lets them try out the retirement lifestyle without taking the plunge. "It is something I highly recommend in midlife," says Soulaima Gourani, who writes about employee wellness and is also the cofounder of tech company Happioh Inc., which provides customized online meeting platforms for businesses. "We are used to talking about how you best prepare for your pension and retirement, but what we really should be talking about is how to allow yourself some breaks during life and your career."
Don't assume that you'll enjoy the time off and never want to return to work. "Maybe you decide it's too much time and you do enjoy what you do," O'Meara says. "You can experiment with a new lifestyle, but you don't have to commit to it. It could be a great segue to retirement but also a great reality check."
Katherine Reynolds Lewis is an award-winning journalist, speaker and author of The Good News About Bad Behavior: Why Kids Are Less Disciplined Than Ever – And What to Do About It. Her work has appeared in The Atlantic, Fortune, Medium, Mother Jones, The New York Times, Parents, Slate, USA Today, The Washington Post and Working Mother, among others. She's been an EWA Education Reporting Fellow, Fund for Investigative Journalism fellow and Logan Nonfiction Fellow at the Carey Institute for Global Good. Residencies include the Virginia Center for the Creative Arts and Ragdale. A Harvard physics graduate, Katherine previously worked as a national correspondent for Newhouse and Bloomberg News, covering everything from financial and media policy to the White House.