The Benefits of Serving on a Board in Retirement
Landing a board seat for a nonprofit or a corporation is a great way to utilize the skills you learned during your career while doing something that's fulfilling.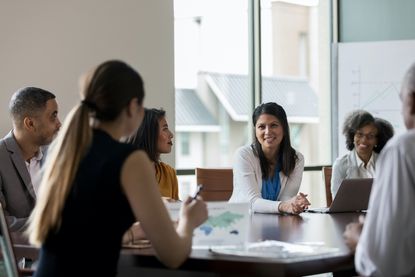 (Image credit: Getty Images)
So, you think you might want to serve on a board of directors? You'd like to contribute in a different way. Or broaden your expertise. Or keep active and engaged in retirement.
All good reasons. But just like applying for a job, there is a right way to go about it and a wrong way. You need to know what type of board -- public company, private company or nonprofit -- you're interested in and understand that it might take a while to find that perfect seat.
Deborah Diaz, 63, of Alexandria, Va., who retired in 2016 from NASA, where she was a chief technology officer and deputy chief information officer, was eager to serve on a corporate board. "I have had a long history in government service and thought my skills would be best used on the industry side, and didn't want to focus on just one company," Diaz says. "I liked the idea of being in a strategic governance and advisory position."
Subscribe to Kiplinger's Personal Finance
Be a smarter, better informed investor.
Save up to 74%
Sign up for Kiplinger's Free E-Newsletters
Profit and prosper with the best of expert advice on investing, taxes, retirement, personal finance and more - straight to your e-mail.
Profit and prosper with the best of expert advice - straight to your e-mail.
Diaz had stellar credentials, including an MBA, experience serving on nonprofit and advisory boards and a directorship certification from the National Association of Corporate Directors. Diaz was in the NACD program's first graduating class of certified directors in 2019. But it took her about a year to find the right board match. Once she did, with Primis Financial Corp., it took another year of vetting by the company to close the deal. Some of that lengthy process was because of the pandemic, which made coordinating interviews difficult, but Diaz says it's not unusual for a search to take longer than expected.
One reason: "There's a tremendous supply and very little demand," says Peter Gleason, NACD's president and chief executive officer. The number of publicly traded companies in the U.S. dropped from 8,090 in 1996 to 4,744 at the end of 2019, according to the World Bank. Most boards don't have term limits, although many have mandatory retirement ages, such as 70 or 75; however, only 16% of S&P 500 company directors are within three years of hitting that cap, according to Spencer Stuart, a global executive search and consulting firm.
Women and people of color, who are substantially underrepresented on most boards, may find it a little easier to become a director. In 2018, California became the first state to require all California and foreign public companies whose primary executive officers are based in the state to have two to three women board members, depending on board size, by the end of this year. Other states are following California's lead. In addition, there is both litigation and shareholder activity aimed at increasing the representation of people of color on boards, says Susan Muck, a partner and lawyer at the law firm WilmerHale, who has written about how to join corporate boards. That, she says, "is likely to open the door to additional diverse candidates."
The Differences Between Private, Public and Nonprofit Boards
The most difficult seats to land are on public corporations, especially the very large ones, while the easiest are nonprofits, with private companies somewhere in-between. Although serving on a nonprofit board can be fulfilling, it's unusual to be paid. "Only 2% of nonprofit organizations pay their board members, and they tend to be really large, such as hospitals," says Andy Davis, associate vice president of education and outreach at BoardSource, a nonprofit that researches and advises nonprofit boards. "There may be reimbursement for expenses, but actual salaries are pretty rare." Of the 1.6 million nonprofits, the vast majority have less than $1 million in revenue and often want you to pay for the honor of serving on the board by making a donation to the organization.
Private companies can range from tiny startups that offer board members only equity to multibillion-dollar corporations that pay a salary. According to the NACD, overall annual director compensation at a large private company is about $115,000 per year.
Public companies, whose boards typically meet more often, pay the most; according to NACD, the median package for a director's compensation is $214,115. A Spencer Stuart 2020 board trends report says the average total compensation for a nonemployee on the board of an S&P 500 company is a little more than $300,000, usually a combination of cash and stock. That amount varies not just among boards but within one depending on, among other things, the board member's leadership role and the number of committees the director serves on.
What do you have to do in return? A director works a median of 205 hours annually on a private board, according to NACD, and 250 hours on a public board. Diaz says her board meets once a month, and it's usually a day-long event. She also sits on two different committees that meet quarterly, with often a fair amount of homework to do between meetings.
What Boards Look For
Landing a seat on a company board calls for research and some introspection. Julie Daum, the North American board practice leader with Spencer Stuart, suggests asking yourself, "What do you want to do and why do you want to do it?" Also, "What do I bring to a board and where would I be of value?"
Nonprofit boards require something different. One thing we know from our research, Davis says, is that "what [nonprofits] look for is standing in the community, networks and passion for the nonprofit's mission." You can demonstrate that passion by doing volunteer work for the organization and attending fundraisers.
Must-haves when applying for a company directorship are a board resume and bio that differ from your job-seeking ones. A board resume should show "an ability to collaborate effectively and to contribute comfortably," Muck says. It's not a catalog of jobs or skills. In fact, says Shannon Gordon, chief executive officer of the Boardlist, "I really encourage candidates to distill their experience down to two or three areas because if you're really seasoned, you can have pages of experience, and you risk looking like a jack of all trades, master of none." The Boardlist is an online platform that connects diverse candidates with board vacancies.
A number of sites, including LinkedIn and Women on Boards, offer guidance on writing a board resume, which should focus on achievements rather than responsibilities. For example, instead of highlighting that you once worked in operations and marketing, Gordon suggests identifying that three out of five companies you worked for went through an acquisition to demonstrate your expertise in that area. "It's much stronger than saying I've done 50 different things in my career," Gordon says.
If possible, share your expertise freely with a company because you never know where it might lead. Take the example of Marge Wyrwas, who lives in Fairfield County, Conn. She was a chief communications and marketing officer with various companies for 23 years before retiring in 2015. After serving on a number of nonprofit boards and a joint venture board, she was interested in a directorship at a for-profit company. A former colleague asked Wyrwas to give occasional pro bono marketing advice to senior management at Pan-Agora Asset Management, and when the company was looking to add its first independent, paid director -- one with no previous ties to the company -- it invited Wyrwas to consider applying. After a vetting process, she was nominated and then elected to the board, where she has served since 2018.
She so enjoys the work that she is now interested in finding one more company board to serve on. With that goal in mind, she drew up a two-page board resume that emphasizes her board, rather than executive, experience. "You're transitioning from being a manager to an overseer -- that shift in mindset is really important." Wyrwas also beefed up her credentials with education, including a week-long Women on Boards program at Harvard Business School and an NACD Governance Fellowship, which required her to take classes on how to be a director.
Although prior board experience is helpful, Gordon says public boards are more likely to consider someone who has served on a private board rather than a nonprofit, which tends to be run differently. One way to get your name out there -- besides updating your LinkedIn profile to reflect your board ambitions -- is through companies such as the Boardlist. It lists profiles of board candidates on its website for free as long as they have for-profit board experience or a recommendation from a for-profit board member. And network, network, network.
Diaz says she knew she wanted to work on the board of a financial services company, so she attended industry events hosted by organizations such as NACD and corporations around the country. "I sought areas of synergy and experts that were putting on programs that I could participate in and meet others," she says. "You can have the best credentials, the best academics in the world, but it wasn't until I expanded my networks that it led to a corporate board."
Contributing Writer, Kiplinger's Personal Finance
Alina Tugend is a long-time journalist who has worked in Southern California, Rhode Island, Washington, D.C., London and New York. From 2005 to 2015, she wrote the biweekly Shortcuts column for The New York Times business section, which received the Best in Business Award for personal finance by the Society of American Business Editors and Writers. Her work has appeared in numerous publications, including The Times, The Atlantic, O, the Oprah Magazine, Family Circle and Inc. magazine. In 2011, Riverhead published Tugend's first book, Better by Mistake: The Unexpected Benefits of Being Wrong.