USPS to Raise Rates for "Holiday" Season Again
If you want to avoid surge pricing for the postal service, you'll need to send your holiday packages in September.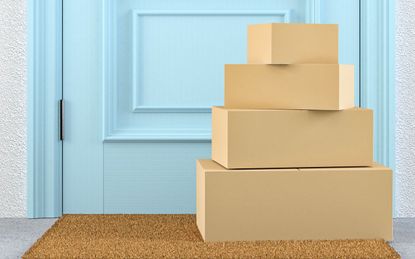 (Image credit: Getty Images)
For the third year in a row, the United States Postal Service has announced a rate increase for what they call "peak holiday season." If you think that means shipping is going to cost more after, say, Black Friday, you're wrong: Surge pricing starts Oct. 2 and runs through Jan. 22, 2023. The end date is a new twist: In 2020 and 2021, these surcharges ended Dec. 26.
As the calendar years might indicate, these price surges have their origins in "increased expenses and heightened demand for online shopping package volume due to the coronavirus pandemic and expected holiday ecommerce," to quote the USPS in 2020. The 2022-2023 increase is explained as necessary "to cover extra handling costs to ensure a successful peak season."
The increases vary by package size, service and zone, and the range can be seen at this link: https://about.usps.com/newsroom/national-releases/2022/0810-usps-announces-proposed-temporary-rate-adjustments.htm. (opens in new tab) Retail consumers – that is, people using USPS to ship their own items – may most directly notice the increase of $0.95 to every USPS Priority Mail flat-rate item. Commercial rates are also due for increases.
Subscribe to Kiplinger's Personal Finance
Be a smarter, better informed investor.
Save up to 74%
Sign up for Kiplinger's Free E-Newsletters
Profit and prosper with the best of expert advice on investing, taxes, retirement, personal finance and more - straight to your e-mail.
Profit and prosper with the best of expert advice - straight to your e-mail.
The price surge still needs approval from the Postal Regulatory Commission (PRC), which is almost certain to give its OK. But that process reflects USPS's singular status as a government agency. Private shippers can – and do – raise rates when they feel they can. A range of surcharges from UPS (opens in new tab) and FedEx (opens in new tab) are already currently in effect.
At least the outlook for shipping rates broadly for 2023 promises some relief, as this has been one of the economy's most inflationary sectors, particularly for trans-Pacific cargo and packages. According to last week's special issue of The Kiplinger Letter, a slowing economy should bring freight demand into better balance with available capacity to move it, leading to rate reductions next year. If a recession materializes, the drop in freight costs could be swift. If instead the economy muddles along at a slow growth rate, the decline in freight rates will take longer. But either way, the cost of moving goods by rail, truck, ship or plane should get better, helping to eventually reduce overall inflation.
For instance, Neel Jones Shah, executive vice president and global head of air freight at freight forwarder Flexport, told Kiplinger in a recent interview that "shipping costs are definitely going to come down" now that there isn't such a crush to move goods by plane. That's a sharp turnaround from the pandemic, when freight costs soared because consumers were buying a lot of goods and shippers were scrambling to keep up with demand, causing the cost of goods shipped by air to soar. Looking ahead to next year, he says that "2023 is going to look a lot like the back half of 2022," meaning there should be more slack in the system: A welcome bit of relief for the companies that import a lot of goods, and the customers who buy them.
Managing Editor, The Kiplinger Letter
Jim joined Kiplinger in December 2010, covering energy and commodities markets, autos, environment and sports business for The Kiplinger Letter. He is now the managing editor of The Kiplinger Letter and The Kiplinger Tax Letter. He also frequently appears on radio and podcasts to discuss the outlook for gasoline prices and new car technologies. Prior to joining Kiplinger, he covered federal grant funding and congressional appropriations for Thompson Publishing Group, writing for a range of print and online publications. He holds a BA in history from the University of Rochester.