Getting Married or Moving In Together? Time to Talk About Money
Sharing a life means it's time to talk finances.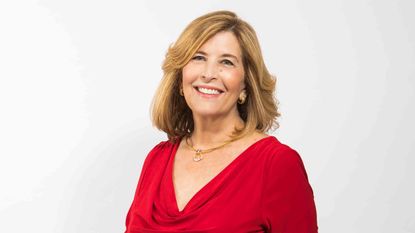 (Image credit: Photograph by Sonya Revell)
Certified financial planner Mari Adam is client advisor and branch manager for Mercer Advisors in Boca Raton, Florida. She is past president of the South Florida chapter of the Financial Planning Association.
How can couples talk about money issues without feeling intimidated? We know that money is arguably the number one topic that couples fight about, so it's really important to get it right. Couples need to make adequate time to talk and put all of their cards on the table. You want to do this when you are comfortable with the idea of being honest, transparent and nonjudgmental. Each partner needs to come clean about all of their debts—whether it's credit card debt or student debt—their credit scores and more. If one partner has bad credit or debt that the other doesn't know about, that will affect the couple's overall lifestyle.
After the talk, how do couples set themselves up for success? Think yours, mine and ours. Paychecks get deposited into personal accounts and from there put into the joint account to pay for joint goals. I also think proportional is fairest. For example, if one person makes $1 million and the other $50,000, it's not fair to split expenses 50-50. If you each have your own credit cards, monthly statements need to be accessible to both partners to prevent them from hiding their spending.
Subscribe to Kiplinger's Personal Finance
Be a smarter, better informed investor.
Save up to 74%
Sign up for Kiplinger's Free E-Newsletters
Profit and prosper with the best of Kiplinger's expert advice on investing, taxes, retirement, personal finance and more - straight to your e-mail.
Profit and prosper with the best of Kiplinger's expert advice - straight to your e-mail.
What if one spouse doesn't work? If one spouse or partner works and the other stays home, it's really important to recognize the contributions of the stay-at-home partner. The working person should be contributing not only to their own 401(k) plan or retirement account, but to a spousal IRA for the stay-at-home partner as well. I think the working person should also put money into a joint or personal savings account for the nonworking partner.
What do you think people get wrong about prenups? The common perception is that talking about prenups means you don't love that person or that you're selfish. That has nothing to do with it. It's about protection. What if you have kids from a previous relationship and want to leave most of your money to them when you die? That needs to be stipulated.
I recently advised a couple who planned to buy a house. It was a second marriage. The wife said she'd come up with the entire down payment, which was a huge chunk of money. I told her to talk to her attorney and make sure it was in writing. Because if they don't stay together and sell the house, it needs to be acknowledged how much money she put in so she'll get it back.
Family dynamics have changed over the years. What is the biggest shift you've noticed with younger couples? So many couples are living together, buying homes and even having kids without getting married, which is very different from when I was in my twenties. But what if you split up or something happens to one of you? The law doesn't provide the same protections that it does for married couples.
If you buy a house together and you're not married, consider going to an attorney to help you put in writing how much each of you invested, who's responsible for paying the mortgage, how to split the money if the house is sold, and who has the right to live there if you split up or one partner dies or becomes disabled. Otherwise, if the house is in just one person's name, the partner may not have any right to continue living there and could get evicted by the owner or his family. When you're making a big financial commitment, you want to think about the worst-case scenarios. It's just common sense to prepare yourself for life's what-ifs.
Staff Writer, Kiplinger's Personal Finance
Rivan joined Kiplinger on Leap Day 2016 as a reporter for Kiplinger's Personal Finance magazine. She's now a staff writer for the magazine and helps produce content for Kiplinger.com. A Michigan native, she graduated from the University of Michigan in 2014 and from there freelanced as a local copy editor and proofreader, and served as a research assistant to a local Detroit journalist. Her work has been featured in the Ann Arbor Observer and Sage Business Researcher.