5 Cybersecurity Stocks to Lock Up Growth
With a boost in global security spending expected this year, these five cybersecurity stocks could be worth a closer look.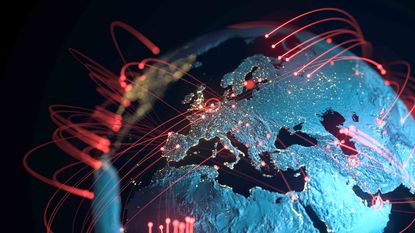 (Image credit: Getty Images)
It was a rough start to the year for growth stocks, which sold off sharply as bond yields spiked. But the intense selling has presented some compelling opportunities for investors that may be looking to buy on the dip.
Take cybersecurity stocks, for example, which pulled back drastically in the first quarter. The fact is, though, that online threats are becoming more frequent and more severe.
Just look at last year's SolarWinds (SWI (opens in new tab)) breach, where the computer systems of the U.S. government, foreign governments and over 16,000 private-sector companies were penetrated – allegedly at the hands of the Russian Foreign Intelligence Service (SVR). The SolarWinds hack lasted roughly nine months and involved the accessing of highly sensitive information, and it's still not clear just how extensive the breach was.
More broadly, a report from research firm Canalys notes 12 billion records were breached last year, while ransomware attacks spiked 60%.
The ongoing threats and risks with cybersecurity puts companies under increased pressure to guard against these threats, and in its 2021 global cybersecurity forecast, Canalys predicted cybersecurity spending will increase 10% this year worldwide to $60.2 billion.
So which cybersecurity stocks stand to benefit from this boost in spending? And which look attractive right now?
We've compiled a list of the five of the best cybersecurity stocks to buy as growth in the sector ramps up.
0
Contributing Writer, Kiplinger.com
Tom Taulli is the author of High-Profit IPO Strategies, All About Commodities and All About Short Selling. He is also the founder of several high-tech companies, such as Web IPO (one of the pioneers of digital public offerings). He can be reached on Twitter at @ttaulli.