What Will Drive Apple Stock in 2021?
How will Apple stock fare throughout the rest of the year? The answer to that question hinges on these seven factors affecting AAPL shares.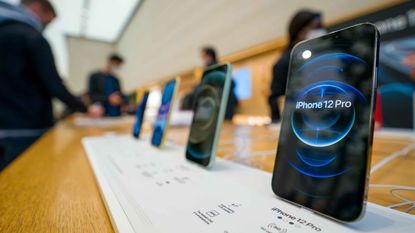 (Image credit: Getty Images)
The past year has delivered not just a stock market crash and a broad technology-sector selloff, but a global pandemic that at least temporarily crippled economies worldwide. Through it all, however, Apple (AAPL, $135.39) barely flinched; Apple stock is up roughly 70% since this time a year ago.
Apple, which was founded in 1976, grew to become a $1 trillion company by August 2018. Two years later to the month, it hit the $2 trillion mark, and it has tacked on another $100 billion since then.
The question for Apple stock holders, of course, is whether their investment reached critical mass, or whether AAPL shares can continue growing in 2021.
Subscribe to Kiplinger's Personal Finance
Be a smarter, better informed investor.
Save up to 74%
Sign up for Kiplinger's Free E-Newsletters
Profit and prosper with the best of expert advice on investing, taxes, retirement, personal finance and more - straight to your e-mail.
Profit and prosper with the best of expert advice - straight to your e-mail.
These seven factors will have the most say in that.
#1: The Biggest Factor for Apple Stock: The iPhone 12
The big question for 2021 is whether the so-called iPhone 12 upgrade supercycle will continue to materialize.
The iPhone 12 series is the first Apple smartphone to include 5G connectivity. It was offered in the largest array of sizes and colors yet – including the first-ever iPhone mini 12 (starting at $699) and the largest-ever model in the iPhone 12 Pro Max (starting at $1,099).
Sign up for Kiplinger's FREE Investing Weekly e-letter for stock recommendations and other investing advice.
Numerous analysts anticipated that this 5G capability would lead to a flood of iPhone 12 upgrades. That would be a massive coup for AAPL given that, despite softness in the global smartphone market, iPhone still accounts for the lion's share of Apple revenue. In Q4, that was $26.4 billion, or nearly 41% of Apple's total sales.
At the end of November, Wedbush analyst Daniel Ives rated Apple stock at Outperform and set a 12-month price target of $150, noting:
"With our estimation that 350 million of 950 million iPhones worldwide are currently in the window of an upgrade opportunity, we believe this will translate into an unprecedented upgrade cycle for Apple with a major holiday season on the horizon."
So far, so good.
Initial industry data was encouraging. In the first 24 hours of pre-orders, the iPhone 12 significantly outsold last year's iPhone 11, by a margin of 2 million units to 800,000 units.
Then it was reported that Apple had upped its iPhone production order for the first half of 2021 by 30% because of a surge in demand for the iPhone 12. That report claims Apple told its suppliers it expects to sell 20% more iPhones in 2021 than in 2020.
And then, in late January, Apple dropped its fiscal Q1 earnings.
"To this point Cook & Co. reported total revenues of $111.44 billion (up 21% y/y), handily beating the Street's $103.27 billion estimate with the all-important iPhone revenue driving the beat coming in at $65.60 billion growing 17% y/y vs. the Street's estimate of $59.86 billion in a 'jaw dropper' that beat even bullish whisper expectations." So said Ives, who maintained an Outperform (Buy) rating and $175 price target on Apple stock.
"We essentially view this quarter as the kickstart to the 5G supercycle which so far, we are seeing order activity continue to track significantly ahead of expectations as well as its predecessor iPhone 11 signaling a green light into FY21," he added.
More recently, Ives reported that "our Asia supply chain checks continue to show robust strength in this iPhone 12 supercycle into the rest of 2021," leading him to predict Apple would hit $3 trillion in market cap by year's end.
#2: More AirPods
AirPods – Apple's popular take on true wireless earbuds – have been a surprise hit for the company. Originally mocked for their prominent "stems," AirPods have become the top seller in the wireless headphone market. In 2019, Apple sold nearly 60 million pairs. Wedbush predicted Apple sold 90 million in 2020, and believes it will sell 115 million in 2021.
The company has been moving aggressively to expand the AirPods lineup. AirPods and AirPods Pro recently were joined by the $549 AirPods Max over-ear headphones. Second-generation AirPods Pro, and third-generation AirPods that resemble AirPods Pro (but lack active noise cancellation), are expected in 2021.
AirPods have turned into big business. Estimates peg Apple's AirPods revenue at greater than the total revenue generated by other tech giants such as Spotify (SPOT) and Nvidia (NVDA).
And momentum is on Apple's side. "Wearables increased 30%, benefiting from the launch of the Apple Watch Series 6 and greater adoption for AirPods," wrote CFRA's Angelo Zino (Buy) following the firm's fiscal Q1 earnings.
If AAPL can keep growing sales – and the decision to not include free wired earbuds with the iPhone 12 will help there – this line of business could produce real upside for Apple stock in 2021.
#3: M1 Macs
Apple's biggest move in 2020 was centered around its oldest product line: Mac computers. On Nov. 10, the company unveiled the first new Macs running its own ARM-based M1 chips instead of Intel (INTC) processors.
The M1 chip builds on the design Apple has employed to such great effect with the iPhone and iPad. The M1 is customized to take full advantage of macOS and Apple hardware. It can run iOS mobile apps natively, and most existing Mac software that hasn't been updated runs at full speed using Apple's Rosetta 2 emulation. In benchmark testing, the new M1-powered Macs are leaving current Windows PCs – equipped with both the latest Intel processors and graphics cards from Nvidia and Advanced Micro Devices (AMD) – in the dust.
Despite the power on tap, the new M1 MacBook Pro is also delivering up to 20 hours of battery life.
What really has PC makers (and other chipmakers) worried is that that the M1 chip is a first-generation effort, and these new Macs are entry-level models. This year, Apple is expected to release more new Macs, equipped with more powerful M-series processors.
The Mac is fourth among Apple's five divisions by revenue, bringing in $8.7 billion in the last quarter, versus about $65.6 billion from iPhones. But it's still a meaningful number to AAPL.
The speedy M1 processor has the potential to win over Windows converts to the Mac camp. If nothing else, the powerful new Macs are certain to result in a flood of upgrades by existing Mac owners.
#4: Regulatory Challenges
The biggest challenge facing Apple in 2021 isn't a competitor; it's government agencies investigating Apple for anticompetitive behavior.
Apple faces a growing series of investigations in the U.S. and Europe, including:
Complaints that the latest version of iOS (which includes advanced ad-blocking and privacy controls) is anticompetitive.
The company's refusal to let services other than Apple Pay use "tap and pay" functionality on iPhones.
The forcing of apps like Spotify to pay a cut of subscription fees.
And the company still is settling expensive lawsuits over the throttling of older iPhones.
Of the legal actions AAPL is going up against in 2021, those centered on the App Store are the most worrisome for Apple stock holders. The company faces antitrust investigations in Europe and lawsuits in the U.S. And most recently, The Information, citing two people that have met regularly with the U.S. Department of Justice, reported that it's facing scrutiny from the DoJ over rules concerning its "Sign in with Apple" button.
Besides the legal costs and any financial penalties, Apple's 30% stake in App Store sales is at risk – and in 2020, the App Store generated around $64 billion in revenues, CNBC estimates. (Apple does not explicitly break out App Store revenue.)
#5: Pushing Services
Services has been a big part of Apple's strategy for replacing slowing iPhone revenue. That worked well with Apple Music, which quickly became second only to Spotify.
However, the latest round of Services is facing a tougher slog in terms of convincing people to pay for subscriptions. Apple TV+ has been underwhelming, and the company started giving away a free one-year subscription with device purchases. Apple News+ has struggled since launch. High-profile participants including the NewYork Times pulled out and at the end of November after Apple extended the one-month free trial to three months.
Apple Services revenue in the last quarter was $15.8 billion. That's up 24% year-over-year and makes it Apple's second-largest division in terms of revenue. But with its massive installed user base of 1.65 billion devices in active use, the company could be doing better. This year, the newly announced Apple Fitness+ and Apple One subscription bundle will try to do just that.
Needham analyst Laura Martin, who has a Buy rating on Apple stock, points out the advantages, and importance, of the Services division:
"Services make iOS stickier, which lowers churn," she says. "Services add rev per user, which increases lifetime value (LTV) per customer; Services super-charge AAPL's profit growth."
Tigress Financial Partners analyst Ivan Feinseth (Strong Buy) says Services revenues could exceed $60 billion in 2021, and it's on pace to do so. He also believes that if Apple can successfully leverage that huge installed user base, that $60 billion could easily double over the next few years.
#6: The iPhone 13
Of course, Apple will have another huge product launch in 2021 in the form of the iPhone 13, which is expected to arrive this fall.
After the 5G, all-OLED display, and new form factor offered in the iPhone 12, the iPhone 13 will have its work cut out to generate the same level of upgrades the iPhone 12 is seeing.
Perhaps a folding iPhone?
For now, iPhone 13 details are almost entirely speculation. With the phone's release several months down the road, Apple stock investors shouldn't pay much attention here until more concrete news develops.
#7: Dark-Horse Products
We know that Apple is working on various projects such as some sort of autonomous car or electric car technology, Bluetooth trackers (AirTags), and satellites that could bypass wireless carriers to beam data directly iPhones.
The potential game-changer for Apple stock that could be ready for primetime in 2021 is augmented-reality (AR) glasses. Alphabet's (GOOGL) Google tried and failed to crack the consumer AR market with its Google Glass. Apple watched that debacle, all the while moving the pieces for its own effort including snapping up AR-related companies and perfecting its ARKit development tools. The latest move was the inclusion of a LiDAR scanner on the iPhone 12 Pro, capable of scanning a room or objects for detailed depth information
What is being referred to as Apple Glass could land as early as this year, although many analysts are betting on 2022 or 2023. If Apple Glass does make a surprise debut next year, it could be the next big ticket, must-have Apple Device.
The global AR market is projected to be worth more than $65 billion by 2027, according to Fortune Business Insights. That's without a significant consumer presence for the technology. Apple Glass could cause that market to explode.
Whatever happens, 2021 is destined to be a big one for Apple.
Contributing Writer, Kiplinger.com
Brad Moon is a tech industry veteran who contributes to a range of publications including Forbes, InvestorPlace and MSN Money and is an original member of the award-winning GeekDad blog. Over the past decade, he has also written about technology for Wired, Gizmodo, Shaw Media, About.com, The Winnipeg Free Press and others.