Dogs of the Dow 2021: 10 Dividend Stocks to Watch
The Dogs of the Dow were flea-bitten last year, but this simple dividend-investing strategy will try to return to greatness in 2021.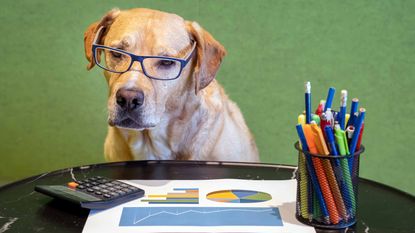 (Image credit: Getty Images)
The "Dogs of the Dow" is an algorithmic strategy that caught Wall Street's attention in the 1980s, before algorithmic strategies became popular.
This basic portfolio of 10 dividend stocks is selected in the simplest of ways: At the beginning of each calendar year, buy the 10 highest-yielding stocks in equal dollar amounts. At the end of the year, sell them. Rinse and repeat.
As stock prices go up, yields go down, and vice versa. Thus, the idea behind the Dogs strategy is this: The highest-yielding dividend stocks in the Dow are likely underappreciated, and a reversion to the mean suggests their yields will adjust – by their prices going higher.
The Dogs of the Dow have a pretty good track record, delivering an average annual total return of 9.5% since 2000 – a full two percentage points above the S&P 500 index. However, the past two years have thrown the Dogs off their scent.
"Prior to 2019, (the Dow Jones High Yield Select 10 Total Return Index, or MUTR) had an average annual total return of 9.5% from 2001-2018 vs 7.3% for the S&P 500 Total Return Index (SPXT), which marked significant outperformance for the Dogs," writes BofA Global Research. "Factoring in 2019 and 2020, the average total return for MUTR back to 2001 moves down to 8.97% vs 9.06% for SPXT." That includes a negative 8.0% return in 2020.
But investing is a long-term game, and sticking with a strategy, over time, can prove more successful than chasing returns. So read on as we analyze the 10 dividend stocks the Dogs of the Dow strategy says you should buy.
Data is as of Jan. 4, except yield, which is as of Jan. 1. Stocks listed by dividend yield. Yields are calculated by annualizing the most recent payout and dividing by the share price.
Contributing Writer, Kiplinger.com
Email: ken.berman@gorillatrades.com
Website:
gorillatrades.com
(opens in new tab)
LinkedIn:
Gorilla Trades
(opens in new tab)
Phone: (866) 222-6639
Ken Berman has been buying and selling stocks since he was a teenager and met with early success trading then-fledgling biotech stocks like Amgen, Biogen and Immunex. He later became a broker and worked for two wire houses, where he developed a proprietary system for buying and selling equities. In 1999, Mr. Berman formalized his method under the Gorilla Trades name and now has subscribers in the U.S. and 55 other countries around the world.