Stock Market Today: Oil Cools Off, But Stocks Remain Stymied
Peace talks were among several factors that weighed on crude prices Monday, but rising Treasury rates kept equities grounded.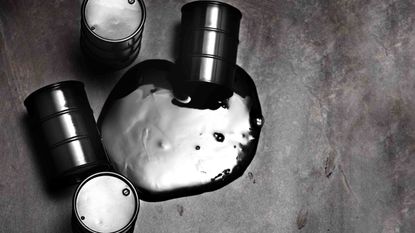 (Image credit: Getty Images)
Recently red-hot energy prices were hosed down on Monday, but that gave only limited relief to equities, and only in a few select quarters.
U.S. crude oil futures plunged 5.8% to $103.01 per barrel, heading lower early in the day as Ukraine and Russia conducted fresh peace talks. Further downward pressure came from COVID-related lockdowns in China's Shenzhen and Jilin provinces, as well as reports indicating that the U.S. might ease sanctions on Venezuela to get more oil on the market.
The drawdown in crude prices, which helped to soothe mounting inflation worries, lifted the broader equity indexes in the morning. Tempering that optimism, however, was a rise in Treasury rates ahead of the Federal Reserve's much-anticipated March 15-16 meeting to determine the direction of its benchmark rate.
Subscribe to Kiplinger's Personal Finance
Be a smarter, better informed investor.
Save up to 74%
Sign up for Kiplinger's Free E-Newsletters
Profit and prosper with the best of expert advice on investing, taxes, retirement, personal finance and more - straight to your e-mail.
Profit and prosper with the best of expert advice - straight to your e-mail.
"Our view remains that Fed interest rate hikes will likely begin this week with a 25-basis-point (0.25%) increase and then three to four more rate hikes at subsequent meetings in 2022," say LPL Financial strategists Lawrence Gillum and Ryan Detrick. "However, if inflationary pressures remain stubbornly high and we start to see longer-term inflation expectations become unanchored, the Fed may be forced to move more aggressively than what is even already priced in."
As if that weren't worrisome enough, investors also must keep a wary eye on Europe, where several countries have detected a COVID variant dubbed "deltacron," that shares elements of both the delta and omicron strains. But while it's early days, scientists have seen little to indicate that it's more lethal or transmissible than prior versions.
Sign up for Kiplinger's FREE Investing Weekly e-letter for stock, ETF and mutual fund recommendations, and other investing advice.
Higher yields on U.S. debt weighed on the growthy technology (-1.8%) and consumer discretionary (-1.7%) sectors, which in turn bogged down the Nasdaq Composite (-2.0% to 12,581). The S&P 500 finished with a more modest 0.7% decline to 4,173, while the Dow Jones Industrial Average managed to squeeze out a marginal, single-point gain to 32,945.
Even more volatility potential is just a couple days past the Fed meeting.
"The options market is telegraphing that it is more worried about expiration Friday than the outcome of the Federal Reserve's rate-setting committee on Wednesday," says Michael Oyster, chief investment officer for asset-management firm Options Solutions. The price of on the SPDR S&P 500 ETF (SPY (opens in new tab)) straddles – a trading strategy that investors use when they are unsure if stock prices will rise or fall – indicates the March expiration is potentially more disruptive to stocks than the closely watched Fed meeting."
"The straddle – that is buying an at-the-money put and call with the same strike price and expiration – suggests the stock market will move 2.3%, up or down, on Wednesday. On Friday, when standard March options expire, the straddle suggests the S&P 500 may move 3%, up or down. The options market has literally priced what a difference a day makes."
Other news in the stock market today:
The small-cap Russell 2000 retreated by 1.9% to 1,941.
Gold futures shed 1.2% to settle at $1,960.80 an ounce.
Bitcoin earned a small 1.2% boost to $38,817.40. (Bitcoin trades 24 hours a day; prices reported here are as of 4 p.m.)
Several Chinese stocks took it on the chin today amid the aforementioned COVID-19 lockdown in Shenzen, as well as last week's report from the Securities and Exchange Commission (SEC) that named five U.S. listed American depositary receipts (ADRs (opens in new tab)) that it says violated the Holding Foreign Companies Accountable Act (HFCAA) by not allowing American regulators to review their company audits – something that China has banned – putting them at risk of a potential delisting. Alibaba Group (BABA (opens in new tab), -10.3%) and JD.com (JD (opens in new tab), -10.5%) were among the day's biggest decliners, dragged even lower by a downgrade to Underweight (Sell) at J.P. Morgan Securities.
Tyson Foods (TSN (opens in new tab)) fell 2.4% after BMO Research analyst Kenneth Zaslow downgraded shares of the meat processor to Market Weight (Hold). " Our downgrade does not reflect a change in our long-term view of TSN's ability to affect internal change through its actions, operational improvements, or capacity expansions, but rather our disciplined approach and a potential reduction to underlying fundamentals outside chicken, particularly beef," Zaslow says.
Netflix (NFLX (opens in new tab)) shed 2.7% to end the day at $331.01, its lowest close since mid-March 2020. Shares of the streaming service have been hit especially hard in early 2022, down 45% for the year-to-date, and have now officially erased all of their pandemic-related gains. Still, Wedbush analyst Michael Pachter recently upgraded the stock to Neutral from Underperform (Hold and Sell, respectively). "The recent share price decline reflects that Netflix investors have begun to appreciate that the company's long-term prognosis is as a low growth, extremely profitable enterprise," Pachter writes in a note. "While we do not anticipate significant share price appreciation in the near-term, Netflix's first mover advantage and large subscriber base provides the company with a nearly insurmountable competitive advantage over its streaming peers."
Berkshire Stock Hits $500,000
Outperforming the broader indexes yet again in 2022 was none other than Warren Buffett, whose Berkshire Hathaway quietly reached a new milestone Monday.
His company's Class B shares, traded as BRK.B (opens in new tab), gained 1.0% today to bring their year-to-date gains to 10.4% – a far better pace than the S&P 500's 12.4% loss so far in 2022.
Improving slightly less were Berkshire's far-less-discussed Class A shares (BRK.A (opens in new tab), +0.8%), but they accomplished something far more noteworthy: They crossed a whopping $500,000 per share on an intraday basis for the first time in their history.
The achievement is in part due to a refusal to split the Class A shares – a move meant to deter speculative trading. But it's also a testimony to Warren Buffett's investing acumen, which has made Berkshire one of the 30 best stocks of the past 30 years (opens in new tab) and kept investors glued to what the Oracle of Omaha is buying and selling every quarter (opens in new tab).
Read on to learn more about BRK.A shares' ascent to $500,000.
Kyle Woodley is the Editor-in-Chief of Young and The Invested (opens in new tab), a site dedicated to improving the personal finances and financial literacy of parents and children. He also writes the weekly The Weekend Tea (opens in new tab) newsletter, which covers both news and analysis about spending, saving, investing, the economy and more.
Kyle was previously the Senior Investing Editor for Kiplinger.com, and the Managing Editor for InvestorPlace.com before that. His work has appeared in several outlets, including Yahoo! Finance, MSN Money, Barchart, The Globe & Mail and the Nasdaq. He also has appeared as a guest on Fox Business Network and Money Radio, among other shows and podcasts, and he has been quoted in several outlets, including MarketWatch, Vice and Univision. He is a proud graduate of The Ohio State University, where he earned a BA in journalism.
You can check out his thoughts on the markets (and more) at @KyleWoodley (opens in new tab).