Stock Market Today: New Infrastructure Hopes Hoist Indexes to New Heights
President Biden's backing of a bipartisan infrastructure spending bill sparked fresh optimism that pushed the S&P 500 and Nasdaq to record closes.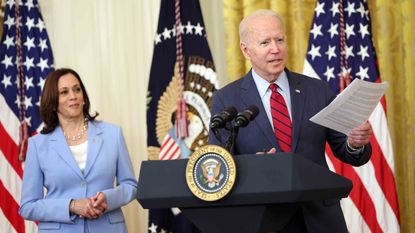 (Image credit: Getty Images)
And just like that, it's "Infrastructure Week" again.
Things were already looking good for stocks early Thursday after unemployment claims for the week ended June 19 came in lower by 7,000 filings to 411,000. But the indexes picked up even more steam after President Joe Biden announced his backing of the "Bipartisan Infrastructure Framework" – a $1.2 trillion infrastructure spending compromise backed by a bipartisan group of senators.
While the deal still must pass muster in Congress, investors were clearly cheered by the signs of progress.
Subscribe to Kiplinger's Personal Finance
Be a smarter, better informed investor.
Save up to 74%
Sign up for Kiplinger's Free E-Newsletters
Profit and prosper with the best of expert advice on investing, taxes, retirement, personal finance and more - straight to your e-mail.
Profit and prosper with the best of expert advice - straight to your e-mail.
"Investors liked what they saw, and stocks moved higher on the news," says Chris Zaccarelli, chief investment officer for Independent Advisor Alliance, a registered investment advisor (RIA). "Although the proof will be in the pudding, if the full House and Senate are able to get it across the finish line and the President can sign it into law.
The Dow Jones Industrial Average advanced a healthy 1.0%, to 34,196, led by industrial giants Boeing (BA (opens in new tab), +2.9%) and Caterpillar (CAT (opens in new tab), +2.6%), as well as financials such as Goldman Sachs (GS (opens in new tab), +2.1%) and Travelers (TRV (opens in new tab), +1.4%).
Sign up for Kiplinger's FREE Investing Weekly e-letter for stock, ETF and mutual fund recommendations, and other investing advice.
"From an asset allocation perspective, value seems to be benefiting most from this news as many of the infrastructure-oriented stocks tend to land in this universe," says Brian Price, head of investment management for Commonwealth Financial Network, another RIA.
The S&P 500 (+0.6% to 4,266) and Nasdaq Composite (+0.7% to 14,369) also finished in the black, and in new record territory to boot.
Other action in the stock market today:
The small-cap Russell 2000 improved by 1.3% to 2,333.
Rite Aid (RAD) sat out the day's broad-market rally, sinking 14.5% after the drugstore chain reported earnings. In its fiscal first quarter, RAD reported adjusted earnings of 38 cents per share – above what analysts were expecting – but its $6.16 billion in revenue came up short of estimates.
Several digital advertising stocks gained ground after Alphabet's (GOOGL (opens in new tab), +0.3%) Google postponed plans to end support for third-party tracking cookies, with the search engine now expecting to begin this initiative in mid-2023 versus early 2022. Among the big movers today were Trade Desk (TTD (opens in new tab), +16.0%), Magnite (MGNI (opens in new tab), +8.2%) and PubMatic (PUBM (opens in new tab), +13.0%).
U.S. crude oil futures rose 0.3% to settle at $73.30 per barrel.
Gold futures slipped 0.4% to finish at $1,776.70 an ounce.
The CBOE Volatility Index (VIX) slipped for a fourth consecutive day, by 2.8% to 15.85.
Bitcoin continued to rebound, improving by 5.6% to $34,786.42. (Cryptocurrencies trade 24 hours a day; prices reported here are as of 4 p.m. each trading day.)
How to Play Renewed Infrastructure Hopes
The sudden traction on any sort of infrastructure bill is a favorable sign for equity investors.
"Infrastructure spending strengthens an already very strong economic growth outlook," says Jeff Buchbinder, equity strategist for independent broker-dealer LPL Financial. "We will very likely get more than $2 trillion in additional spending this year – including this bipartisan agreement and a partisan 'social infrastructure' deal later this year, which bolster the outlook for corporate profits and should keep this bull market going strong well beyond 2021."
As far as the Bipartisan Infrastructure Framework itself goes, it pares down many of Biden's hoped-for initiatives, but a few remain. The plan calls for providing high-speed internet to all Americans, which should be a boon to 5G-related stocks, and it also targets climate, electric vehicles and other green initiatives, potentially providing more lift for clean energy stocks.
Though, those industries might have been just fine either way.
"The prospect of legislation is clearly positive, but the reality is that infrastructure investment is going to be strong going forward regardless of what happens on Capitol Hill," says Josh Duitz, portfolio manager of the Aberdeen Standard Global Income Infrastructure Fund (ASGI (opens in new tab)). "The green energy and 5G revolutions are already happening and this bill would simply accelerate infrastructure spending."
And naturally, the core goal remains: improving and building out the nation's infrastructure – from roads and bridges to electricity grids and water systems.
Nothing is set in stone, but this sudden spurt of progress bodes well for these 14 infrastructure stocks, each of which stands to benefit from at least one provision of Washington's potential compromise.
Kyle Woodley was long BA as of this writing.
Kyle Woodley is the Editor-in-Chief of Young and The Invested (opens in new tab), a site dedicated to improving the personal finances and financial literacy of parents and children. He also writes the weekly The Weekend Tea (opens in new tab) newsletter, which covers both news and analysis about spending, saving, investing, the economy and more.
Kyle was previously the Senior Investing Editor for Kiplinger.com, and the Managing Editor for InvestorPlace.com before that. His work has appeared in several outlets, including Yahoo! Finance, MSN Money, Barchart, The Globe & Mail and the Nasdaq. He also has appeared as a guest on Fox Business Network and Money Radio, among other shows and podcasts, and he has been quoted in several outlets, including MarketWatch, Vice and Univision. He is a proud graduate of The Ohio State University, where he earned a BA in journalism.
You can check out his thoughts on the markets (and more) at @KyleWoodley (opens in new tab).