Stock Market Today: Booming GDP Growth Triggers Another S&P Record
America's first-quarter economic growth eclipsed Kiplinger estimates, and jobless claims came in lower, too, helping spark more gains across the market Thursday.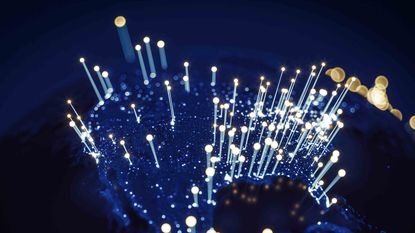 (Image credit: Getty Images)
Stocks didn't take the most conventional path to gains Thursday, but they climbed the ladder nonetheless as the U.S. economy continued to flex its recovering muscles.
The Commerce Department revealed that U.S. GDP grew by a seasonally adjusted annual rate of 6.4% during the first quarter of 2021, exceeding Kiplinger's forecast for 5.5% (opens in new tab) though coming in a little shy of consensus estimates for 6.7%.
"The report points to ongoing recovery and keeps the U.S. economy on track to recover to its pre-pandemic level by Q2 '21," says Barclays economist Pooja Sriram.
Subscribe to Kiplinger's Personal Finance
Be a smarter, better informed investor.
Save up to 74%
Sign up for Kiplinger's Free E-Newsletters
Profit and prosper with the best of Kiplinger's expert advice on investing, taxes, retirement, personal finance and more - straight to your e-mail.
Profit and prosper with the best of Kiplinger's expert advice - straight to your e-mail.
"Personal consumption spending remained the main driver of growth, as we had anticipated," she says. "Private inventory investment subtracted from growth, reflecting a draw-down in stocks as consumption surged, while net exports also made a negative contribution amid stronger imports."
Adding fuel to the fire was a modest decline in weekly unemployment filings, to 553,000 from 570,000 the week prior.
Stocks spiked at the open Thursday, declined through midday, then recovered throughout the rest of the afternoon. Facebook (FB (opens in new tab), +7.3%) helped power the S&P 500 (+0.7% to 4,211) to a fresh all-time high after announcing a 48% jump in Q1 revenues and a wide earnings beat. Apple (AAPL (opens in new tab), -0.1%) reported a monster quarter, too, with sales up 54% and profits well ahead of analyst projections, but its advance was more muted thanks to a warning that the global chip shortage could dent current-quarter results.
Sign up for Kiplinger's FREE Investing Weekly e-letter for stock, ETF and mutual fund recommendations, and other investing advice.
The Dow Jones Industrial Average (+0.7% to 34,060) finished with a solid gain, while the Nasdaq Composite (+0.2% to 14,082) closed modestly higher.
Other action in the stock market today:
Automaker Ford (F (opens in new tab), -9.6%) reported better-than-expected profit and revenue in its first quarter, but it warned the global chip shortage could drag on full-year earnings.
Disappointing guidance weighed on eBay (EBAY (opens in new tab), -10.0%), too, even as the company beat top- and bottom-line estimates for Q1.
In non-earnings news, Uber Technologies (UBER (opens in new tab), -6.0%) and Lyft (LYFT (opens in new tab), -9.9%) sold off dramatically today. Weighing on the ridesharing names were comments made by U.S. Labor Secretary Marty Walsh, who told Reuters that "gig workers should be classified as employees."
The small-cap Russell 2000 finished 0.4% in the red to 2,295.
U.S. crude oil futures spiked 1.8% higher to settle at $65.01 per barrel after today's economic data supported signs of an improving U.S. economy.
Gold futures fell 0.3% to finish at $1,768.30 per ounce.
The CBOE Volatility Index (VIX) climbed 1.0% to 17,46.
Bitcoin prices plunged 4.5% to $55,470. (Bitcoin trades 24 hours a day; prices reported here are as of 4 p.m. each trading day.)
Sell in May? We Say "Nay Nay."
You can feel it, right?
You know what we're talking about.
The icy fear of potential underperformance that slaps investors across the face each year?
We mean the tired ol' "Sell in May" adage, rehashed annually because of the historical tendency for May-October returns to underachieve compared to November-April.
Here at Kiplinger? We think most investors are better off hanging around for all 12 months. (opens in new tab) And we're in good company.
"I've never been a fan of this adage," says legendary investment strategist Ed Yardeni of Yardeni Research. "It doesn't always work, and even when it does, the investor is left with the problem of determining when to get back into the market."
Churning your portfolio can take its toll, whether in opportunity cost or emotional stress. Instead, entrench yourself in a few solid funds, and let the market's dogged progress over time do the work.
Whether you're looking to build the core of your portfolio or just add a few tactical positions, start your search with our recently updated "Kip" picks: Those who favor exchange-traded funds can consider our Kip ETF 20 (opens in new tab), while those who want humans at the helm might prefer the actively managed (but low-fee) mutual funds of the Kiplinger 25 (opens in new tab).
Senior Investing Editor, Kiplinger.com
Kyle is senior investing editor for Kiplinger.com. As a writer and columnist, he also specializes in exchange-traded funds. He joined Kiplinger in September 2017 after spending six years at InvestorPlace.com, where he managed the editorial staff. His work has appeared in several outlets, including U.S. News & World Report and MSN Money, he has appeared as a guest on Fox Business Network and Money Radio, and he has been quoted in MarketWatch, Vice and Univision, among other outlets. He is a proud graduate of The Ohio State University, where he earned a BA in journalism.