Stock Market Today: Earnings, Stimulus Drive Another Big Push for Stocks
Major indices enjoy a second day of strong gains Tuesday; after the bell, Amazon.com announces Jeff Bezos will transition out of CEO role.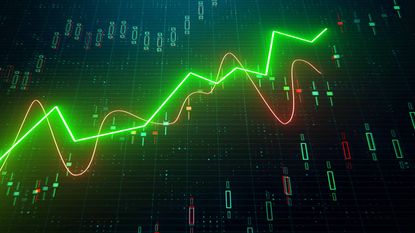 (Image credit: Getty Images)
Wall Street finally stuck to the same tune for more than one session at a time, in this case posting a second consecutive day of rip-roaring gains on Tuesday. That action was followed up by the sudden news that one of corporate America's most successful CEOs would be stepping down.
Despite the growing prevalence of more-contagious COVID-19 strains, hospitalizations and deaths are, for the moment, heading lower. Financial relief for the coronavirus-battered economy looks a little likelier too, as Sen. Joe Manchin (D-W.Va.) signaled support for an important step forward in approving a new relief package.
Strong earnings reports from United Parcel Service (UPS (opens in new tab), +2.6%) and Exxon Mobil (XOM (opens in new tab), +1.6%) also whipped up some optimism.
Subscribe to Kiplinger's Personal Finance
Be a smarter, better informed investor.
Save up to 74%
Sign up for Kiplinger's Free E-Newsletters
Profit and prosper with the best of Kiplinger's expert advice on investing, taxes, retirement, personal finance and more - straight to your e-mail.
Profit and prosper with the best of Kiplinger's expert advice - straight to your e-mail.
"Since multiple expansion – higher equity prices due to falling interest rates or rising liquidity – is unlikely to be an equity market driver this year, the 2021 bull thesis depends on earnings improvement to remain intact," says Lauren Goodwin, economist and portfolio strategist at New York Life Investments.
The Dow Jones Industrial Average (30,687) and Nasdaq Composite (13,612) each jumped 1.6%, while the S&P 500 enjoyed a robust gain of 1.4% to 3,826.
Investors in some of the "short squeeze" stocks espoused by the WallStreetBets Reddit community weren't so lucky. GameStop (GME (opens in new tab)) plunged a flat 60% after an 31% decline on Monday, AMC Entertainment (AMC (opens in new tab)) dropped 41.2% and BlackBerry (BB (opens in new tab)) lost 21.1%.
The Russell 2000 jumped 1.2% to 2,151.
Gold futures slid 1.9% to 1,833.40 per ounce.
U.S. crude oil futures had another great day, improving by 2.3% to settle at $54.76 per barrel.
Bitcoin prices, at $33,849 on Monday, popped by 5.9% to $35,842. (Bitcoin trades 24 hours a day; prices reported here are as of 4 p.m. each trading day.)
After the closing bell, Amazon.com (AMZN (opens in new tab)) announced that Jeff Bezos would step down as CEO, to be replaced by Amazon Web Services (AWS) chief Andy Jassy. Bezos will shift to the role of Executive Chair in the third quarter of 2021.
History Says 2021 Could Be a Slog
Third stimulus or not, earnings rebound or not, 2021 could still be tough. Vaccines might be on the way, but COVID is largely unchecked, unemployment remains high, and – despite all that – stocks as a whole are sitting at sky-high valuations.
History isn't on our side either.
Remember the old adage, "As goes January, so goes the year"? Ryan Detrick, chief market strategist for LPL Financial, points out there's some statistical validity to that.
"When the S&P 500 has been green in January, the index has been up 11.9% on average over the rest of the year (final 11 months) and higher 86% of the time," he says. "However, when that first month was red, stocks rose only 1.7% on average over the final 11 months and were higher barely 60% of the time."
In other words, investors might need more than just stocks that ebb and flow with the market's tide – they'll need companies postured for standout results. If you ask the pros, many will point you to these 25 stocks that they've endorsed with high confidence. That's admittedly a growth-centric group, and some of us prefer value and dividends.
Fortunately, the analyst community has no shortage of love for a number of high-yield names, too, including these 25 stocks that yield at least 3%.
Kyle Woodley was long AMZN and Bitcoin as of this writing.
Senior Investing Editor, Kiplinger.com
Kyle is senior investing editor for Kiplinger.com. As a writer and columnist, he also specializes in exchange-traded funds. He joined Kiplinger in September 2017 after spending six years at InvestorPlace.com, where he managed the editorial staff. His work has appeared in several outlets, including U.S. News & World Report and MSN Money, he has appeared as a guest on Fox Business Network and Money Radio, and he has been quoted in MarketWatch, Vice and Univision, among other outlets. He is a proud graduate of The Ohio State University, where he earned a BA in journalism.