Stock Market Today: Big Tech Leads Another Snap-Back Rally
COVID worries, including a not-glowing reception to Johnson & Johnson vaccine, helped drag the major indices lower Friday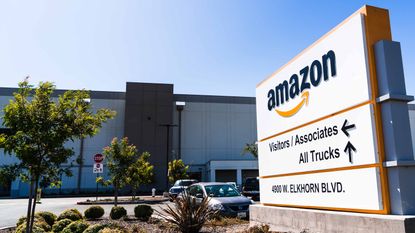 (Image credit: Getty Images)
Investors' necks are no doubt sore from the violent back-and-forth trading action these past few days, but at least Monday's charge was in the right direction.
A surge from several mega-cap tech and tech-adjacent stocks helped lift the major indices – Amazon.com (AMZN, +4.3%) and Google parent Alphabet (GOOGL, +3.6%) were up strongly ahead of their earnings reports, due out after Tuesday's close. (Here's what Wall Street is expecting out of them.)
The rousing market rebound came despite a report that President Joe Biden was meeting with a group of Republicans to discuss their coronavirus relief package – a mere $618 billion plan with smaller direct payments to fewer Americans and no state or local government aid.
Subscribe to Kiplinger's Personal Finance
Be a smarter, better informed investor.
Save up to 74%
Sign up for Kiplinger's Free E-Newsletters
Profit and prosper with the best of expert advice on investing, taxes, retirement, personal finance and more - straight to your e-mail.
Profit and prosper with the best of expert advice - straight to your e-mail.
The Dow Jones Industrial Average, led by Microsoft (MSFT, +3.3%), finished 0.8% higher to 30,211, while the S&P 500 (+1.6% to 3,773) and Nasdaq Composite (+2.6% to 13,403) enjoyed even stronger advances.
Other action in the stock market today:
The Russell 2000 roared ahead by 2.5% to 2,126.
Gold futures finished slightly higher again, improving 0.7% to $1,862.50 per ounce.
U.S. crude oil futures jumped 2.3% to settle at $53.42 per barrel.
Bitcoin prices, at $34,538 on Friday, cooled down by 2.0% to $33,849. (Bitcoin trades 24 hours a day; prices reported here are as of 4 p.m. each trading day.)
Clubhouse Media Group (CMGR) – a Chinese healthcare company that renamed itself Clubhouse after buying West of Hudson Group, which is responsible for a number of content creation houses filled with young influencers – shot 57.8% higher on Monday. However, the over-the-counter stock's rally came after Tesla (TSLA) CEO Elon Musk's Sunday live talk on audio app Clubhouse, which is not related to Clubhouse Media, and which is not publicly traded. This led many, including Financial Times, to deduce the movement was at least in part due to confusion over their similar names.
'Short Busters' Find a New Shiny Object
The market's "short squeeze" saga also continued Monday. Momentum favorite GameStop (GME, -30.8%) lost more than a quarter of its value as traders followed a new manufactured wave into silver and silver exchange-traded funds (ETFs).
"Market participants have found and exposed weaknesses in hedge fund risk-management models surrounding the shorting of individual stocks, and engaged in a classic 'short squeeze' but with a new level of speed," says Mark Heppenstall, chief investment officer at Penn Mutual Asset Management. "This week begins with volatility moving into the metals market, with the price of silver seeing significant price changes."
Indeed, silver futures prices spike 8.0% on Monday to $29.06 per ounce.
Investors can still expect a great deal of volatility around the market's most shorted stocks, and most of these names should be considered hands-off unless you have extreme risk tolerance and money you can afford to lose completely. But a few stocks that Wall Street is betting against have budding bull cases and could be good for more than a quick swing trade.
While these 10 heavily shorted stocks still will require some stomach for turbulence, they remain worth a look for those who invest for the next few years, not just next week.
Kyle Woodley was long AMZN and Bitcoin as of this writing.
Kyle Woodley is the Editor-in-Chief of Young and The Invested, a site dedicated to improving the personal finances and financial literacy of parents and children. He also writes the weekly The Weekend Tea newsletter, which covers both news and analysis about spending, saving, investing, the economy and more.
Kyle was previously the Senior Investing Editor for Kiplinger.com, and the Managing Editor for InvestorPlace.com before that. His work has appeared in several outlets, including Yahoo! Finance, MSN Money, Barchart, The Globe & Mail and the Nasdaq. He also has appeared as a guest on Fox Business Network and Money Radio, among other shows and podcasts, and he has been quoted in several outlets, including MarketWatch, Vice and Univision. He is a proud graduate of The Ohio State University, where he earned a BA in journalism.
You can check out his thoughts on the markets (and more) at @KyleWoodley.