Stock Market Today: Tech Stocks Tank in Stunning Market Downturn
2020's biggest winners turned tail Thursday in a widespread selloff that saw Apple (AAPL), Microsoft (MSFT) and other tech names sink.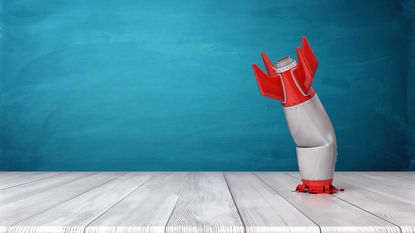 (Image credit: Getty Images)
The recent run to breathtaking stock valuations finally gave way in a big way Thursday. Despite little in the way of troubling macroeconomic triggers, the major indices started significantly lower and continued to weaken throughout the session.
Last week's jobless claims weren't disastrous – the seasonally adjusted 881,000 claims were 130,000 less than a week before, but much of the decline was chalked up to a change in the Labor Department's methodology.
"Since the Labor Department will only apply the new seasonal adjustment process to data beginning with this week's claims report and not adjust prior data, it injects uncertainty about how to interpret the week-to-week change in initial and continuing claims," write Barclays Investment Bank's Michael Gapen and Pooja Sriram. "Altogether, while this week's jobless claims data, if taken at face value, point to a further improvement in labor market conditions, the introduction of new seasonal adjustment factors mean it is difficult to assess the degree to which conditions improved."
Subscribe to Kiplinger's Personal Finance
Be a smarter, better informed investor.
Save up to 74%
Sign up for Kiplinger's Free E-Newsletters
Profit and prosper with the best of expert advice on investing, taxes, retirement, personal finance and more - straight to your e-mail.
Profit and prosper with the best of expert advice - straight to your e-mail.
But Thursday's selling was vicious nonetheless, and worst among some of this year's biggest winners. Apple (AAPL (opens in new tab), -8.0%), Amazon.com (AMZN (opens in new tab), -4.6%), Microsoft (MSFT (opens in new tab), -6.2%) and Tesla (TSLA (opens in new tab), -9.0%) combined to shed about $440 billion worth of market value in one day, according to YCharts (opens in new tab) data, powering the Nasdaq Composite 5.0% lower to 11,458 in its worst single-day loss since June.
Other action in the stock market today:
All but two Dow Jones Industrial Average components declined in a 2.8% loss for the Dow, to 28,292.
Only about 11% of the companies in the S&P 500 (-3.5% to 3,455) finished in the black.
The small-cap Russell 2000 wasn't immune to the selling, shedding 3.0% to 1,544.
An Off Day, Or an Omen?
Reactions from the Wall Street community were unsurprisingly mixed, with views of today ranging anywhere from "blip" to "start of a major correction."
"This market has been due for a pullback," says Bankrate.com Chief Financial Analyst Greg McBride. "Actually, overdue. Putting today's market pullback in context, this takes the S&P 500 all the way back to where it was – wait for it – last Wednesday. ... Volatility is normal and investors should be braced for more of it as we head closer to the election, and with valuations at high levels."
David Bahnsen, chief investment officer of California-based wealth manager The Bahnsen Group, says this might not necessarily be the start of a single-direction move for the entire market.
"Thursday's declines could very well be the start of the inevitable Nasdaq correction, but no one has any way of knowing that," he says. "So far, the move downward is rather hum-drum and immaterial.
"Down days where you see some of the financials and energy and REIT names up despite the Dow down 2.5% and Nasdaq down 5% clearly indicates rotation, not capitulation," adds Bahnsen, who encourages buying dips in energy stocks (opens in new tab) and financial firms (opens in new tab).
But investors can't be blamed for being on red alert, given still-high unemployment and a still-growing number of corporate bankruptcies in the wake of COVID-19 (opens in new tab). Just know your options.
You can always take some chips off the table, as long as you know the ins and outs of raising cash (opens in new tab). And if you are going to sell, consider checking out what Wall Street's "smart money" (opens in new tab) has been casting aside. Lastly, remember: While bonds – which you can access via these 12 bond mutual funds and ETFs – aren't generating much yield these days, they can still provide a bit of income while helping to insulate you from wilder swings in stocks.
Kyle Woodley was long AMZN and MSFT as of this writing.
Kyle Woodley is the Editor-in-Chief of Young and The Invested (opens in new tab), a site dedicated to improving the personal finances and financial literacy of parents and children. He also writes the weekly The Weekend Tea (opens in new tab) newsletter, which covers both news and analysis about spending, saving, investing, the economy and more.
Kyle was previously the Senior Investing Editor for Kiplinger.com, and the Managing Editor for InvestorPlace.com before that. His work has appeared in several outlets, including Yahoo! Finance, MSN Money, Barchart, The Globe & Mail and the Nasdaq. He also has appeared as a guest on Fox Business Network and Money Radio, among other shows and podcasts, and he has been quoted in several outlets, including MarketWatch, Vice and Univision. He is a proud graduate of The Ohio State University, where he earned a BA in journalism.
You can check out his thoughts on the markets (and more) at @KyleWoodley (opens in new tab).