When Will U.S. Public Schools Re-Open? A Sobering Forecast From The Kiplinger Letter
School closings already have delivered a costly hit to lifetime earnings for today's kids as a slow ramp-up of in-person learning in the nation's K-12 public schools begins.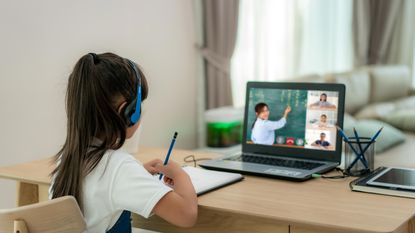 (Image credit: Getty Images )
On the whole, K-12 public schools won't be back to normal this school year. The reopening status of schools varies greatly and the data are hard to track. According to Burbio, a local data service firm, most students in Wyoming, Montana and Florida attend schools that offer daily in-person learning. In stark contrast, many counties in California, Washington, Maryland and New Mexico offer only a virtual option. Other areas are in between.
Two-thirds of public schools have at least some in-person classes. 41% of students attend a school that offers in-person, everyday classes, while 26% are in a hybrid setting. About one-third of public schools remain in virtual settings, down from a high of about 62% around Labor Day, as the 2020-21 school year started.
This story was adapted from the February 19 issue of The Kiplinger Letter. Get a free sample issue now to see how you can prosper from The Letter's latest forecasts all year long.
Subscribe to Kiplinger's Personal Finance
Be a smarter, better informed investor.
Save up to 74%
Sign up for Kiplinger's Free E-Newsletters
Profit and prosper with the best of expert advice on investing, taxes, retirement, personal finance and more - straight to your e-mail.
Profit and prosper with the best of expert advice - straight to your e-mail.
But bear in mind, many parents are opting to keep their kids at home even if the school offers daily in-person learning. Take Miami-Dade, Fla., for example, a district with 350,000 students open to daily in-person classes: 52% of parents choose the remote option. About half of parents in a recent poll say their child is attending school only online. 42% say they'd choose online for the rest of the year.
The steady shift to more in-person learning will continue as infections ease.
Many large districts mostly closed for months are starting reopening plans, including Chicago, New York City, Boston and Virginia's Loudoun County. Agreements have been struck with teachers' unions, but the ramp-up could be slow in some areas.
Evidence continues to grow that in-person schooling can be done safely with mitigation efforts in place, such as universal masking, student pods and testing. Many private and public schools have provided safe in-person learning for months.
The Biden administration's COVID guidance will help more schools open. It gives schools a safety framework with ample specifics, something teachers' unions were calling for. That should grease the skids a bit to restart some stalled efforts.
But the guidance doesn't pave the way to normal schooling. For example, one recommendation from the Centers for Disease Control and Prevention's strategy calls for six feet of physical distancing to the "greatest extent possible." Adhering to that strictly would mean 50% capacity at many schools, due to space constraints.
Critics say the guidelines are overly restrictive and are urging fast updates to relax and tweak many details, such as how the CDC says to use infection data.
The negative health outcomes of not having in-person school are piling up, such as damage to social and emotional development, and mental health issues.
This story was adapted from the February 19 issue of The Kiplinger Letter. Get a free sample issue now to see how you can prosper from The Letter's latest forecasts all year long.
America's K-12 students face a dire level of lost learning in coming years, caused by worse learning outcomes for most students in prolonged virtual settings. Issues range from young kids not learning to read to falling a year behind in math.
Affected kids could take a serious economic hit, according to an estimate from consulting firm McKinsey. A student not returning to full classes by January 2021 could lose $60,000 to $80,000 in lifetime earnings. Some have now been out longer. The damage is much worse for black and Hispanic students versus white students.
The problem will be at the forefront of education policy debates for years.
Senior Associate Editor, The Kiplinger Letter
John Miley is a Senior Associate Editor at The Kiplinger Letter. He mainly covers technology, telecom and education, but will jump on other important business topics as needed. In his role, he provides timely forecasts about emerging technologies, business trends and government regulations. He also edits stories for the weekly publication and has written and edited e-mail newsletters.
He joined Kiplinger in August 2010 as a reporter for Kiplinger's Personal Finance magazine, where he wrote stories, fact-checked articles and researched investing data. After two years at the magazine, he moved to the Letter, where he has been for the last decade. He holds a BA from Bates College and a master's degree in magazine journalism from Northwestern University, where he specialized in business reporting. An avid runner and a former decathlete, he has written about fitness and competed in triathlons.