What Biden Will Do: 23 Policy Plays to Expect From the Next Administration
The Kiplinger Letter forecasts President-Elect Joe Biden's biggest priorities -- and the likelihood of progress on them.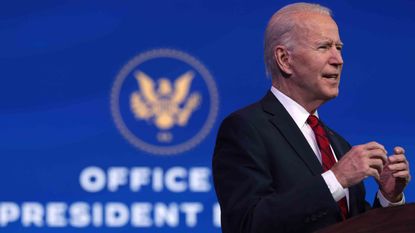 (Image credit: Getty Images)
If Donald Trump was a political outsider, Joe Biden is the ultimate D.C. insider, with a career in politics spanning five decades. He cut his teeth in an era when Washington was less politically polarized than it is now and working across the aisle was more common. The big question: Will Biden continue to be a bipartisan dealmaker? Or will he embrace the bold agenda favored by his party's progressive wing?
(This story was adapted from the November 13, 2020 issue of The Kiplinger Letter. Get a free sample issue now to see how you can prosper from The Letter's latest forecasts all year long.)
The most likely answer: A bit of both. While Democrats narrowly control both chambers of Congress, passing legislation won't be easy without at least some GOP support. This is especially true in the Senate, where Republicans can filibuster bills they don't like. Some issues where Biden could make common cause with Republicans: Coronavirus aid. Infrastructure. Higher education. Rural broadband.
Subscribe to Kiplinger's Personal Finance
Be a smarter, better informed investor.
Save up to 74%
Sign up for Kiplinger's Free E-Newsletters
Profit and prosper with the best of expert advice on investing, taxes, retirement, personal finance and more - straight to your e-mail.
Profit and prosper with the best of expert advice - straight to your e-mail.
But if bipartisan deals aren't forthcoming, expect Biden and the Democrats to use whatever tools they have to get things done. Examples include budget reconciliation, which allows the party controlling the Senate to pass legislation with a simple majority under certain circumstances.
Here are 23 moves to expect from the Biden administration throughout the next four years:
Another Round of Federal Stimulus
Biden is already talking up a $1.9 trillion economic rescue package that includes, among other things, bigger stimulus checks, expanded unemployment benefits, aid for state and local governments and additional funds for COVID-19 testing and vaccinations. The additional stimulus should help boost GDP growth to at least 5% in 2021.
COVID, COVID, COVID
Expect a stronger federal role in the vaccine rollout under Biden, who plans to instruct FEMA (Federal Emergency Management Agency) to set up mass vaccination centers across the country. Other priorities include securing more money for COVID-19 testing and ramping up production of personal protective equipment by invoking the Defense Production Act.
Infrastructure
Biden is touting a roughly $2 trillion investment plan that includes money for clean energy as well as roads, bridges and the like. It's also the Biden legislative priority with the best shot of garnering some GOP support. But the devil is in the details -- namely, the price tag. The same factor also prevented the two parties from reaching an infrastructure deal under Trump--and may prompt Democrats to try passing the bill via budget reconciliation.
Federal Minimum Wage
Biden has called on Congress to raise the federal minimum wage to $15 per hour, up from $7.25 today. The odds of lawmakers doing so have improved now that Democrats control both the House and Senate, but it's no sure thing. Expect Republicans to fight this proposal tooth and nail.
Health Care
Once again, GOP opposition will be an obstacle to much of Biden's health care agenda. Democrats in Congress may be able to use budget reconciliation for certain priorities, such as expanding Obamacare subsidies, but not all of them. Expect Biden to look hard at undoing Trump-era regulatory changes to Obamacare that critics blame for undermining the federal health care program. Examples include waivers that allow some states to skirt certain Affordable Care Act coverage requirements.
More Regulations
Figure on yet another round of regulatory whiplash, with Biden undoing many Trump rules the same way Trump reversed many Obama ones. Biden will be tougher than Trump in several areas, which could slow GDP growth. For instance, Biden's team is already mulling financial regulations to pursue climate-related goals. (More on Biden's impact on the oil and gas industry in a bit.) One example: Biden may try to revive Obama's Clean Power Plan for cutting emissions of greenhouse gases. Ditto more stringent fuel economy standards for cars and trucks.
More Immigration
Biden will likely favor more immigration, which can help the economy grow if it translates into skilled workers for industries that struggle to fill key positions. Much of this can be accomplished via executive action. Biden also plans to push an immigration reform bill early on in his presidency, but it's unlikely there will be enough Republican votes to put it over the edge.
Tariffs
Don't expect major tariff rollbacks anytime soon. Duties remain in place on more than $370 billion in imports from China -- leverage to force Beijing to follow through on promised purchases of U.S. goods and services. Tariffs on imports of steel (25%) and aluminium (10%) also probably aren't going anywhere, at least for now. The Biden administration will call on close allies to help pressure Beijing.
Buy American
Expect Biden to maintain, even expand, Trump's "Buy American" policies, such as a recent executive order requiring government agencies to buy medicine and medical supplies from domestic manufacturers. The policy affects hundreds of drugs and medical supplies, including ingredients for chemotherapy drugs.
China
On China, Biden's agenda will be roughly the same as his predecessor's, demanding concessions on Chinese state subsidies and forced technology transfer. He'll largely follow Trump's lead with a confrontational approach to Beijing's geopolitical ambitions. The difference will be one of degrees, not of kind. For example, Biden will likely continue efforts to blunt Chinese technological ambitions, but may be somewhat more receptive to complaints by U.S. companies affected by such policies, particularly chipmakers.
A More Aggressive Consumer Financial Protection Bureau
Look for Biden to strengthen federal oversight of the financial industry. Biden will push the CFPB to crack down on abusive lending practices and review whether some of the fees that banks charge customers are justified. He is likely to reinstate a policy requiring payday lenders to verify borrowers can repay loans.
A Harder Line on Insider Trading
Under Trump, insider trading cases filed by the Securities and Exchange Commission hit the lowest level in decades. Policing investment advisers and cracking down on schemes targeting retail investors will remain priorities.
A Shift in Federal Housing Policy
Expect Biden to reverse Trump's push to privatize Fannie Mae and Freddie Mac, the government-sponsored mortgage giants that went bust amid the housing crisis. Instead of readying them for sale to investors, Biden will seek to use them to make mortgages available to more potential buyers.
A More Worker-Friendly Labor Department
Employers can expect stepped-up enforcement of workplace protections, particularly those related to the pandemic. Biden has said that under his watch the Labor Department will issue an emergency temporary standard, providing employers and workers with legally enforceable guidelines to prevent the spread of COVID-19.
An End to Restrictions on Work Visas
One change many employers will like: The Biden administration will put an end to restrictions on work visas, such as the H-1B for high-skilled immigrants, including scientists and doctors.
Phasing Out Drilling on Public Lands
Biden's victory is in many ways a setback to the oil and gas industry, especially if he follows through on plans to phase out drilling on public lands.
Shoring Up Electric-Vehicle Supply Chains
Biden's focus on EV supply chains could help miners of critical materials, such as copper, lithium, nickel, rare earth elements and others.
Re-Connecting With the International Community
Biden intends to rejoin the WHO (World Health Organization), which Trump left in September 2020, and the Paris climate accord.
Arms Control
Biden is more likely to pursue an extension of the New START treaty with Russia, which imposes limits on both countries' nuclear arsenals. On Iran, Biden will try to rejoin the Obama-era nuclear deal. It's unclear whether either country will go along.
Defense Spending
Defense spending is likely to remain stable, with both progressive Democrats and Republican budget hawks unable to force the Pentagon to cut back. Many future spending negotiations are poised to result in continuing resolutions. That's good news for the Pentagon, aiming to drop record sums on tech R&D. Ditto for defense contractors, such as Boeing, Raytheon and Lockheed Martin.
Reining in Big Tech
The Biden administration will likely step up antitrust scrutiny of Big Tech by appointing regulators who will be more skeptical of megamergers and anticompetitive behavior. Expect more probing of digital privacy, data collection and other issues to inform potential action. However, regulators will be limited by current antitrust laws and court precedent, which make many cases hard to win.
Expect continued pressure on social media platforms' moderation policies. Biden's concern is not enough moderation of hate speech, health misinformation, terrorist content, foreign meddling, etc. Sites will adjust their policies in response. There's bipartisan agreement for some Big Tech regs, but deals seem far off.
A Crackdown on For-Profit Colleges
Under Biden, the gainful employment rule will make a comeback, requiring programs to show that graduates are landing jobs. Plus, watch for a rule that for-profit schools have to first prove their value to the Department of Education before accessing federal aid.
(This story was adapted from the November 13, 2020 issue of The Kiplinger Letter. Get a free sample issue now to see how you can prosper from The Letter's latest forecasts all year long.)
Student Loan Relief
Biden will extend student loan relief, perhaps until September 2021. The pandemic-related federal loan relief expires on December 31, 2020.