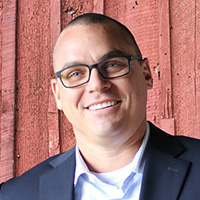 Justin Goodbread, CFP®, CEPA, CVGA
President, WealthSource Partners
Justin A. Goodbread is a CERTIFIED FINANCIAL PLANNER™ practitioner and an adviser with WealthSource® Knoxville. After several years of working in a large wealth management firm, he ventured out on his own in 2009, starting Heritage Investors, and eventually joining WealthSource® Partners LLC in 2022. He believes in keeping a low client/adviser ratio for maximum client benefit.
As a serial small-business owner, Goodbread has bought and sold multiple businesses. He uses this experience, along with his continuing education, to help business owners grow and sell what is often their largest asset — their business. Through blog posts, podcasts, videos and live speaking appearances, Justin's goal is to simplify the financial world for business owners and their families.
In his free time, Justin enjoys driving his tractor and playing on his "hobby farm" in Tennessee with his wife and three children.
Phone: 865.690.1155 | E-mail: contact@wealthsource.com | Facebook: www.facebook.com/justingoodbread
LinkedIn: www.linkedin.com/in/justingoodbread | Twitter: @justingoodbread