What Life Is Like After Winning the Lottery
The financial crisis and downturn in real estate turned out to be an invaluable learning opportunity for this Powerball winner.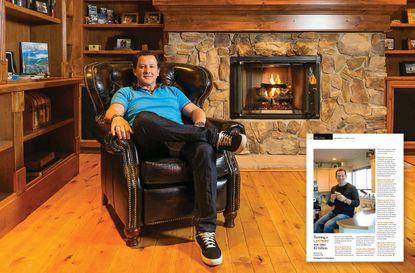 (Image credit: © SHAWN GUST)
Then:
Brad Duke (pictured at left) appeared in our April 2007 issue, two years after winning a $220 million Powerball jackpot (he chose the lump sum over the annuity, netting about $85 million after taxes). Duke, then 34, shared his goal of expanding his fortune to $1 billion over the next 10 to 13 years, primarily by investing in real estate. He was still working at Gold's Gym and still living in the same house in Star, Idaho, that he lived in before buying his magic ticket.
Now:
Duke, 43, did not anticipate the financial crisis and downturn in real estate, which forced him to push back his goal of reaching 10 digits. "It's more like a lifetime goal now," he says. But the crisis turned out to be an invaluable learning opportunity. In particular, he received a baptism by fire in the hazards of business partnerships. A partner in one large real estate venture declared bankruptcy. Other partnerships had to be renegotiated. One partner even sued him. Duke emerged a more cautious and more seasoned investor. "I never rush a deal now," he says.
The experience didn't sour him on real estate. "One thing I've learned is you can always make money on commercial real estate as long as you have good partners and good terms," he says. Today, his holdings range from apartment complexes in Brooklyn, N.Y., to a brewery in Boise, Idaho.
Subscribe to Kiplinger's Personal Finance
Be a smarter, better informed investor.
Save up to 74%
Sign up for Kiplinger's Free E-Newsletters
Profit and prosper with the best of expert advice on investing, taxes, retirement, personal finance and more - straight to your e-mail.
Profit and prosper with the best of expert advice - straight to your e-mail.
Increasingly, though, Duke sees his mission as less about amassing wealth and more about giving back. The Duke Family Foundation, which he started in 2006 with a $1.3 million gift, has become an important part of his life. The foundation focuses on helping children in Idaho and has donated to charities such as the local chapters of Big Brothers Big Sisters and the Make-A-Wish Foundation. And Duke's fund-raising work keeps him involved in his community. For example, for the foundation's last fund-raiser, a golf tournament, "we worked with almost every major business in our region, whether on sponsorships or other support."
Still naturally frugal, Duke does allow himself the occasional luxury. He lives in a bigger house—-which he purchased during the real estate crash. He flies first-class on long trips. He even bought an Aston Martin, though he rarely drives the car because it's too showy for Idaho roads. And he quit his job at Gold's Gym in 2007 after we interviewed him because his fortune was attracting unwanted attention.
But wealth hasn't jaded him. "Even after all this time," he says, "I still think it's so cool that it happened to me."
Contributing Editor, Kiplinger's Personal Finance
Elizabeth Leary (née Ody) first joined Kiplinger in 2006 as a reporter, and has held various positions on staff and as a contributor in the years since. Her writing has also appeared in Barron's, BloombergBusinessweek, The Washington Post and other outlets.