Everything You Need to Know About Today's New Cell-Phone Plans
The industry has upended the model of how you buy a phone and pick a plan.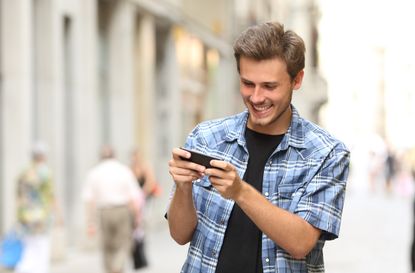 (Image credit: Getty Images/iStockphoto)
If your cell-phone carrier hasn't already nudged you into a no-contract service plan, expect a not-so-subtle push the next time you go to the store. The two-year contract has been moving toward extinction since 2013, when T-Mobile dropped the option from its offerings. Other carriers began to stray from the two-year commitment, too, touting no-contract plans as a more flexible alternative. Then, last summer Verizon Wireless eliminated the two-year contract as an option for new customers. "That was the nail in the coffin," says Logan Abbott, president of phone-plan comparison site Wirefly.com. Now, AT&T has stopped providing two-year contracts to new customers, too. Sprint is the lone carrier among the Big Four that offers two-year contracts to new and current customers—although it briefly discontinued the contract option for new customers in early 2016.
See Also: Best Phone Plans for Every Type of User
At first glance, the contract model may seem more attractive. When you upgrade your phone, the carrier subsidizes the device's price, allowing you to buy, say, a $650 iPhone for only $200. But the discount is deceptive: While you're locked into the contract, you pay more each month for your phone plan. And if you want to cut ties before the contract expires, you'll have to cough up an early-termination fee of as much as $350.
The newer, no-contract plans sever the price relationship between your phone and the service plan. You pay the full retail price of the phone, unless you participate in a lease or early-upgrade program. But because the carrier is no longer picking up part of your phone's cost, the price of monthly service is lower. Plus, you can often bring a phone that you already own to the plan rather than purchasing one from the carrier.
Subscribe to Kiplinger's Personal Finance
Be a smarter, better informed investor.
Save up to 74%
Sign up for Kiplinger's Free E-Newsletters
Profit and prosper with the best of expert advice on investing, taxes, retirement, personal finance and more - straight to your e-mail.
Profit and prosper with the best of expert advice - straight to your e-mail.
Overall, the no-contract arrangement means more transparency and flexibility for customers. "It's better in the sense that you know what you're paying for, and it gives you the opportunity to shop around," says Maggie Reardon, author of the CNET.com column "Ask Maggie." Here we answer questions you may have about navigating the new world of cell phones and service plans.
Will I pay less with a no-contract plan?
Over the course of a couple of years, the total price for a no-contract phone and plan is often about equal to the total you'd pay with a contract, says Abbott. But crunch the numbers to be sure you're getting the best deal. If a two-year contract is among your choices (see below), tally up how much you'd pay for the phone plus monthly service fees (which may include separate prices for the phone's line access and the data plan) during the contract. Compare that with the total two-year price of a plan and full-price phone without a contract. (The plan you choose usually depends on your data usage because standard plans from the major carriers come with unlimited calling and text messaging.) Explore your options and gather details by perusing your carrier's website, calling customer service or visiting a store.
Say, for example, that a family of four renews a two-year contract with Verizon, paying $40 per month for line access on each smartphone, sharing 6 gigabytes of data for $70 monthly, and handing over a one-time payment of $200 each for four new 16GB iPhone 6s devices. Over the course of two years, they'd pay a total of $6,320. If they switched to the no-contract plan—handing over $20 a month for each line, $60 a month for a shared 6GB of data and $650 for each 16GB iPhone 6s—they'd pay $5,960 over two years, or $360 less.
The longer you hang on to a phone that you purchased with a no-contract plan, the more you'll benefit from the lower monthly rate for service. You can expect most smartphones to last two years or so; if you're lucky, yours will last up to twice that long, says Reardon. Just be prepared for your friends' ribbing when you whip out a four-generations-old iPhone.
Who still offers a two-year contract?
Sprint customers can commit to a two-year contract and get a discounted phone, but they pay a higher fee for monthly service than those who skip the contract and pay full price for the device. If you already have a two-year contract with Verizon, you may renew it and get a subsidized phone. AT&T requires current customers with two-year contracts to switch to a no-contract plan when they upgrade their devices. T-Mobile has dropped two-year contracts entirely.
How do I figure out which plan is best for me?
Start with your data needs. By logging in to your wireless account online or through your carrier's app, you can see how much data you usually use. For many people, 1GB or 2GB of data per person per month is enough. You can reduce the amount of data you consume if you connect to Wi-Fi networks (preferably secure, trusted ones that require a password) whenever possible. And on a family plan, parents who are light users may balance out kids who gobble data with social media and music and video streaming. If you use a little extra data now and then, the fees won't break the bank. The Verizon Plan and AT&T Mobile Share Value plan, for example, charge $15 per extra gigabyte in most cases. If you don't use all of your data one month, AT&T lets you roll it forward to use the next month, and T-Mobile carries over unused data up to 12 months if you have a 6GB or 10GB plan.
What if my family members are data hogs?
A service plan that provides unlimited data may be the way to go. On standard plans from both T-Mobile and Sprint, you'll get unlimited low-speed data if you surpass the amount of high-speed data included in your service plan. Both carriers offer plans with unlimited high-speed data, too. And with the new Binge On feature that comes free with T-Mobile Simple Choice plans that include at least 3GB of high-speed data, customers can stream unlimited video content from Amazon Video, ESPN, Netflix, Hulu, HBO, Showtime, Sling TV and other services, and the data usage doesn't count toward their high-speed limit. (T-Mobile also lets you stream from Apple Music, Pandora, Spotify and other music services without using your data plan.)
Do I have to fork over the full retail price of a new phone up front?
You can pay for the phone in full if you wish, but all of the major carriers have installment payment plans that divvy up the price of the phone into monthly payments over a couple of years or longer. If your credit is in good standing, you should be able to finance a device with no down payment and no interest charges. Once you pay off the phone, you're no longer committed to that carrier.
[page break]
So I can take my paid-off smartphone to any carrier?
A device that you buy through your carrier may be "locked"—-usable only on the carrier's network. But all of the major wireless carriers will unlock a phone free of charge once the customer has met certain requirements, including the fulfillment of a two-year contract or complete payment of the device's retail price. For details on your carrier's rules, do an Internet search for "[carrier's name] unlock policy." (Most of Verizon's phones come unlocked from the start.)
Even if you have an unlocked phone, don't jump ship just yet. The phone won't necessarily work with any carrier. Many phones are tied to one of two network technologies, called CDMA and GSM. (Verizon and Sprint are CDMA carriers, and AT&T and T-Mobile operate with GSM.) And even if you take your phone to a carrier that uses the same network technology as your previous one, the device may not be fully functional. Generally, GSM phones are easier to swap among compatible carriers than CDMA phones. But don't count on using any unlocked phone with a new carrier until you've asked about it.
Increasingly, phone manufacturers are selling unlocked phones directly to consumers, and some of them are compatible with all of the major carriers. You can buy an iPhone 6s or 6s Plus at Apple.com and use it with any of the four big carriers. Motorola sells the unlocked Moto X Pure edition (starting at $400), Moto G (starting at $180) and Moto E (starting at $120) at Motorola.com—but Sprint and Verizon customers must buy the Moto G and Moto E through their carriers. Google sells the Nexus 5X (starting at $299) and Nexus 6P (starting at $449), compatible with all four major carriers, at www.google.com/nexus (opens in new tab).
How can I save money when I purchase a smartphone?
Discounts on popular, newly released phones, such as recent iPhone and Samsung Galaxy models, are hard to come by, although you may be able to snag a promotion from your carrier or a third-party seller.
If you look beyond the newest high-end devices, you can find more palatable prices. One idea: Buy a previous generation of the model you like. AT&T, for example, recently sold the 16GB iPhone 5s for $450 and iPhone 6 for $550, compared with $650 for the latest-generation iPhone 6s. Or consider a phone from a less costly line of devices.
Buying a refurbished phone is another avenue to a lower price. On the Verizon Wireless website, for example, you could recently buy a certified pre-owned 32GB Samsung Galaxy S6 for $480, compared with $576 for a new model. For the most reliable factory testing and warranty, get a phone refurbished by the manufacturer, says Benjamin K. Glaser, features editor for DealNews.com (opens in new tab).
You can also shop for used or discounted phones on Amazon.com and eBay, but product quality can be a roll of the dice. Check a seller's reviews to see how customers have fared.
Your carrier may buy your old phone through a trade-in program, providing a little extra money toward the next device when you upgrade. Or see how much cash you can get for your phone at sites such as Gazelle.com (opens in new tab), NextWorth.com (opens in new tab) and uSell.com (opens in new tab).
I like to have the latest phone model as soon as it's released. What's the best way to upgrade frequently?
If you don't mind trading in your device rather than keeping it, an early-upgrade program (or leasing; see below) is worth a look because it's less costly than purchasing a new phone every year. Each plan is a little different, so you'll have to drill down into the offerings to find out what is most cost-effective. (The carriers tweak these programs often, so some of the information here may have changed since press time.)
To an extent, all of the major carriers incorporate an early-upgrade option into their standard installment-payment plans; if you choose not to upgrade early, you keep the phone after you've paid its full price. With Verizon, users of the iPhone 6s and 6s Plus can trade up to the next iPhone after they've paid half their current phone's full retail price, but customers with other phones have no option to upgrade before a device is fully paid for, except through occasional promotional offers. AT&T Next spreads the full price of a phone over 20 to 30 months, and you can trade in the phone for a new one after 12 to 24 payments, depending on which plan you choose.
With T-Mobile Jump, pay a $10 monthly fee (which includes insurance and security software for your handset) in addition to the regular device payment and you can trade in your phone after you've paid half its full price. Similarly, Sprint allows customers on its 24-month Easy Pay device payment plan to pay an extra $10 a month and trade up to a new phone after 12 months.
What about leasing?
Sprint and T-Mobile also offer leasing options for certain phones that can be less costly for customers who upgrade frequently. With the T-Mobile Jump on Demand program, you make a monthly payment on a qualifying device, including the latest-generation iPhone and Samsung Galaxy phones, over the term of an 18-month lease. Upgrade anytime you wish, up to three times a year. The monthly leasing rate on the 16GB iPhone 6s, for example, was recently $27—about the same monthly payment you'd make on the phone with a standard purchase plan. Through Sprint's iPhone Forever plan, you can lease an iPhone over an 18-month term and upgrade after 12 payments; recently, the standard monthly fee for a 16GB iPhone 6s was $26.39. Certain popular Android devices are available with a 24-month lease through Sprint with lower monthly payments than you'd make with a standard purchase plan, but you have to pay an additional $10 monthly fee if you want to upgrade after 12 months.
Should I upgrade my iPhone directly through Apple?
With the iPhone Upgrade program, you pay a fee ranging from $32.41 to $44.91 a month, depending on which model you have, and you can trade up for a new phone after 12 payments (or after six months, as long as you make the equivalent of 12 payments). Apple­Care+, Apple's insurance and customer-care program for the iPhone, is included. If you make 24 payments, you keep the phone. The overall cost over two years is within about a dollar of buying a full-price iPhone and AppleCare+ separately, so you get a negligible discount on Apple's insurance and warranty. If you'd rather skip the insurance, you can get lower monthly prices through many other carrier plans. But if you do plan to upgrade after 12 months, you'd pay slightly less per month on the Apple plan than, for example, with AT&T Next for the 16GB iPhone 6s, which doesn't come with AppleCare+.
See Also: How to Avoid Paying 21 Annoying Fees
Contributing Editor, Kiplinger's Personal Finance
Lisa has spent more than15 years with Kiplinger's Personal Finance and heads up the magazine's annual rankings of the best banks, best rewards credit cards, and financial-services firms with the best customer service. She reports on a variety of other topics, too, from retirement to health care to money concerns for millennials. She has shared her expertise as a guest on the Today Show, CNN, Fox, NPR, Cheddar and many other media outlets around the nation. Lisa graduated from Ball State University and received the school's "Graduate of the Last Decade" award in 2014. A military spouse, she has moved around the U.S. and currently lives in the Philadelphia area with her husband and two sons.