Find a Laptop That Fits You
If you're upgrading, you won't have to spend a bundle to get what you need.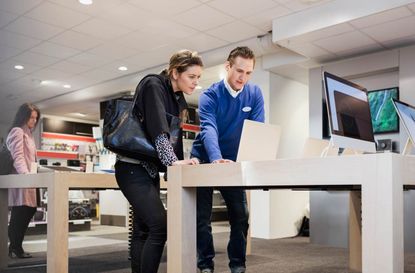 (Image credit: Copyright Maskot . (Copyright Maskot . (Photographer) - [None])
For all the convenience and computing power that smartphones and tablets offer, sometimes a full-fledged computer is still the best tool for completing tasks at home or even on the go. Today's laptops typically have faster processing speeds, more storage capacity and longer battery life than their recent predecessors. Many have also taken cues from tablets to become more versatile, with touchscreens and designs that let you turn a clamshell laptop into a tablet.
The best laptop for you depends on how you spend your screen time. But no matter how you use a computer, you can find a solid choice for $600 or less. For a child or teen, a Chromebook—a basic laptop with fewer features that relies on the Chrome web browser—is a solid option with an attractive price tag of about $200. Adults who mostly surf the web, check e-mail and social media, and use word processing and spreadsheets can pick up a midrange machine for $300 to $500. And if you're looking for an all-purpose workhorse, you can find models that pack enough power and speed to run multiple applications without delays, come with higher-resolution displays, and use solid-state drives starting at about $600. (For laptops likely to be discounted this summer, see 62 Super Deals and Discounts for 2019.)
One thing that hasn't changed: Shopping for a laptop still requires wading through an alphabet soup of terms, such as RAM, SSD, GB and other specs, to compare memory and speed.
Subscribe to Kiplinger's Personal Finance
Be a smarter, better informed investor.
Save up to 74%
Sign up for Kiplinger's Free E-Newsletters
Profit and prosper with the best of Kiplinger's expert advice on investing, taxes, retirement, personal finance and more - straight to your e-mail.
Profit and prosper with the best of Kiplinger's expert advice - straight to your e-mail.
Narrow the field. Start by considering style and size. Before you look at specific models, decide how big a machine you want and the key features you need. A laptop with a 13- to 14-inch screen offers a balance between portability and usability while still weighing in at less than 4 pounds. Shaving about 2 inches off the screen size typically lightens the load by at least half a pound.
If you're looking for the power of a laptop but want the versatility of a tablet, consider one of the many Windows 2-in-1 models that you can use as a traditional clamshell or as a handheld tablet (or in other screen positions). Some models offer a screen that fully detaches from the keyboard; others use flexible hinges that let the screen open 360 degrees (these laptops generally boast better battery life than the ones with fully detachable screens). A convertible laptop generally costs about $50 to $100 more than a similar traditional laptop.
Check the specs. To make sure your laptop will meet your needs, take a closer look at the main components. A good baseline for shoppers who want to strike a balance between performance and price: an eighth-generation Intel Core i5 or i7 processor with 8 to 16 gigabytes of RAM and a 256GB solid-state drive (SSD).
Here's why: The processor, which serves as the brains of your computer, has a huge influence on performance. But for users who don't run power-hungry programs, such as demanding video games, a top-of-the-line Core i9 usually isn't worth the premium price tag. A laptop equipped with an i5 or i7 can handle everyday tasks, such as web browsing and word processing, as well as jobs that require more muscle, such as streaming high-definition video and editing photos.
Spending more for a little extra RAM—which is short for random access memory and affects your computer's speed and ability to multitask—makes sense if you're a big multitasker. For most users, 8GB is enough. But for those who are guilty of leaving too many web browser tabs open at once or who like to listen to music while drafting e-mails, browsing Twitter and reading the news, springing for 16GB will keep things running more smoothly.
As for hard drives, size matters less if most of your files and applications live in the cloud. But choosing an SSD, which is light and power-efficient, instead of a traditional mechanical hard drive will make your computer faster and more reliable.
Associate Editor, Kiplinger's Personal Finance
Pitsker joined Kiplinger in the summer of 2012. Previously, she interned at the Post-Standard newspaper in Syracuse, N.Y., and with Chronogram magazine in Kingston, N.Y. She holds a BS in magazine journalism from Syracuse University's S.I. Newhouse School of Public Communications.