62 Super Deals and Discounts for 2019
We've found dozens of deals and discounts, plus ways to save (or make) a buck on everything from brokerage accounts and college tuition to tech and summer travel.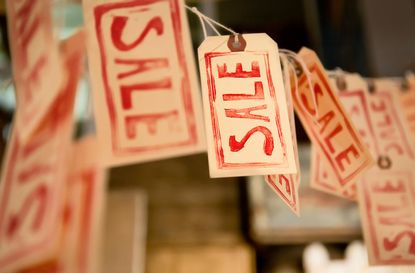 (Image credit: ©2007 Lise Caron. All rights reserved.Lise Caron Photographerlcaron@cvm.qc.ca)
Money
Deals on donations
Marie Kondo may have you determined to jettison items from your home (after kindly thanking them, of course). But before you load up the SUV and drive to the dump, consider partnering with a charitable organization that will take your stuff off your hands for free. The Salvation Army offers a free donation-pickup service (opens in new tab). The charity accepts clothes, household items, books, furniture and even cars, and it will move items up or down a flight of stairs. Many of Habitat for Humanity's ReStores (opens in new tab) will remove furniture, as well as building materials such as lumber and bricks, from your home for free.
If you have gently used clothes, accessories or shoes, you can mail in your donation: Companies that partner with Give Back Box (opens in new tab), such as Levi's (opens in new tab) and Amazon (opens in new tab), let you download free shipping labels online. Place your donated items in any shippable box, print and attach the shipping label, and send via UPS or the U.S. Postal Service.
Hire a haggler
Negotiating a new rate for your cable, internet or phone service takes time and, often, a willingness to play hardball. We tested two negotiation services, Trim (opens in new tab) and Billshark (opens in new tab), that will go to bat for you—for a hefty cut of the savings. Trim claims it can lower your bills by up to 30% for a fee of one-third of your total yearly savings. Billshark charges 40% of your savings. If they can't wrangle a better deal, you don't pay anything.
Subscribe to Kiplinger's Personal Finance
Be a smarter, better informed investor.
Save up to 74%
Sign up for Kiplinger's Free E-Newsletters
Profit and prosper with the best of expert advice on investing, taxes, retirement, personal finance and more - straight to your e-mail.
Profit and prosper with the best of expert advice - straight to your e-mail.
Trim snagged a $5.68 refund (and charged a $1.87 fee) for a "cable outage" fee soon after we signed up for the service. Trim also highlighted a rarely used subscription service on a credit card account. Billshark said that our internet bill was as low as it could go but also informed us when rates would likely go up. The savings so far have been underwhelming, but both services will continue to monitor our accounts, so it's a no-lose proposition.
Save on gas
Even when gas prices are going up, driving across town to save a few cents doesn't make much sense. But if you're driving for your summer vacation, pay attention to state lines. The federal gas tax of 18.4 cents per gallon hasn't changed since 1993, but state gas taxes vary. Sometimes there's a big difference in gas taxes in neighboring states. If you're traveling south, for example, put your car on cruise control through North Carolina, where gas is taxed at 36.5 cents per gallon, and fill 'er up in South Carolina, which has a gas tax of 20.8 cents. In the Middle Atlantic, gas up in Delaware, which charges 23 cents per gallon, before you cross into Pennsylvania, where gas is taxed at 58.7 cents—the highest in the U.S. In Arizona, gas is taxed at 19 cents per gallon, so fuel up before you hit California, which tacks on a gas tax of 55.2 cents per gallon—the second-highest in the U.S.
Tuition cuts
The cost of attending college usually moves in one direction: up. But in recent years, dozens of colleges and universities—mostly small and midsize private institutions—have slashed the price of tuition. For example, Albright College (opens in new tab), Elizabethtown College (opens in new tab), Elmira College (opens in new tab) and St. John's College (opens in new tab) announced sizable tuition cuts for the upcoming 2019–20 academic year.
Lowering sticker prices may not make colleges more affordable for your family. Often, the reduced prices are close to what many students were already paying after factoring in financial aid. Also, tuition cuts usually come with a decrease in the school's financial aid, so students who receive generous aid awards may see little change in the net price. Families paying full freight and students who qualify for very little aid will see larger savings.
Deal or No Deal: Angie's List
Angie's List (opens in new tab) was founded in 1995 to help consumers pick reliable home-service providers. But in 2017, when it was bought by the same company that owns HomeAdvisor.com (opens in new tab), it changed the way it does business. Now, instead of charging an annual fee, Angie's List is free—it's funded almost entirely by advertising and referral fees from the companies it evaluates. A recent report from the nonprofit Consumer Federation of America (opens in new tab) explains how that arrangement undermines the usefulness of the ratings and the "short list of top-rated pros" users receive.
CFA recommends that if you use Angie's List, read the detailed consumer comments for A-rated businesses with at least 25 comments, and pay extra attention to comments that are negative. If you live in Boston, Chicago, Minneapolis, Philadelphia, San Francisco, Seattle or Washington, D.C., you can subscribe to the nonprofit Consumers' Checkbook (opens in new tab) evaluations of service providers and products, based on consumer surveys. Always double-check a pro's reputation with the Better Business Bureau (opens in new tab), ask to see proof of licensing and insurance, and check references.
Shopping
Leasing a used car
If you like to lease your cars and you're looking for a steal of a deal on your next ride, you probably won't find it by leasing a new vehicle. Consumers are expected to pay hundreds more for a three-year lease in 2019 than they did in 2016, thanks to pricier cars and rising interest rates. Instead, consider leasing a used car. Many dealerships offer used cars for lease that are less than four years old and have fewer than 48,000 miles, but it's also easy to find cars with fewer than 5,000 miles on them (think rental cars and retired loaners).
You can save anywhere from $40 to $125 on monthly payments for a typical car and potentially even more on luxury brands, according to Matt Jones, senior consumer advice editor of Edmunds (opens in new tab). Leasing a certified pre-owned vehicle, which is inspected by the manufacturer and comes with an additional warranty, will be a little pricier than a standard used car, but one advantage of leasing a CPO vehicle is that a lower interest rate is typically built into the lease, Jones says.
Cash back as you shop
Shopping app Ibotta (opens in new tab) is releasing a new feature, Pay with Ibotta (opens in new tab) (it will likely be available to all app users by the end of June). At more than 30 participating merchants—including Cabela's, Chipotle, Home Depot, Lowe's, Olive Garden and REI—you can earn instant cash back when you make an in-store purchase, with rebates ranging from 1% to 10%.
To get the rebate, link a credit or debit card account to the Ibotta app, or connect to Apple Pay (opens in new tab) or Google Pay (opens in new tab). At checkout, select the retailer in the app and enter the purchase amount. You'll receive a barcode, which the cashier scans, and cash back is applied to your payment account.
You can also select offers from various merchants for certain purchases, then take a photo of your receipt to receive cash back to your Ibotta account.
Back-to-school tax cut
Some 15 states give back-to-school shoppers a break by offering sales tax holidays. These are usually two or three days in July or August, when items ranging from computers to backpacks to clothes are exempt from state sales tax. The list of exemptions is different in each state, but the best deals are on computers, with the upper limit ranging from $750 to $1,500 per item. Clothing (including shoes) that costs less than $100 is also typically exempt from tax.
To see if your state (or a neighboring state) is participating this year, go to www.salestaxinstitute.com/resources/sales-tax-holidays (opens in new tab). And don't forget to check out your state's rules.
Tech
Deals on devices
We asked Louis Ramirez, deals editor for tech-review site Tom's Guide (opens in new tab), to name gadgets selling at great prices this summer.
TVs
"There's no reason not to get a 4K TV because they're so affordable," says Ramirez. Check out TCL's Roku 4K TVs, which allow you to stream Netflix, Hulu and other popular video and music services directly from the TV and come with great picture quality. Sale prices start at about $279 for a 50-inch TV; recently, a 55-inch model sold for $299 on Amazon. The Insignia Fire TV Edition comes with streaming of various services and has Amazon's Alexa digital assistant built in. A 50-inch 4K model was recently $280 on Amazon, and the price may drop by $30 to $50 during Amazon's Prime Day sale (dates had not been announced by press time, but in previous years the sale has taken place in mid July).
Laptops
Look for deals on Windows laptops with an eighth-generation Intel Core i5 or i7 processor, at least 8 gigabytes of RAM and a 256GB solid state drive (SSD). A 15.6-inch Acer Aspire E15 laptop that fits those parameters recently sold for $550 on Amazon. Or you could pick up a model with 6GB of RAM and a 1-terabyte hard disk drive (HDD)—computers boot up and open files more slowly with an HDD—for $329. "It's still a really solid pick at that price point," says Ramirez. Dell typically has big summer sales, and you can often find coupon codes at Dell.com (opens in new tab) at least once a month. For a child or teen, consider the Google Chromebook, a basic laptop that should be sufficient for schoolwork. A Samsung 11.6-inch Chromebook 3 recently sold for $179 at Walmart.
Fitness trackers
Amazon often has good deals on the Fitbit, especially during holiday sales—such as for Independence Day—and on Amazon Prime Day. Expect savings of $15 to $100 off, depending on the model.
Smartphones
The best way to get a deal is to switch wireless carriers and trade in your old phone for a new one, says Ramirez. You may get up to $400 off if you trade in a current-model phone, or about $100 to $300 for a previous-generation device. Or, at an Apple store or through Apple.com, you can trade in a previous-generation iPhone when you buy an iPhone XR or XS. An iPhone 7, for example, recently fetched $200, and an iPhone 8 was worth up to $270.
Smart speakers
Amazon Prime Day should be an opportunity to buy Amazon Echo speakers for about $20 to $50 off. Plus, when Amazon cuts prices on the Echo, Google Home speakers tend to go on sale—you may be able to find discounts of $20 to $100 at Walmart.
Deal or No Deal: Apple Devices
Deal: Now is a good time to buy an iPad. "You can almost always find a sale on any model you want," says Ramirez, with discounts ranging from about $50 on the base iPad to as much as $299 off the 12.9-inch iPad Pro. Look for deals on the Apple Watch, too. The Series 3 model sells for about $80 off, and the Series 4 has been running $50 off. Previous-generation AirPods—Apple's wireless headphones—are a good value, and you may find modest discounts on them. Check Amazon, Best Buy and Walmart for sales on all of those devices.
No deal: Skip the MacBook and MacBook Pro laptops, which are using dated hardware and are long overdue for a refresh, says Ramirez. Apple may announce new versions in June. If that happens and causes prices on these older models to drop, then they may be worth a look.
Investing
Free (and nearly free) funds
Fees on funds and ETFs are another casualty in the war for investors' hearts and wallets. Last year, Fidelity launched four index funds with no annual fees—a zero expense ratio. Fidelity Zero Large Cap Index Fund (symbol FNILX), Fidelity Zero Extended Market Index Fund (FZIPX), Fidelity Zero Total Market Index Fund (FZROX) and Fidelity Zero International Index Fund (FZILX) have no minimum investment, either. A new player, SoFi, won the race to zero-cost ETFs with the large-cap SoFi Select 500 ETF (SFY, $10) and mid-cap SoFi Next 500 ETF (SFYX, $10). The funds are waiving their expenses until June 2020, however, so there's a chance they won't stay free.
Although few fund firms seem willing to go completely free, there's plenty of pressure to get cheap. Vanguard regularly whittles its expense ratios; it lowered expenses on 21 ETFs between February and April. But even Vanguard has been undercut by JPMorgan BetaBuilders U.S. Equity ETF (BBUS, $52), a large-company-stock ETF that charges just 0.02%—with no waivers in sight. And if you want to splurge, two among the largest ETFs, Vanguard Total Stock Market ETF (VTI, $146) and Vanguard S&P 500 ETF (VOO, $263), have a 0.03% expense ratio.
Get rewarded for moving accounts
Sometimes it can pay to move—specifically, to transfer your account elsewhere.
TD Ameritrade, for example, will give you up to $2,500 to move your retirement account there. To get the full $2,500, you'll need to move at least $1 million. But the brokerage will give smaller amounts for smaller accounts, starting with a $100 bonus for accounts with $25,000 to $49,999. The offer ends September 30.
E*Trade also offers $2,500 cash plus 500 commission-free trades if you fund an account with $1 million or more. You get smaller amounts for smaller accounts. Fidelity's current offer is 300 free trades (but no cash) if you bring over $50,000 to $99,999. Anything above that and you'll qualify for 500 free trades, and you have two years to use them.
Merrill Edge and Ally offer deals, too, although Ally's expires June 30.
Trade ETFs for free
When it comes to investing costs, cheap is good, but free is better. And if you trade exchange-traded funds, you can breathe the sweet air of freedom.
Vanguard is the leader for free fund trading: The fund giant offers 1,800 ETFs for commission-free transactions. If you're looking to trade leveraged or inverse funds, though, you're out of luck. Vanguard yanked those funds from its platform entirely.
TD Ameritrade is second, with a lineup of 569 ETFs that you can trade free. The discount brokerage now offers ETFs from 21 investment firms, including Goldman Sachs, Pimco and USAA.
Charles Schwab is close behind, with 514 commission-free ETFs. Fidelity currently offers 503 commission-free ETFs, and E*Trade offers 291.
The only drawback to free trading is that you'll have one less reason not to trade—and in most cases, frequent trading is a terrible idea.
Great stocks on sale
Shares in these three companies trade at steep discounts to their 52-week highs. All have seen their stock prices dinged but are poised for a rebound. Prices and returns are as of May 17.
Shares in medical-device and instrument maker Becton, Dickinson (BDX, $228) recently traded at 13.6% below their 2018 high. A stronger dollar has been one drag on this global company. A further dent to the stock price came in March, when U.S. regulators expressed concern about mortality risks related to drug-coated balloon devices. Revenues from these devices represent less than 2% of Becton's overall sales. And since the firm's acquisition of fellow device maker C.R. Bard, Becton has invested in a pipeline of new, innovative products that should accelerate revenue and earnings growth, says David Giroux, manager of T. Rowe Price Capital Appreciation. "The faster growth is not reflected in the stock," he says.
Investors in Boeing (BA, $355) responded harshly to the problems created by a faulty flight-control software system in the 737 Max aircraft—two fatal crashes in five months and a worldwide grounding of that aircraft that could last through the summer. The stock has fallen 16.0% (through mid May) since the second crash in March and currently trades at a price that is 20.4% below its 52-week high. More bad news about the 737 Max and the way the firm has handled the debacle may come. But in mid May, the firm announced that it had completed a software fix and would work with regulators to schedule tests and eventually return the aircraft to service. Analysts at investment research firm CFRA rate the stock a "buy," citing strong demand for commercial aircraft and a solid backlog of orders at the firm.
General Electric's halcyon days are a distant memory. The stock (GE, $10) now trades at a 33.3% discount to its 52-week high after years of mismanagement mired the company in debt and unprofitable acquisitions. Since CEO Larry Culp came aboard last October, GE has sold or announced plans to sell more than $45 billion in businesses (including the $21.4 billion sale of its biopharmaceutical business) to chip away at its $110 billion debt (as of December). T. Rowe Price Value manager Mark Finn sees potential in GE's improving aerospace and health care businesses: "Even as a sum of its parts, the company is worth $15 a share."
Deal or No Deal: Sweep Accounts
Sometimes the cash account in your brokerage sweep account is no deal—but you can increase your return by switching your cash to a money fund.
The cash feature of a sweep account is a parking place for money you're not using. If you sell an investment, that's where the proceeds will usually wind up. For example, Charles Schwab uses a bank cash feature rather than a money market fund for its sweep account. As of mid May, the cash sweep yield was 0.33% for balances below $1 million, and 0.70% for balances of $1 million or more. The account is insured by the Federal Deposit Insurance Corp.
If you're planning to keep money in cash, however, you should move to Schwab Investor Money Fund (SWRXX), currently yielding 2.24%, a hair more than the average money-fund yield of 2.23%, according to Crane Data. The money fund isn't insured, but money funds have an excellent safety record.
E*Trade's sweep account works similarly. Yields vary from 0.05% to 0.45%. If you move your cash to JPMorgan Prime Money Market Fund Morgan Class (VMVXX) through E*Trade, however, you can earn a higher rate—currently about 2.15%.
Not all default sweep accounts have low yields. Fidelity's default sweep option, Fidelity Government Money Market Fund (SPAXX), yields 2.07%. And Vanguard's sweep option, Vanguard Federal Money Market Fund (VMFXX), yields 2.34%.
Travel: Cheaper Airfares
We've rounded up ways to trim the cost of air travel.
Airline deal e-newsletters
Scott's Cheap Flights (opens in new tab) keeps it simple by sending out stellar international deals to free subscribers, with clear instructions on how to book and offbeat travel tips from members. The newsletter screens deals by price, itinerary, quality of the airline and availability—or specific departure airport. However, only premium subscribers ($49 per year) are privy to "mistake" fares, peak-season bargains and Alaska and Hawaii airfares. You'll get a smattering of deals each day on flights that depart from cities across the U.S. from Secret Flying (opens in new tab)—including peak-season fares and both international and domestic flights. The e-mail will link you to a webpage with booking instructions and a slew of sample dates. You'll have to scan each e-mail to find a departure point that suits you. Airfarewatchdog (opens in new tab) sends out daily e-mails with a long list of fares from airports you choose. The e-mails also flag sales, including from Southwest (normally absent from deal newsletters). Getting to an actual booking page will take several clicks.
Mistake fares
Ultra-low mistake airfares are usually the result of human or tech­nical error and can disappear within hours. Airlines are not required to honor mistake fares, although many do; to be safe, hold off on making non­refundable payments on other parts of your trip for a week or two to make sure the fare sticks. (If the airline pulls the fare, it will refund your money.)
Alternative airports
Booking a flight to or from a small, secondary airport located near a big city can sometimes result in cheaper fares. For example, Alaska Airlines and United recently added service to Paine Field (PAE), a new airport near Seattle, in Everett, Wash. Airfares are currently on par with flying into Seattle's Sea-Tac (SEA) but without the crowds, says Tracy Stewart, of Airfarewatchdog. Those bound for the San Francisco Bay Area should incor­porate the Oakland (OAK) and San Jose (SJC) airports into their searches. You can easily search your options in Google Flights (opens in new tab) by entering your cities and dates and clicking on "Nearby Airports" on the results page.
Deal or No Deal: Costco Travel
For Costco Wholesale loyalists who like no-fuss travel bookings with extra perks, the wholesale club's travel service is worth a look. Costco members ($60 annually for a Gold Star membership) can reserve rental cars, hotel rooms, cruises, vacation packages and theme parks. For Gold Star Executive members ($120 annually), Costco extends the 2% cash back it offers on store purchases to Costco Travel bookings (up to $1,000 back in a 12-month period). Your choices are limited to travel purveyors that are Costco partners, so travelers seeking rock-bottom prices from a broad variety of sources can find lower prices elsewhere.