The Risks of Paying Peer to Peer
Fraudsters are using payment apps such as Paypal and Zelle to trick you out of your money.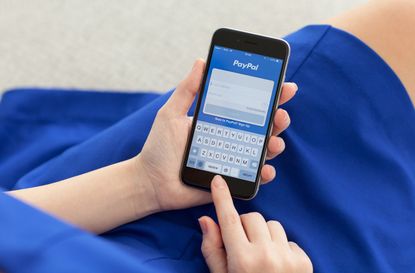 (Image credit: Copyright: Denis Prikhodov, Russia Simferopol)
Finding a good hairstylist is hard, but finding a traveling hairstylist is even harder. As a splurge, I looked for someone who would come to my apartment to spend four or more hours braiding my hair. Thanks to social media, I succeeded.
My text exchanges with the stylist went smoothly. I described what I wanted, and she told me to send a nonrefundable $150 deposit–half of the cost–via PayPal's peer-to peer (P2P) payment function. The alarm bells didn't go off until I couldn't reach her on the day of the appointment. Was this stranger going to show up as promised, or did I just lose $150?
Fortunately, she did show up that day. I hadn't been able to reach her because her cell phone battery had died. In hindsight, I realized she could have catfished me–created an elaborate fake profile and passed off someone else's work as her own–and then not shown up. I would have been scammed, with no recourse from PayPal.
Subscribe to Kiplinger's Personal Finance
Be a smarter, better informed investor.
Save up to 74%
Sign up for Kiplinger's Free E-Newsletters
Profit and prosper with the best of expert advice on investing, taxes, retirement, personal finance and more - straight to your e-mail.
Profit and prosper with the best of expert advice - straight to your e-mail.
Growth of P2P. Members of my generation are big users of P2P apps, such as Cash (opens in new tab), PayPal (opens in new tab), Venmo (opens in new tab) and Zelle (opens in new tab). The apps are fast, and often all it takes to transfer money to another's bank account is an e-mail address or phone number. In fact, 62% of millennials used these apps to send or receive money in 2017, reports Bank of America.
But as the use of P2P apps grows, so do complaints about scams. The Federal Trade Commission added online payment systems to its complaint database last year, and I've noticed more scam complaints posted on social media sites. The schemes are similar: Someone pretends to be selling, say, concert tickets, dupes victims into sending money and then disappears.
As consumers, we have come to expect some form of protection when we link our bank accounts or debit cards to these apps. But when you're using electronic forms of payment to make a purchase from another individual–instead of a traditional merchant–the rules are different and there's less protection against fraud, says Sarah Grotta, of Mercator Advisory Group (opens in new tab). If anyone ever took the time to read the fine print, they'd know this. For instance, according to PayPal's purchase protection guidelines, when you send money through its friends-and-family P2P system, you're not covered for any losses because you authorized the transaction. If someone hacks into your PayPal account to make an unauthorized transaction, however, you're protected.
Venmo, owned by PayPal, states in its user agreement that personal accounts are meant to be used only between family and friends. Its definition of what's considered an unauthorized transaction is similar to PayPal's. The same goes for Cash.
Zelle, another P2P app, looks like a safer bet because it's backed by big banks, such as Chase, Citi and Wells Fargo. But banks that have integrated Zelle into their systems stress that the app is for sending money to someone you know. If you do business with strangers and get scammed, you're likely out of luck.
Grotta's advice is never to send money to people you don't know. If you've been hacked and money has been transferred from your account without your consent, contact your bank and the P2P service by e-mail or phone as soon as possible. The P2P service will investigate your claim and determine if a full refund is due.
Ultimately, treat your P2P payments as you would cash. If you wouldn't feel comfortable giving a stranger cash before receiving a product or service, don't send that person money by Venmo, either. Once the money is gone, it's gone. I'll be sure not to take the flight risk with my money again.
Staff Writer, Kiplinger's Personal Finance
Rivan joined Kiplinger on Leap Day 2016 as a reporter for Kiplinger's Personal Finance magazine. She's now a staff writer for the magazine and helps produce content for Kiplinger.com. A Michigan native, she graduated from the University of Michigan in 2014 and from there freelanced as a local copy editor and proofreader, and served as a research assistant to a local Detroit journalist. Her work has been featured in the Ann Arbor Observer and Sage Business Researcher.