5 Reasons to Shop at Aldi Instead of Trader Joe's
Take advantage of low prices and organic, gourmet and gluten-free offerings at this discount grocery store.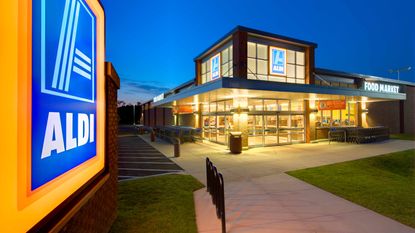 (Image credit: Getty Images)
If you've never shopped at Aldi, you're missing out. What? You've never even heard of Aldi?
It's a discount grocery chain that operates nearly 1,500 locations in 32 states. Concentrated in the eastern half of the U.S., the company plans to open its first California store in March 2016. Aldi is well known in Europe – especially Germany, where it was founded in the 1940s by Karl and Theo Albrecht. The brothers, now deceased, decided to part ways in the 1960s and split the company in two: Aldi Sud and Aldi Nord. Both businesses have expanded globally with Aldi Sud operating Aldi stores in the U.S. Aldi Nord owns the Trader Joe's chain, which has fewer stores than Aldi but is arguably better known. Even though Aldi lacks name recognition, it was dubbed "2014 Retailer of the Year" by Store Brands magazine.
Aldi actually has a lot in common with Trader Joe's. Its prices are low, and it stocks a limited selection of items. Aldi carries only about 1,300 of the fastest-moving grocery items, while most grocery stores sell about 30,000 items, according to Aldi. With fewer items, stores can be smaller (which means lower rent and electricity costs). And you won't find many name-brand items because the majority of what Aldi sells is its own private-label products (which cuts out the middleman to keep costs lower).
Subscribe to Kiplinger's Personal Finance
Be a smarter, better informed investor.
Save up to 74%
Sign up for Kiplinger's Free E-Newsletters
Profit and prosper with the best of expert advice on investing, taxes, retirement, personal finance and more - straight to your e-mail.
Profit and prosper with the best of expert advice - straight to your e-mail.
However, the shopping experience at Aldi is much different than the Trader Joe's experience, where happy employees roam the aisles handing out samples and assisting shoppers. At Aldi items are displayed in the cardboard boxes they were shipped in. You have to bag your own groceries – and Aldi charges you for the bags if you forget to bring your own. A 25-cent deposit is required if you want a shopping cart, though you'll get your quarter back if you return the cart. The system saves Aldi money (which it presumably passes along to customers in the form of lower prices) because it doesn't have to pay an employee to round up carts from the parking lot.
Don't let the chain's no-frills nature turn you off, though. If you've driven past the blue and orange sign and wondered whether it's worth your while to venture into an Aldi store, here are five reasons you should:
1. You can feed a family of four 25 meals for less than $150. No, I'm not talking about peanut butter and jelly sandwiches every night. Aldi's prices are low enough that it's possible to fill your cart with sufficient food to make nearly a month's worth of dinners for an average of $6 per meal. Lauren Greutman, founder of frugal living blog I Am That Lady, compiled a shopping list of items that can be purchased at Aldi (opens in new tab) for slightly less than $150 and made into 25 balanced meals for a family of four. Recipes include turkey chili, roasted red pepper chicken, spinach frittata and homemade macaroni and cheese.
2. You can buy organic on a budget. Aldi's organic selection certainly doesn't rival the offerings at Whole Foods, but it includes many of the basics (and a few not-so-basic products) that are cheaper than similar offerings at supermarkets and on par with prices at Trader Joe's – or, in some cases, lower. Organic items include milk, beef, yogurt, fruit, vegetables, pasta, pasta sauce, cane sugar, instant oatmeal, frozen fruit and even blue corn chips. For example, a 5-ounce package of organic spinach was 50 cents to $1 less than the same sized packages at several other area supermarkets we checked (including Walmart, which actually had the highest-priced organic spinach – see the Worst Things to Buy at Walmart). A 10-ounce container of organic cherry tomatoes was $1 less at Aldi than at other supermarkets, as was a 10-ounce package of organic frozen blueberries.
3. You can find inexpensive specialty items. For a store that has a limited selection, Aldi has more than its fair share of items that would tempt any foodie at prices that won't make you feel guilty for indulging. For example, gourmet cheeses such as brie and goat cheese cost about 40% less than similar cheeses at other supermarkets. Aldi sells fair trade coffee for about 33 cents per ounce. Starbucks charges about 88 cents per ounce for its fair trade coffee. Aldi also stocks sweet potato chips, quinoa chips, rosemary crostini, blue cheese stuffed olives, Italian mascarpone cheesecake...and the list goes on.
4. You can get gluten-free products for less. Gluten-free versions of food items tend to cost twice as much as their regular counterparts, according to Consumer Reports research. Although you'll still pay more for gluten-free products than conventional items at Aldi, the discount grocer's LiveGfree brand tends to be priced lower than national gluten-free brands and includes products such as cereal, pasta, crackers, cookies, cake mix and frozen foods. For example, a 16-ounce box of LiveGfree gluten-free baking mix is $1.50 less than a 16-ounce box of Bisquick gluten-free baking mix at Walmart.
5. You can find a few Trader Joe's knock-offs. Trader Joe's is known for its selection of unusual items, many of which you won't see anywhere else. While you won't find some of the most popular Trader Joe's products, such as Speculoos Cookie Butter, at Aldi, you will find things such as guacamole tortilla chips, sparkling lemonade, Thai lime cashews and Marcona almonds with rosemary – and at lower prices. Aldi even carries jalapeno ketchup (something I've never seen at Trader Joe's).
Bonus reason: You can buy cookies that taste just like Samoas at Aldi. If you're a fan of Girl Scout Samoa cookies, you can get your fix year-round with Aldi-exclusive Benton's Caramel Coconut Fudge cookies. And the best part: A package of the Aldi cookies costs at least 50% less than a box of Samoas.
Former Online Editor, Kiplinger.com
Award-winning journalist, speaker, family finance expert, and author of Mom and Dad, We Need to Talk.
Cameron Huddleston wrote the daily "Kip Tips" column for Kiplinger.com. She joined Kiplinger in 2001 after graduating from American University with an MA in economic journalism.