The Best Bank for You, 2017
These stellar banks and credit unions are making all the right moves to win satisfied customers.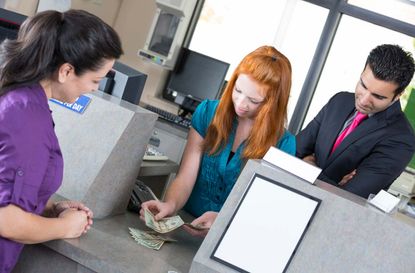 (Image credit: Alina Solovyova-Vincent)
Banks are on a mission to cut costs and raise revenues, and customers are getting caught in the cross fire. Fees on basic checking and the requirements to avoid them have been steadily increasing, and interest-bearing checking accounts tend to load on so many fees that the paltry rates they pay hardly matter. In the 2016 Bankrate survey of checking accounts, the average yield ticked up to 0.06%, and the average balance required to avoid a monthly fee surged to $7,037.
But some institutions are making all the right moves to win satisfied customers. To identify the crème de la crème, Kiplinger is introducing its list of best banks and credit unions. We've picked a first-place winner and runner-up (except in the case of a tie) among national banks, nationally available credit unions and internet banks, plus the best bank in each of four regions. To make our choices more personal, we've also named a top institution and runner-up for each of six wide-ranging profiles: high-net-worth families, retirees, frequent travelers, millennials, students and military service members.
To gather the thousands of bits of data necessary to rank the winners, Kiplinger turned to Moebs Services, an economic research firm in Lake Forest, Ill., that advises financial institutions. The top institutions on our list have a mix of no-fee and low-fee basic and interest checking, plus competitive yields on savings, money market deposit accounts and certificates of deposit. They often reimburse ATM fees, and some offer special perks for students and seniors. And they tend to do digital well, with easy-to-navigate websites and responsive social media teams.
Subscribe to Kiplinger's Personal Finance
Be a smarter, better informed investor.
Save up to 74%
Sign up for Kiplinger's Free E-Newsletters
Profit and prosper with the best of expert advice on investing, taxes, retirement, personal finance and more - straight to your e-mail.
Profit and prosper with the best of expert advice - straight to your e-mail.
Technology that allows you to bank with your smartphone has made banking services more convenient. It's also disrupting the traditional (and high-cost) brick-and-mortar-branch model. So it's no surprise that a number of our top picks for the profiles are internet banks or credit unions that have harnessed technology most effectively. Branches are closing at a rapid pace, and of the nearly 12,000 banks, thrifts and credit unions in the U.S., only half will remain a decade from now, says Mike Moebs, CEO of Moebs Services. The institutions that can hold down expenses while attracting depositors will be the winners. "The best banks are going to be the ones that can handle as much information as possible and clearly present it to their customers," says Moebs.
But branches—and the personal touch—still matter. Overall satisfaction among customers who visited a bank branch is higher than for those who did all their banking digitally, according to a recent J.D. Power survey. That's why we gave extra weight to banks with a large branch network when we picked the best institutions for our high-net-worth and retiree profiles.
Use our choices as a starting point to see how your bank or credit union stacks up. You may discover that you're satisfied where you are—or you may find a better deal elsewhere.
[EMBED TYPE=PARS ID=BANK]
Best National Banks
Thanks to their ability to raise money in capital markets, larger banks have a lot of resources at their disposal. As a result, national banks typically offer a wide range of services and tools, and they have the ability to present them to customers through strong websites and mobile applications. Here's a look at our top picks.
Best Credit Unions
Credit unions are nonprofit institutions owned by their members -- meaning they tend to offer accounts and services that are more customer-friendly than those of large national banks. Here's a look at our top picks.
Best Internet Banks
If you're comfortable banking online or by smartphone, internet banks hold plenty of attraction. With no costly branches to staff and maintain, they can pass along lower fees, higher interest rates and friendlier overdraft policies. Here's a look at our top picks.
Best Regional Banks
Some regional banks rival national ones in size and reach, and they offer their customers similar resources. But many also strive to invest in the communities they serve. Here's a look at our top picks in four U.S. regions.
Best Banks for High-Net-Worth Families
We looked for banks that don't require you to be a multimillionaire to take advantage of generous benefits for keeping a high deposit or investment balance. Here's a look at our top picks.
Best Banks for Retirees
Banks like having retirees as customers because they tend to keep a lot of cash on deposit. So banks often offer special accounts or perks to older customers. Here's a look at our senior-friendly top picks.
Best Banks for Frequent Travelers
Travelers can save a bundle with free checking accounts that don't charge ATM or foreign-transaction fees.Here's a look at our top picks.
Best Banks for Millennials
Instead of banks with lots of branches, we focused on ones with no- and low-fee checking accounts, as well as savings and money market accounts that pay decent yields. Here's a look at our top picks.
Best Banks for Students
The ideal bank for students will also appeal to parents who want to open an account alongside their child for quick and easy money transfers. Here's a look at our top picks.
Best Banks for Military Personnel
Service members, who may have to move frequently and face sudden and extended deployments, value no-hassle accounts with friendly policies for those who do their banking around the country and the world. Here's a look at our top picks.
How We Picked the Top Banks and Credit Unions
Kiplinger used data from Moebs Services, a Lake Forest, Ill., economic research firm, to rank national and regional banks and thrifts, credit unions, and internet banks. We used the results to name a first-place winner and runner-up (among regional banks, we name only one top bank). The process to select the best started with all 11,831 U.S. depositories as of year-end 2016. To identify the soundest financial institutions, Moebs applied screens for asset size (to ensure sufficient resources), excess fees, high expenses and sufficient capital. The resulting universe included 18 national banks (institutions with more than $25 billion in assets and at least 15% of deposits in two or more regions); 35 regional banks with more than $10 billion in assets, assigned to four regions and then ranked; 22 all-access credit unions (which allow anyone in the U.S. to join) with more than $500 million in assets; and 14 internet-only financial institutions. For each profile, we started with top financial institutions identified by the Moebs rankings but then drilled down, adding our own research and judgment, to find banks, thrifts and credit unions with accounts and features most appealing to each group.
[EMBED TYPE=PARS ID=BANK]