What Is a Money Market Account?
Money market accounts offer higher interest rates than traditional checking and savings accounts, but come with restrictions.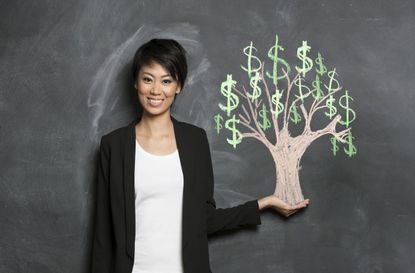 (Image credit: Getty Images/iStockphoto)
Money market deposit accounts (MMDAs) blend features of traditional savings and checking accounts. They're useful tools to understand as part of your financial plans.
MMDAs will pay you higher interest rates than some checking and savings accounts do, but lack the unrestricted access to your money afforded by traditional accounts and have higher required minimum deposit levels. Money market accounts are meant for savings, not for funds to which you need ready and repeated access.
What is a money market deposit account (MMDA)?
A MMDA is a type of account offered by banks and credit unions. At a glance, MMDAs offer you higher interest rates and insurance protection with check-writing and debit card privileges.
Subscribe to Kiplinger's Personal Finance
Be a smarter, better informed investor.
Save up to 74%
Sign up for Kiplinger's Free E-Newsletters
Profit and prosper with the best of expert advice on investing, taxes, retirement, personal finance and more - straight to your e-mail.
Profit and prosper with the best of expert advice - straight to your e-mail.
The money you deposit earns interest at a variable rate, though the annual percentage yield (APY) tends to be higher than a traditional checking or savings account. Typically, the rate depends on the financial institution and the size of the balance in your account.
The minimum opening deposit for a money market account generally ranges from $5 to $5,000. Some banks even offer money market accounts without any minimum deposit at all. Like other savings accounts, money market accounts are insured by either the Federal Deposit Insurance Corporation (FDIC) or the National Credit Union Administration (NCUA) for up to $250,000 per depositor.
MMDA access and limitations
Accessibility makes MMDAs good for storing short-term cash for your emergency fund and for large and infrequent expenses, such as college tuition or tax payments. MMDAs may come with a debit card or checks that you can use to withdraw money.
Until 2020, the FDIC restricted MMDAs to six transactions every calendar month or statement cycle. Although the Fed has removed those limits — the number of allowed withdrawals can vary from bank to bank. There is a workaround: usually, you can make unlimited withdrawals and payments by using an ATM or by making the withdrawal in person.
You should be careful when withdrawing funds as many money market accounts have a minimum balance requirement. Some financial institutions impose monthly maintenance fees if you don't maintain the minimum balance.
Top money market deposit accounts right now
Use the tool below to find the right MMDA for you. You can search by savings and MMDAs, or filter to compare only MMDAs:
Where to find MMDAs with the highest interest rates
If you like the idea of a MMDA and have cash to stash, but the rates seem too low, keep looking around. There are some banks that have "elite" MMDAs that earn a higher yield. These accounts commonly have tiered rates, meaning higher balances are rewarded with a higher APY and are usually found at online banks and top credit unions.
What is a money market fund (MMF)?
Money market funds (MMFs) are similar to MMDAs, but have a few important differences. MMDAs are a type of interest-bearing savings account that is insurance protected. An MMF is an investment account that doesn't come under the protection of the FDIC or NCUA.
MMFs are mutual funds that invest in very short-term debt instruments issued by corporations, banks and the U.S. Treasury. They can be excellent when you want to park savings someplace while you ponder longer-term investments. Because they are safe, many people have come to consider money-market funds as a permanent part of their savings plans, as well as a hedge against investment market risks.
MMF access and limitations
Although $1,000 is a common minimum initial investment, some funds are available for less, and virtually all accept smaller amounts for subsequent investments. Most funds permit you to write checks on your account, although the high minimum for checks — usually $250 or $500 — makes money-market funds unsuitable for everyday bill paying.
Shares in a MMF are generally redeemable at any time. The fund may impose a fee upon the sale of your shares, or may temporarily suspend your ability to sell shares, if the fund's liquidity falls below required minimums or because of market conditions.
MMFs have management fees, also known as expense ratios. These fees are stated as percentages and impact your overall returns since they're deducted from your earnings. Be sure to compare the cost of any account fees and expense ratios and consider how those expenses will impact your earnings.
Money market funds in asset management accounts
If you have different types of investment accounts and want to streamline your portfolio, an asset management account may be the solution. This type of account, which is offered by brokerage firms and banks, can be a good vehicle for managing your cash if you have a lot of it and feel you can use the other services such accounts deliver.
Both full-service and discount brokers offer cash management accounts to clients who have stocks, bonds, cash, mutual fund shares, or a combination of the four in their accounts. You get a line of credit, check-writing privileges on your money-market funds, and several other services. Account fees range from $50 to $300 a year but may be waived if you have $100,000 or more in your account.
How do these accounts work?
You deposit money into your asset management account and the funds are swept into a money market fund. The funds earn interest until you write a check, use the debit card to make a purchase or withdraw cash, or purchase stocks, bonds, mutual funds or other investments.
At the end of each month, you receive a consolidated statement detailing the checks posted, deposits made, investments owned, transaction history, dividends and interest received.
Bottom line
Money market accounts are a safe place to park money in the short-term while considering what to invest in next, to pay infrequent large expenses or to use for your emergency fund.
Risk, rate of return and access to your funds are factors you should weigh before choosing which type of money market account is best for you. Bear in mind that one significant difference between a savings account and an investment account is FDIC/NCUA depository insurance. If recent bank failures have you on alert — you may want to play it safe and choose a money market deposit account.
Related Content
Donna joined Kiplinger as a personal finance writer in 2023. Previously, she spent more than a decade as the contributing editor of J.K.Lasser's Your Income Tax Guide and edited state specific legal treatises at ALM Media. She has shared her expertise as a guest on Bloomberg, CNN, Fox, NPR, CNBC and many other media outlets around the nation. Donna graduated from Brooklyn Law School and University at Buffalo.