The Agony and Ecstasy of Retirement Living in a Pod
Living alone is expensive, and it can be lonely, too. A group living situation opens up a lot of happy possibilities, even if it can come with some downsides.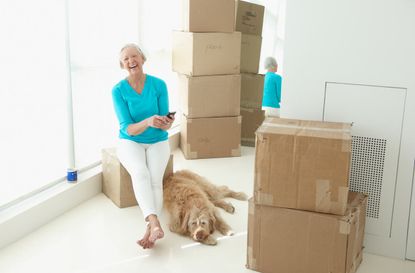 (Image credit: ©LWA/Dann Tardif/Blend Images LLC)
I have been writing about a new way of living in retirement: Pods. Why? Because according to Northwestern Mutual' s 2018 Planning & Progress Study, 21% of Americans have nothing saved at all for their golden years, and a third of Americans have less than $5,000.
I'm not going to lecture you about the fact that the way you may have planned to live in retirement will not pan out. What I'm doing is offering you a future that could be spent with friends and family while sharing expenses, a future of ecstasy.
The Pod
What's a Pod? It's a shared-living arrangement that offers a safe place, like peas in a pod — protected, close to others, warm and cozy. It's pooled skills, pooled resources, with lives as separate and individual as you want to make them. It can be a close-knit group of friends — women friends, in the case of my planned Pod, but not necessarily. You can even join, or form, a Pod as a couple.
Subscribe to Kiplinger's Personal Finance
Be a smarter, better informed investor.
Save up to 74%
Sign up for Kiplinger's Free E-Newsletters
Profit and prosper with the best of expert advice on investing, taxes, retirement, personal finance and more - straight to your e-mail.
Profit and prosper with the best of expert advice - straight to your e-mail.
A Pod is also the term used to describe a group of dolphins — creatures that have the whole ocean to roam and new horizons to explore every day, while at the same time knowing that they are not alone. There's a built-in support group that dolphins have for security and companionship. Dolphins work together to gather food, and they team up for protection. Like us, they're social.
It's not so much a structure as a concept. A Pod can be whatever you make it, if you remember those two goals — financial security and companionship.
For me the prospect of living in a Pod gives me a feeling of ecstasy when looking forward to my later years, instead of experiencing that overwhelming feeling of dread of isolation and loneliness.
The Ecstasy
Take a serious look at your assets and your expenses. How much more would you need to have to spend two weeks, or even one month a year in that little place on the Gulf Coast, painting landscapes? Or, digging for dinosaur bones in Montana? Or, taking the grandkids to Orlando to visit Disney World? Or, holing up by yourself in that little cottage on the coast of Maine, writing that novel that will make you the next Stephen King or Jessica Fletcher. (They both did it in Maine, after all.) Or, knowing that as you sit at home on your porch watching a sunset, or in a cozy room watching Netflix, that your bills are paid and you have enough left over for at least a couple of items in a new fall wardrobe?
If the difference is one that you could make up if some of your core expenses were shared by living in a Pod, then… perhaps… Hello, Orlando, Hello Mickey!
There are many designs for a Pod. You can share a house. You can get adjoining houses in a retirement community and pool certain essentials. You can do the same thing in your old neighborhood, with the people you grew up with and know well. You can even make a multigenerational family Pod.
I didn't invent this concept, we have all watched The Golden Girls; I'm just suggesting that you think about this if you don't feel confident you've saved enough for retirement – or if you want a retirement that's more luxurious, fun and fulfilling than you could otherwise afford. All Pod life asks for is the ability to compromise (and a lot of good humor). In return, it can give you the life that you want.
The Agony
Now for the grueling part: Downsizing. If you decide that Pod living is for you, it's time to get that dumpster. And frankly, if you think you should be downsizing, then you should be. Yes, it's hard to let go of the roomful of stuffed animals and Katy Perry posters that your daughter is not planning to decorate her new apartment with. Or, the books you've been buying and putting on shelves for the last 40 years, and my, they do take up a lot of space now, don't they?
This is an area where a Pod can be a surprising help. For one thing, it will focus your thoughts on the space you'll be moving to, and how much you'll need to downsize to fit into it. For another, it's amazing how helpful a good friend can be in reassuring you that you really can live without that stoneware dinner set or those commemorative coins that were supposed to increase in value but never did. Or, sometimes, they can reassure you that you don't have to jettison something: "Say, I love to read real books and those will look wonderful in our new common room."
Downsizing is one of the biggest issues confronting empty nesters moving on to the next phase of their lives. We've spent the first two-thirds of our lives accumulating. Accumulating furniture. Accumulating art. Accumulating books and records and CDs and knickknacks and Hummel figurines and cars and boats and cottages by the lake. I know that there can be sentimental value to these things, but the act of accumulation must stop. Remember, to everything, there is a season. A time to cast away stones, and a time to gather stones together. And as we move toward retirement, which may well be as much as one-third of your total lifespan, it's time to cast away stones; they are weighing you down.
If you have read this far, Pod life may be something to think about. More articles on this topic will follow!
This article was written by and presents the views of our contributing adviser, not the Kiplinger editorial staff. You can check adviser records with the SEC or with FINRA.
President & CEO, Children's Financial Network Inc.
Neale Godfrey is a New York Times #1 best-selling author of 27 books, which empower families (and their kids and grandkids) to take charge of their financial lives. Godfrey started her journey with The Chase Manhattan Bank, joining as one of the first female executives, and later became president of The First Women's Bank and founder of The First Children's Bank. Neale pioneered the topic of "kids and money," which took off after her 13 appearances on "The Oprah Winfrey Show." www.nealegodfrey.com