The True Cost of Financial Procrastination
The obvious costs include late fees and the loss of the magical power of compounding, but there are less obvious — and more insidious — costs as well.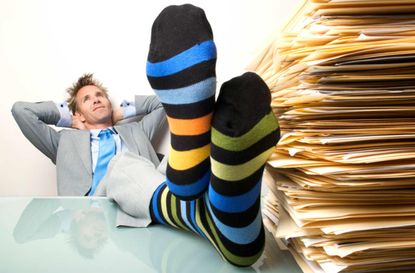 (Image credit: PeskyMonkey)
What if I told you that I can predict your financial future just by looking at your smartphone?
You might think it's impossible, but hear me out. Smartphones have become a permanent fixture for most of us. We use them to check the weather, get directions and look up the name of that movie that we can't quite remember. The phone is woven into the fabric of what we do every single day, and the technology keeps getting better. Manufacturers make it easy to keep up with the changes by sending just-in-time patches and improvements straight to your device. All you have to do is tap "Update now."
It sounds simple enough, and yet I am confident that I am not the only one guilty of having opted for the "Update later" button in the past. Let's face it: Time is money. Sometimes you just don't have the five minutes to waste waiting for the update to download!
Subscribe to Kiplinger's Personal Finance
Be a smarter, better informed investor.
Save up to 74%
Sign up for Kiplinger's Free E-Newsletters
Profit and prosper with the best of expert advice on investing, taxes, retirement, personal finance and more - straight to your e-mail.
Profit and prosper with the best of expert advice - straight to your e-mail.
A single decision to delay the update is not necessarily a problem. However, if opting out of software updates becomes a habit, it may well cause a problem down the line. A few months of ignored notices and reminders can result in a considerable backlog of updates. Taking care of that backlog will take much longer than five minutes, and we all know it.
Yet, we procrastinate.
Choosing some tasks over others is a normal part of human life. That is how we prioritize at home and at work. The fact that everyone has the same 24 hours in a day is the greatest equalizer, because it forces us to make choices. Everyone reading this article probably has a to-do list with dozens of items on it. When the mindset is focused, we choose tasks that are most urgent, important or valuable. When we are distracted, we opt for what's easy, entertaining or pleasant.
As our habits don't confine themselves to any one aspect of our lives, a tendency to procrastinate on something small will probably wrangle its way into bigger things as well. If your default response is to endlessly delay installing software updates on your phone, you may want to take a hard look at where else that habit might be showing up. Keep in mind that procrastination will sabotage your financial future if you let it take the steering wheel.
Why is that important? Financial procrastination can cost you more than just a few late fees. Here are three ways to look at it.
First, there is the opportunity cost.
Disorganized personal finances mean you do not have a handle on where your money is coming from and where it is going. As a result, it is easy to overspend, run up considerable credit card debt, and rack up late fees and penalties on everything from bank overdrafts to failure to file taxes on time. Follow that path long enough and you will find yourself in dire straits financially.
The less obvious side of failing to pay attention to personal finances is the opportunity cost. If you had a strategic understanding of your resources, needs and goals, what could you do with your money to improve your life? You might find yourself spending less on trinkets in favor of paying down student debt. You may ramp up your savings rate to fund your leap to becoming an entrepreneur. There are dozens of ways to manage money strategically, but you cannot take advantage of them without getting organized first.
Then, there is the time value of money.
Anyone who has taken a finance class or sat through a 401(k) presentation at work has a logical understanding that when it comes to investing, time matters. Mathematically, John, who begins to invest at 50 years old, will have to save more and get comfortable with higher risk to catch up to Jane, who stepped on this path at 25. We have all seen the comparison charts that show the differences between these scenarios, so I won't include one here. The bottom line is that John will probably have to sacrifice more of his current lifestyle, and his results will be subject to considerable market volatility risk — an equivalent of crossing your fingers and hoping for the best, but with retirement security at stake.
Finally, there is the health and relationship cost.
You may not have thought of it this way, but poor financial planning affects more than just your bank account. Your peace of mind and health are on the line, as well. Anxiety over whether you can cover an unexpected breakdown of your car or an urgent need to replace your fridge is not just emotionally difficult — it can have physical consequences. Money worries can also put a strain on personal relationships and careers. Financial misery has a way of turning into a vicious cycle that can be tough to break.
Starting today is always better than starting tomorrow.
The good news is that you can change the course of your financial future by taking simple actions today. The relative degree of the improvement will depend on your personal circumstances and decisions you make. Some only need a slight course-correction, while others must dramatically alter their lifestyles and choices if they want to get on track.
If you find yourself worrying about money, begin by pondering three questions.
How sustainable is my current lifestyle?
How comfortable would I like to be in the long run?
Am I willing to live with the stress that financial uncertainty is causing for me?
If you are ready to face your finances, my advice is to start small. Create a household budget to track where your money is coming from and where it is going. Many people find themselves having to deal with a larger-than-expected gap between income and expenses. If that is your situation, use the advice from the movie The Martian: Stay out of the judgment spin-cycle and "work the problem."
Remember that the assessment of where you are right now is a diagnosis, not a life sentence. Once you are comfortable with defining your resources and needs, you can start thinking about savings, insurance and investments. Don't try to run until you have learned to walk and picked a destination.
As with any challenging endeavor, remember that you don't have to do this alone. You can get support from professionals who understand today's market, are willing to help you design a process to reach your goals, and have the experience to think through financial decisions with you. Although it isn't always necessary, a qualified financial planner will be there to help with technical expertise and guidance.
You might even find that a great financial planner will act as a catalyst to push your financial situation past costly procrastination into a more secure financial future for you and your family. That is the ultimate benefit of pushing the "Update now" button on personal finances. Professionals can help you with the technical aspects of tax planning and investment choices, but they cannot take the first step for you.
Financial procrastination is expensive. Act today, and your future self will thank you.
This article was written by and presents the views of our contributing adviser, not the Kiplinger editorial staff. You can check adviser records with the SEC or with FINRA.
Vice President - Wealth Adviser, Centric Capital Advisors
William Rassman is a Certified Financial Planner™ and Vice President – Wealth Adviser for the independent investment and insurance firm Centric Capital Advisors (opens in new tab). He began his career in NYC at Smith Barney in 2008.