Dealing With Debts After Death
When an elderly parent passes away and leaves debt, their adult children may question if they're now on the hook for any unpaid bills.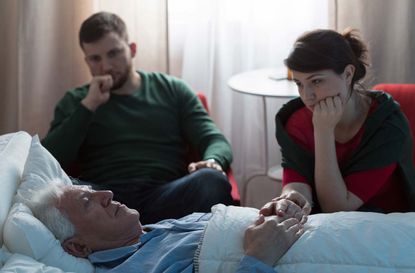 (Image credit: Katarzyna Bialasiewicz photographee.eu)
A few years ago, the adult daughter of a deceased client of Indianapolis estate attorney Brett Carlile showed up in his office, distraught. After her father's death, she discovered he had dozens of credit cards, with debts totaling nearly $40,000. She was stunned. "My dad didn't live like this," she told Carlile.
Usually, when a person dies, his or her estate owes the debt. Estate assets used to repay the debt eat into the amount left for heirs. And, if there's not enough money to cover it, the debt goes unpaid. For unsecured credit card debt, children typically don't inherit a parent's unpaid balance, regardless of the amount or purpose of the spending, says April Kuehnhoff, staff attorney with the National Consumer Law Center (opens in new tab). Only a child who is a joint holder on the credit card would be liable.
Retirement plans with a named beneficiary, such as a child, can't be touched by creditors of the deceased, says Neil Brown, a wealth manager with Burkett Financial Services (opens in new tab), in West Columbia, S.C. But if the deceased parent named the estate as beneficiary of an IRA or 401(k), creditors can take first crack at it to collect the late parent's debts, he says.
Subscribe to Kiplinger's Personal Finance
Be a smarter, better informed investor.
Save up to 74%
Sign up for Kiplinger's Free E-Newsletters
Profit and prosper with the best of expert advice on investing, taxes, retirement, personal finance and more - straight to your e-mail.
Profit and prosper with the best of expert advice - straight to your e-mail.
For a parent's federal student loan or Parent Plus loan (opens in new tab), the outstanding debt is canceled upon death, says Mark Kantrowitz, a financial aid expert with Cappex.com (opens in new tab), a college search website. But the Education Department recently has required the borrower's estate to pay taxes on the forgiven debt.
For co-signed private student loans, some lenders are calling in the loans even when children are current on payments. Check the loan contract to be sure the lender has the right to do so. They may try to charge the entire balance against the parent's estate, or attempt to collect it from the co-signer heir.
If your parent dies with a mortgage and you want to keep the house, you can try to arrange to take over the payments. Or you can sell, pay off the balance and pocket any profit. If the house is worth less than the mortgage amount, the creditor is left with the unpaid debt, not you, says Theresa Pulley Radwan, a professor at Stetson University College of Law.
Associate Editor, Kiplinger's Retirement Report
Mary Kane is a financial writer and editor who has specialized in covering fringe financial services, such as payday loans and prepaid debit cards. She has written or edited for Reuters, the Washington Post, BillMoyers.com, MSNBC, Scripps Media Center, and more. She also was an Alicia Patterson Fellow, focusing on consumer finance and financial literacy, and a national correspondent for Newhouse Newspapers in Washington, DC. She covered the subprime mortgage crisis for the pathbreaking online site The Washington Independent, and later served as its editor. She is a two-time winner of the Excellence in Financial Journalism Awards sponsored by the New York State Society of Certified Public Accountants. She also is an adjunct professor at Johns Hopkins University, where she teaches a course on journalism and publishing in the digital age. She came to Kiplinger in March 2017.