5 Things You Must Know About Buying a Prefab Home
Understand the advantages and disadvantages of ordering your new home from a factory.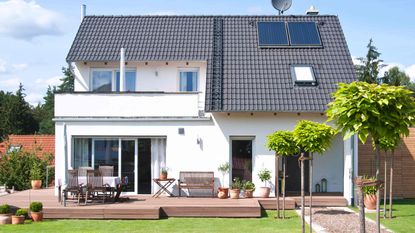 (Image credit: Getty Images)
Jill and Bruce Johnson of Lovettsville, Va., had no luck working with a conventional homebuilder for nearly two years to gain county approval to build on their "mountainous" property with "steep slope issues." By late 2010, they'd nearly given up.
See Our Slide Show: 6 Fabulous Prefab Homes
But "one day we noticed a house being built on our road, and we called the builder . . . We figured he must have good knowledge of how to build a house that would comply with the county requirements," Jill says. The builder was Jakobsen & Bowe, a Purcellville, Va.–based home-building and remodeling firm that specializes in modular construction. They quickly got the nod from the county for a new site on the Johnsons' property where crews could easily drop and assemble prebuilt home modules in days -- compared with a challenging months-long schedule for a traditional stick-built home. In August 2011, the couple were finally able to move into their dream space -- a fully customized 2,200-square-foot home that cost about $400,000.
"The base price of the modular home, out of the Pennsylvania factory, was much less expensive than having a crew labor on-site for months," Jill says, "which enabled us to customize it in a very nice way."
Subscribe to Kiplinger's Personal Finance
Be a smarter, better informed investor.
Save up to 74%
Sign up for Kiplinger's Free E-Newsletters
Profit and prosper with the best of expert advice on investing, taxes, retirement, personal finance and more - straight to your e-mail.
Profit and prosper with the best of expert advice - straight to your e-mail.
Modular, or prefabricated, homes offer a variety of benefits for home buyers wanting to build on a plot of land. But they're not for everyone. Here are five things you should know:
1. Prefabs Are Faster to Build
Depending on the complexity of the home, it can take three to four months to build and get it move-in ready, says Donna Peak, an executive director with the National Association of Home Builders. From start to finish, it takes about nine months to a year to construct a stick-built house, she says.
Home modules are constructed and inspected in a factory, where weather won't delay the process. The modules are then transported to the final building site. It takes about three days to fully assemble those components at the site, Peak says.
Additional site work -- including electrical and plumbing hook-ups, driveway paving, final grading of the land and landscaping, and a host of inspections before a certificate of occupancy can be issued -- can take several weeks.
2. You'll Pay More Than Just the Base Price for Your Modular Home
For manufacturers that offer preset home plans, the base price of a modular home typically includes construction, transportation of the modules to the final build site, and setting the home on its foundation. Buyers can tweak a builder's preset plan -- say, you want hardwood floors throughout the home instead of carpet -- at additional cost.
You'll face even more fees for site work -- as much as $10,000 to install a septic system and thousands more for utility hook-ups -- after the home modules are assembled. The Johnsons, for example, paid an extra $12,500 to carve out a flat area on a hillside to build their house, clear large trees on their property, and establish a propane hook-up.
[EMBED TYPE=POLL ID=23471]
3. Modular Homes Can Be Surprisingly Durable
In assessing damage to residential neighborhoods in Dade County, Fla., after 1992's Category 5 Hurricane Andrew, the Federal Emergency Management Agency reported "relatively minimal structural damage in modular housing developments. The module-to-module combination of the units appears to have provided an inherently rigid system that performed much better than conventional residential framing." Translation: Prefabs can hold up better in extreme weather conditions than traditional stick-built structures.
See Also: Mortgage Rates in Your Area
4. Sure, You Can Remodel Your Modular Home
If you decide to invest in the bathroom or kitchen of your dreams, "there's nothing that would preclude the reconfiguration of a home simply because it's a modular build," says Matt Bowe, co-owner of Jakobsen & Bowe. "Just like a stick-built home, you need to account for the structural support and layout." Prefab homeowners looking to remodel should let their contractor know early on that they have a modular home, Bowe recommends, because there may be some slight differences in the structure of the beams that support the home. "If you're a builder working on a prefabricated home, you need to understand structurally what you're dealing with and what you'll need to properly complete the project," he says.
5. You May Need to Be a Patient Seller
Despite strict building standards and vast improvements in modular homes over the years, these types of dwellings still get a bad rap among buyers who aren't familiar with the building process. Many people think mobile when they hear the words modular home, says John Bredemeyer, spokesman for the Appraisal Institute, a professional association for real estate appraisers. Buyers may fear that modular homes aren't as sturdy as traditionally built homes or that they can't be customized. Owners of modular homes who sell down the line might find themselves having to explain to novice buyers what the building process entails, Bredemeyer says.
Learning More About the Basics
Explore these free online resources to learn more about modular homes and the building process:
If you're trying to decide whether the prefab route is right for you, check out the National Association of Home Builders Web site at www.nahb.org (opens in new tab). There, you'll find a section dedicated to modular homes (opens in new tab) that includes a step-by-step photo gallery illustrating how a modular home is built in the factory (opens in new tab), as well as information on trends in prefab construction (opens in new tab). The Modular Building Systems Association (www.modularhousing.com (opens in new tab)) provides a rundown of common questions including how to finance a modular home (opens in new tab) and basic legal definitions (opens in new tab) that all potential prefab home buyers should be aware of.
Those who are further along in the process and have signed a contract with a builder should prep themselves for the on-site build. The National Modular Housing Council (www.modularcouncil.org (opens in new tab)), a professional organization for modular home manufacturers, suppliers and builders, provides key information to help buyers ask their builders the right questions before the on-site building begins. This includes how to avoid pitfalls (opens in new tab) when delivering the home to the build site, what you should know about on-site preparation (opens in new tab) and tips for properly laying the home's foundation (opens in new tab).
Online Editor, Kiplinger.com
Browne Taylor joined Kiplinger in 2011 and is a channel editor for Kiplinger.com covering living and family finance topics. She previously worked at the Washington Post as a Web producer in the Style section and prior to that covered the Jobs, Cars and Real Estate sections. She earned a BA in journalism from Howard University in Washington, D.C.