Go Into Show Business With These Value Stocks
When times are tough, people are still willing to spend a buck to be amused.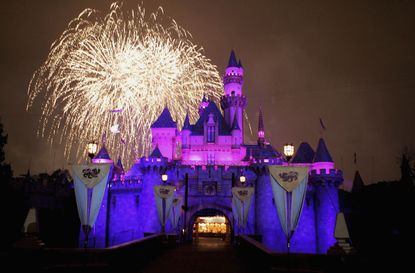 (Image credit: 2005 Getty Images)
The market is not much fun lately, but certain stocks are. Even if we are headed into a recession (and there are signs we may be), businesses that entertain people tend to do all right. Walt Disney (symbol DIS (opens in new tab), $113), the largest such stock by market value, weathered a slight dip in sales and lower earnings in the fiscal year that ended in September 2009, as the Great Recession was coming to a close. For the two fiscal years that straddled the economic downturn, however, revenues increased overall, and earnings per share for the owner of TV networks, theme parks, movie studios and a cruise line went on to set a record in 2011. The company never reduced its annual dividend, which increased from 31 cents a share in 2007 to 60 cents a share five years later (today, it's $1.76).
Disney keeps growing. Last year, the company reached a deal with Rupert Murdoch's empire to buy 21st Century Fox, which includes 20th Century Fox film and TV studios, U.K.-based Sky News, and some of Fox's cable channels (though not Fox News) for a total of $71 billion.
Disney also owns eight of the world's 10 largest amusement parks, measured by attendance, including the first-place Magic Kingdom in Orlando and Shanghai Disneyland, which zoomed to number eight in 2017, its second year of operation. Even if park admissions—which run $135 per day for an adult at peak times at Disneyland in Anaheim, Calif.—fall off in a weakening economy, the company should continue to prosper with its media business as Americans cocoon at home and watch programming on TV, or maybe go to the movies for $10 or $12 a head.
Subscribe to Kiplinger's Personal Finance
Be a smarter, better informed investor.
Save up to 74%
Sign up for Kiplinger's Free E-Newsletters
Profit and prosper with the best of Kiplinger's expert advice on investing, taxes, retirement, personal finance and more - straight to your e-mail.
Profit and prosper with the best of Kiplinger's expert advice - straight to your e-mail.
Including the Fox deal, Disney owns either all or a big chunk of ABC, ESPN, A&E, the National Geographic channel, Star (a network in India that reaches more than 700 million people a month), the Hulu streaming service, Pixar, Lucasfilm and Marvel Entertainment, plus franchises including the Muppets, the Simpsons, X-Men, Star Wars, Winnie the Pooh and, of course, Mickey Mouse. And cartoon characters don't charge a talent fee or make you fly them around on private jets.
If you think I like Disney, you're right—especially at a price-earnings ratio of just 16, based on analysts' consensus estimates for the fiscal year ending in September. Oh, and Disney's stock price was remarkably stable throughout a volatile 2018.
Pick up some bargains. Unlike Disney, most entertainment stocks sank at the end of last year. That's only natural; a falling tide lowers all (or nearly all) boats. The question is whether companies can sustain their earnings when the economy slows or reverses course—or at least bounce back quickly when times get better. Netflix (NFLX (opens in new tab), $338) is a good candidate. It went public in 2002 and increased its earnings by 45% in 2008 and 40% in 2009. Netflix has had rough patches, when investors worried about rising competition or about new subscriptions stalling. But Netflix is the kind of company that should be able to ride out any economic storm. Its revenues aren't dependent on advertising but on modest fees from consumers.
In recent years, Netflix has gone global in a big way. In the third quarter of 2018, it added 5.9 million foreign subscribers—more than five times its domestic additions. Earnings soared to 89 cents a share, up from 29 cents share in the third quarter of 2017. Still, Netflix stock dropped by more than one-third from its July high through the end of 2018, making it a bargain.
Unfortunately, you can't buy an exchange-traded fund or mutual fund that focuses exclusively on entertainment stocks. The closest is Invesco Dynamic Leisure and Entertainment (PEJ (opens in new tab)), but two of its top four holdings are restaurants, and it also owns airlines and hotels. My leaning is toward pure diversion with a company such as World Wrest­ling Entertainment (WWE (opens in new tab), $79). It suffered a dip in revenues during the last recession, but its profits held up. The average annual growth in the stock price over the past 10 years has been 23.4%, and, bucking the overall market trend, shares more than doubled in 2018. Value Line projects that WWE's earnings will grow an annualized 37.5% over the next five years, thanks in part to a new TV deal with Fox.
Or consider Activision Blizzard (ATVI, $47), the video-gaming giant whose shares were clobbered at the end of 2018. The firm owns such franchises as Call of Duty, World of Warcraft, Candy Crush Saga and Major League Gaming. In a recession, it's doubtful gamers will forgo their obsession.
Nor, I suspect, will sports fans. Most teams are owned privately, but shares of Manchester United (MANU, $19), the soccer team based in the eponymous English city, trade on the New York Stock Exchange. The team has become a global phenomenon. Games air in the U.S. (NBC paid $1 billion to broadcast matches of the Premier League, which includes Manchester United), and revenues have risen a cumulative 50% over the past three years, in part because of logo-heavy merchandise sales. Another good choice is Madison Square Garden Co. (MSG (opens in new tab), $280), established in 1879. It now owns not only the venue in Midtown Manhattan but also the New York Knicks (basketball) and Rangers (hockey) teams, as well as an e-gambling company.
Looking for a happy ending. Running movie theaters is not easy these days. The heavyweight in the business is AMC Entertainment Holdings (AMC (opens in new tab), $14), with more than 1,000 theaters in the U.S. and abroad. The company was bought in 2012 by a Chinese firm, which launched an initial public stock offering a year later at $18 a share. The shares now trade at $14. Although AMC has struggled, I believe the stock has the potential to turn around dramatically. I also recommend America's fourth-largest movie chain, Marcus (MCS (opens in new tab), $43), which owns just 68 theaters, mostly in the Midwest, plus 21 hotels. It's not a pure entertainment investment, but it's hard to resist. With a market cap of $1.2 billion, it's a value play—despite a big stock-price rise in 2018. Only a couple of analysts cover Marcus, but the stock trades at a reasonable valuation of 23 times their estimated earnings for 2019.
Another small entertainment firm focused on the Midwest is Cedar Fair (FUN (opens in new tab), $54), which owns amusement parks, including Cedar Point in Sandusky, Ohio, famous for its 18 roller coasters. Structured as a limited partnership, Cedar Fair currently yields 6.9%. The company's revenues dipped only slightly during the last recession.
Finally, consider two international entertainers, both trading on the NYSE. Tencent Music Entertainment Group (TME (opens in new tab), $13), the Chinese online music provider that was spun off from Tencent Holdings in December, carries a whopping market cap of $21.1 billion. Small-cap Eros International (EROS (opens in new tab), $9) is not what its name implies. The New Jersey–based company is a worldwide distributor for films and music made in India. Eros is risky. It has barely any earnings, and only two analysts cover the stock. But it's in a niche that should grow briskly, even if the economy turns down.
Are we headed for a recession? No one knows, but the real estate market is flashing caution signs, long-term bond yields have dropped, and if the current expansion continues until July, it will become the longest since at least 1854. Entertainment stocks offer a fun way to be prepared—and to profit no matter what happens.
James K. Glassman chairs Glassman Advisory, a public-affairs consulting firm. He does not write about his clients. He owns none of the stocks recommended in this column. His most recent book is Safety Net: The Strategy for De-Risking Your Investments in a Time of Turbulence.
Contributing Columnist, Kiplinger's Personal Finance
James K. Glassman is a visiting fellow at the American Enterprise Institute. His most recent book is Safety Net: The Strategy for De-Risking Your Investments in a Time of Turbulence.