Gamblers Are Surprisingly Accurate at Picking the Next President
Polls show a tight race for the White House, but betting sites have the odds firmly favoring Clinton.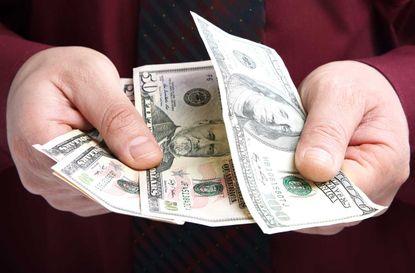 (Image credit: TrotzOlga)
Forget the polls. If you want to know who will win the presidential election on November 8, look at how the gamblers are placing their bets
The polls predict a squeaker. Real Clear Politics' average of polls (opens in new tab) has Hillary Clinton leading Donald Trump by less than two percentage points. But the betting markets—online securities exchanges where individuals can wager on elections—give Clinton roughly two-to-one odds to win, and one exchange, the Iowa Electronic Markets (opens in new tab), predicts that she'll win by a comfortable seven percentage points.
Why should you care what the bettors are thinking? Because their record in past elections has generally been more accurate than that of the pollsters. In 2012, both the final national polls and the betting markets had Mitt Romney and Barack Obama essentially tied for the popular vote. But the betting markets never wavered that Obama would win, while the polls favored Romney during the first half of October. Plungers on Intrade, a now-defunct Irish betting site, called 49 of 50 states correctly in 2012 and nailed 47 states in 2008.
Subscribe to Kiplinger's Personal Finance
Be a smarter, better informed investor.
Save up to 74%
Sign up for Kiplinger's Free E-Newsletters
Profit and prosper with the best of Kiplinger's expert advice on investing, taxes, retirement, personal finance and more - straight to your e-mail.
Profit and prosper with the best of Kiplinger's expert advice - straight to your e-mail.
Betting on elections in the U.S. is generally illegal. But gamblers in Europe bet heavily on U.S. elections, mainly via a London-based site called Betfair, and two small U.S. election betting sites operate under waivers granted by federal regulators. More on these sites in a moment.
Gamblers have an edge over pollsters, says David Rothschild, a Microsoft researcher who runs PredictWise.com (opens in new tab), a site that incorporates data from gamblers, pollsters and other sources, including social media. That's because gamblers typically study the polls but also pay attention to other factors, such as the state of the economy and the effectiveness of each campaign's get-out-the-vote effort, in their decision-making. After all, when you actually put your money where your mouth is, you tend to be careful. Rothschild's site puts a heavy emphasis on the gambling markets, one that increases as Election Day nears. On the heels of the first presidential debate, he gives Clinton a 70% chance of victory.
In the U.S., the Iowa Electronic Markets is the granddaddy of these exchanges. Formed by business professors at the University of Iowa in 1988 for students and teachers to wager on that year's presidential election, the Commodities Futures Trading Commission licensed IEM to take bets from the public on subsequent elections because of its academic purpose—but the commission put a $500 limit on an individual's "investments."
The Iowa market's results have been striking. That market has generally been more accurate than polls in a wide swath of executive, legislative, national and local elections. A 2008 study by three University of Iowa researchers found that the Iowa market was more accurate than 74% of the 964 presidential polls conducted during the five elections between 1988 and 2008.
The betting markets are far from infallible. This year, in particular, they've hit potholes. Most striking were the failure of online-exchange gamblers and London bookies to get the Brexit vote right last summer and the failure of the betting markets to anticipate Trump's nomination to head the Republican ticket. Most pollsters, meanwhile, accurately predicted both events.
But that's no reason to ignore these markets. After all, when the betting markets predict, as they were as of this writing, that Trump has a roughly one-in-three chance of being elected president, that's not a trivial possibility. As everyone who has ever played the ponies knows, sometimes a 50-1 long shot wins. And Trump is hardly a long shot at this point in the campaign, and, of course, things could change quickly for many reasons including the outcomes of the remaining presidential debates.
Interested in investing in the election markets? PredictIt.org (opens in new tab) is easy to navigate and takes credit cards, so you can sign-up quickly online. You can bet up to $850 on each of its many markets. The bad news on PredicIt is in the fine print: The site charges a 5% "processing fee" on your investment and takes 10% of any winnings. Ouch! (Full disclosure: I've placed wagers on a Clinton victory on this site.)
The Iowa market charges a mere $5 fee to open an account. But the website, in the midst of a much-needed update, is a bit confusing to navigate (opens in new tab). Plus, you have to mail in a check before you can place a bet.
Historically, gambling on election outcomes was common in the U.S. It predated polling, which didn't catch on until the 1930s. By the late 1800s, semi-formal election markets operated, and newspapers published the odds daily. Gamblers wagered some $220 million in today's dollars on the 1916 presidential election. What's more, the betting markets proved accurate in all but one of the presidential elections from 1884 to 1940 in which bettors established a clear favorite by mid-October, researchers found. But in the 1940s, New York City, where the election gambling was centered, cracked down on unauthorized gambling, and it went underground.
Now it's back, albeit on a small scale. And it's worth paying attention to if you want to know who's going to win the White House. Not that you should ignore the polls. My advice: To have the most accurate perspective on the race, consult PredictWise.com and, for the best polling analysis, click on Nate Silver's FiveThirtyEight election forecast (opens in new tab).
Steve Goldberg (opens in new tab) is an investment adviser in the Washington, D.C., area.
Contributing Columnist, Kiplinger.com
Steve has been writing for Kiplinger's for more than 25 years. As an associate editor and then senior associate editor, he covered mutual funds for
Kiplinger's Personal Finance
magazine from 1994-2006. He also authored a book,
But Which Mutual Funds?
In 2006 he joined with Jerry Tweddell, one of his best sources on investing, to form
Tweddell Goldberg Investment Management
to manage money for individual investors. Steve continues to write a regular column for Kiplinger.com and enjoys hearing investing questions from readers. You can contact Steve at 301.650.6567 or sgoldberg@kiplinger.com.