Hurricanes Shed Light on Inadequate Insurance Coverage
Did you know that standard homeowner policies don't cover flooding from heavy rains? And that people who don't live in flood zones file water-damage claims about as often as those who do? It's time to check your coverage.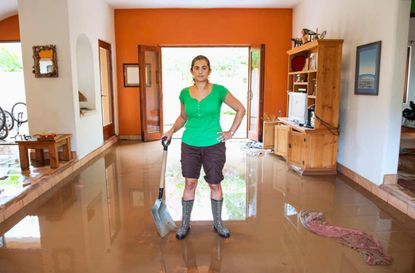 (Image credit: ©Sollina Images/Blend Images LLC)
In light of the historic hurricanes that pummeled Texas and Florida this summer, there were some hard truths discovered about flooding and insurance.
According to the Insurance Information Institute, only 15% of the 1.6 million homes in Houston, as well as Harris Township where Houston is located, had flood insurance. In addition, only 28% of homes located in "high-risk" flood zones in Texas had flood insurance prior to the hurricanes.
Regarding the coastal counties in Florida, according to FEMA, 42% of homes have flood insurance.
Subscribe to Kiplinger's Personal Finance
Be a smarter, better informed investor.
Save up to 74%
Sign up for Kiplinger's Free E-Newsletters
Profit and prosper with the best of Kiplinger's expert advice on investing, taxes, retirement, personal finance and more - straight to your e-mail.
Profit and prosper with the best of Kiplinger's expert advice - straight to your e-mail.
Standard homeowner insurance policies do not cover flooding from natural events such as heavy rains and hurricanes. Yet, alarmingly, a growing number of residents are reducing coverage or are not even purchasing adequate insurance even as instances of major flooding continue to break news regularly.
Unfortunately, lack of coverage or being underinsured causes considerable financial distress to millions of Americans every year. Major hurricanes are often reminders that we need to review our policies to ensure we are properly covered, but still many refuse to (or just can't) bear the costs of protection or change their policies based on the value of their home and personal belongings.
Flood Insurance
Many homeowners do not think they need to purchase flood insurance if they do not live in a flood zone, however, there are proportionally the same number of claims made for flooding in flood zones as in non-flood zone locations. So, just because one lives in a non-typical flood area does not mean they shouldn't consider coverage.
For example, in 2014, the Metro Detroit area got hit with 6 inches of rain in a matter of 12 hours, breaking records. Statistically speaking, rainfall amounts such as this occur only once every 500 years in Detroit. In the city of Warren, just north of Detroit, nearly 40% of the buildings saw some level of damage in the flooding of 2014, with the value exceeding $1 billion. Basement flooding is generally not covered in a typical homeowner's policy, and those expecting relief had to wait at least one month for the governor to request federal disaster relief funds and over two years to receive government help.
It doesn't take rainfall of historic proportions to flood a basement, and policies — especially for those in areas not prone to flooding — are not as expensive as one may think. The average price for a policy (opens in new tab) runs about $700 per year, depending on your location, according to consumer research site ValuePenguin. Although FEMA offers flood insurance coverage at an affordable rate, there are limits on the policies that often lead to inadequate coverage. Significant damage can easily exceed the $250,000 limit in residential building property coverage, for example.
Jewelry and Fine Art
Many homeowner policies cover lost, stolen or damaged jewelry or fine art. In this instance, it is imperative to take a closer look at the details and see how much is actually covered.
Policies have special limits on jewelry and/or fine arts, often set at $10,000. It doesn't take more than a few pieces of nice jewelry to reach this maximum and, if your household contains jewelry or artwork collected over the course of 20 or 30 years, there simply may be no way to recover the costs with a basic insurance policy if something were to happen.
Umbrella
Umbrella insurance is designed to provide additional coverage above your underlying insurance policies. When it comes to general negligence, such as being at-fault for a car accident, umbrella insurance holds a lot of value. Best of all, it is not as pricey as you might suspect. (Use Kiplinger.com's free tool to quickly calculate how much umbrella insurance you need.)
For instance, if someone were to injure themselves on your property, they may file damages for $500,000; but your liability might only cover $250,000. Umbrella insurance covers the excess liability at a cost generally below what you would pay if you increased the liability on your policies.
Those who own rental properties, own a boat or simply want to keep their hard-earned assets from being lost in a lawsuit or to cover liability above a policy will find umbrella insurance a beneficial investment.
Another reason to consider an umbrella is if your teenager just acquired their driver's license. Umbrella insurance will provide a high level of coverage for those most likely to be the cause of an accident.
Other insurance avenues to explore involve guaranteed replacement costs for home damage, wind insurance in hurricane-prone locations and water-backup insurance.
Insurance audits are great ways to see if your policies are providing the ideal level of coverage at the best rates. Taking a comprehensive look at your policies and other options in the market will ensure you are adequately covered for all of life's accidents or catastrophes.
Principal, Fischman Insurance Group
Ari Fischman is a Certified Financial Planner who has provided insurance, estate planning and financial solutions for affluent consumers. He is a Financial Adviser with Eagle Strategies LLC, a Registered Investment Adviser, and through Eagle Strategies, he has access to some institutional third-party wealth management firms that manage client assets. Fischman Insurance Group is not owned or operated by Eagle Strategies LLC.