Should You Buy Water and Sewer Line Coverage From Your Power Company?
Weigh your options to cover the expensive costs of broken pipes.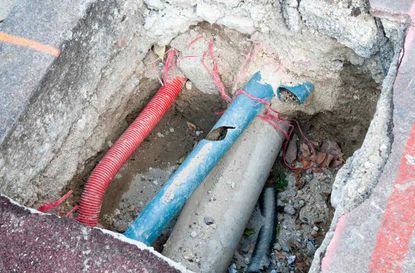 (Image credit: George Clerk)
Look! Another neighbor has a busted sewer or water line between his house and the street, evidenced by the grind and dig of backhoes tearing up his front lawn.
Until we're jolted to take notice, most of us forget that the water that flows through our homes and the wastewater that flows out spends time in the area between the street and the front of the house. If something goes wrong with those subterranean pipe systems, the homeowner, not the utility, is responsible. And unlike with leaks inside your home, your homeowners insurance won't cover the expensive – on average, $2,500 per incident – repairs to water or sewer lines, plus the ensuing landscaping refresh, according to Myles Meehan, senior vice president of public relations at HomeServe USA, a service plan provider.
That means you're on the hook to hire one contractor to fix the pipe and another to fix the landscaping disturbed by the Big Dig.
Subscribe to Kiplinger's Personal Finance
Be a smarter, better informed investor.
Save up to 74%
Sign up for Kiplinger's Free E-Newsletters
Profit and prosper with the best of expert advice on investing, taxes, retirement, personal finance and more - straight to your e-mail.
Profit and prosper with the best of expert advice - straight to your e-mail.
Every homeowner's nightmare? You bet, and utility companies have come up with their own solution: They'll sell you a service plan at a low monthly rate that will cover repairs to and damages from water and sewer lines. (Your utility might also offer plans for power surges, kitchen or laundry appliance failures, water heater replacement, heating and cooling system replacement and more.)
Dominion, the Richmond, Va.-based energy company that services a large part of the East Coast as well as two western states, sells a potpourri of home "warranty" programs, starting at a $1.99 per month. (Prices vary by state. In Virginia, where I live, Dominion charges homeowners $4.99 to $5.99 per month for water line replacement and $5.99 for sewer line repair). Why should homeowners bite?
"If you are unlucky enough to need your water line replaced, you could pay the monthly program fee for the next 50 to 100 years and still save," says Frank Mack, transmission communications manager for Dominion. And the plans are a time-saver, too. "We can get a contractor to the home in a reasonable amount of time who the customer knows has been thoroughly vetted. In some metropolitan areas, customers tell us they simply don't know who they can trust, and even if they do, getting them to their house can take forever."
Mack says Dominion attempts to provide service within 24 hours of the initial call. In extreme emergencies, such as no heat during freezing temperatures or severe property damage, response time can be as little as six hours.
Dominion's standard warranty on the service is one year, as long as the customer remains in the program.
Many other utilities in the U.S. outsource their insurance-warranty programs to large service providers. One is HomeServe USA, based in Norwalk, Conn., which is partnered with 400 cities, municipalities and utilities serving 2.8 million homeowners, says Meehan. Its service plans are on average $5 per month for water service line coverage and $8 to $10 a month for sewer line coverage.
Alas, sewer line policies may not take effect immediately. James Pecot of Chantilly, Va., noticed a neighbor's lawn being dug up earlier this spring. The sewer line at that house was clogged and couldn't be cleared. That's when Pecot heard about the sewer line insurance being sold by Dominion. He called the company the next day and bought the sewer line warranty, which wouldn't be effective for 30 days, he was told up front. A week later, the sewer line at the Pecot home failed.
"I called Dominion, and they indicated my coverage was not yet active and we were not covered," says Pecot. A recommended sewer and plumbing company came out and fixed what turned out to be a cracked pipe that had tree roots growing through it (the plumber said the line could have been cracked 30 years ago, when it was installed). The cost for repairs: $4,700.
Other Options for Homeowners
I bought sewer line coverage through my utility on the advice of a real estate agent who has been working in my neighborhood for years. She said the townhomes and single-family homes, built in the 1980s, were starting to show their age, and some sewer and water lines were failing. If mine did, she said, it would cost $5,000 to get it repaired. So the $6-a-month Dominion service plan is peace of mind that's folded, unnoticed, into my monthly utility bill.
But some say homeowners are better off putting that $72 or so per year into a rainy-day fund to cover future unknowns – like when my water heater bit the dust this spring (and I didn't have a water heater service plan from my utility).
You should also check your homeowners insurance. Most policies don't automatically cover sewage and drain backups, which can cause expensive damage if water and sewage backs up into your house. It may cost just $50 to add about $10,000 in sewage backup coverage. But that's for internal work – not for water or sewer line repair outside the home.
Ask about a service-line rider for your policy. Unlike with a service plan from your utility company, you will be able to use your own plumber for the repairs. Then again, you'll be responsible for dealing with the plumber.
Bob was Senior Editor at Kiplinger.com for seven years and is now a contributor to the website. He has more than 40 years of experience in online, print and visual journalism. Bob has worked as an award-winning writer and editor in the Washington, D.C., market as well as at news organizations in New York, Michigan and California. Bob joined Kiplinger in 2016, bringing a wealth of expertise covering retail, entertainment, and money-saving trends and topics. He was one of the first journalists at a daily news organization to aggressively cover retail as a specialty and has been lauded in the retail industry for his expertise. Bob has also been an adjunct and associate professor of print, online and visual journalism at Syracuse University and Ithaca College. He has a master's degree from Syracuse University's S.I. Newhouse School of Public Communications and a bachelor's degree in communications and theater from Hope College.